Buying a home can take months of preparation – maybe even years, depending on your needs. If you're thinking about purchasing in the next year, we've compiled a brief overview of what the average buyer should be doing 6 months to 1 month prior to purchasing a home. This will provide you with some simple guidelines to create your own home buying plan of action.
6 Months from Home Purchase
In a perfect world, you're always working on improving your credit. However, if your credit has been fairly good, you probably haven't put forth much effort into working on it. Now is a good time to pay down some credit card balances. You don't want to completely stop using your credit or close accounts, but lowering the credit usage that shows on your report will help raise your overall credit score.
It's also not a bad idea to start researching real estate agents. Ask for referrals from friends and family and read online reviews. Reach out to your favorite contenders to get a feeling for who you will enjoy working with and will best understand your needs. You may not be ready to see homes yet, but they'll be able to answer questions about the buying process, set up online home searches to monitor the market, and give you referrals for mortgage brokers, movers, handymen, and insurance agents.
If you have a home to sell, now is the time to start preparing it for the market. Make repairs, shape up the landscaping, clear out the clutter, pack up what you don't need, and clean, clean, clean. Make your home shine and you'll get more money from the sale. Our Seller Guide can give you more insight, but a real estate agent can pinpoint specific areas in your house to focus on. For many sellers, preparing takes a few months, so best to get started on it early.
5 Months from Home Purchase
Start researching mortgage brokers. Ask for referrals from friends and family, and your real estate agent. Don't hesitate to speak with more than one mortgage broker. Each company offers different packages and, just like real estate agents, one personality may fit better with yours.
We always recommend using a local mortgage broker. They're usually easier to communicate with and more familiar with regional standards than national brokers. Don't worry about missing out on an advertised rate or deal. Many packages advertised by national companies can be matched on the local level.
If you're looking at new construction, the community may offer an incentive if you use a certain mortgage broker or lender. Don't let this make you feel pressured to use a specific person. Some brokers/lenders are willing to match these incentives (depending on what they are). It doesn't hurt to ask, and you're likely to learn if taking the incentive will benefit you in the long run.
This is also the time to get prequalified. A prequalification will give you an estimated mortgage and price range for homes. While a preapproval is more concrete, a prequalification will give you an idea if now is the best time for you to buy or if you should wait until your finances improve.
4 Months from Home Purchase
If you haven't already, this month you should be depositing gift money and large transfers into your bank account. Your lender must verify you can afford the proposed monthly mortgage payment, which is why they require a detailed paper trail that explains where your money comes from. Large last-minute deposits are red flags as they are signs of an unsustainable income i.e. a gift to pad your income or a second loan, which can put undue stress on your finances and give another party a competing claim over the property.
As a guideline, lenders want to see large deposits of money in your account for 60 days prior to applying for a loan. This is called seasoned funds. When they see the money has been there for 60 days, they assume it's from a legitimate source. 60 days is also long enough for a second loan to appear on your credit report. Overall, seasoned funds sit better with the lender.
3 Months from Home Purchase
If you're only purchasing a home now and don't have another to sell, this is the month to start packing. Otherwise, you should have started this process back at 6 Months from Home Purchase. This may feel a little premature, but you probably have a lot you need to go through, so starting the process now will save you stress later when your timeline fills up with showings, paperwork, inspections, and other buyer responsibilities. You should also start researching moving companies (or truck rentals if you want to DIY). You won't be able to hire anyone until you have a closing date for your new home, but you can get an idea of who is trustworthy and priced well.
2 Months from Home Purchase
It's time to get preapproved! A mortgage preapproval is typically good for 60-90 days, so you don't want to do it too early. You also don't want to wait until you find the perfect home. You'll need that preapproval to submit an offer and time is of the essence due to inventory being at a historic low. Homes are selling quickly!
Now is the time to seriously start looking at homes for sale. Your real estate agent will schedule private showings and accompany you on viewings. You may find "the one" your first day out…or it may take a few weeks…but you've likely been monitoring the market and have an idea of what type of floor plan, elevation, and location you're looking to purchase. And, because you're already preapproved, you know how much home you can afford.
Your real estate agent is the best person to advise you of when to list your home for sale, because they know the timing of your local market. However, we feel it's important to have your home listed for sale before you start looking at homes to buy, unless you are able to afford two mortgage payments. Sellers feel more inclined to accept an offer that is contingent on the sale of your home if your home is already on the market. So, you may list your home 2 months from purchase or 3 months from purchase – it all depends on the average days on the market for homes comparable to yours.
1 Month from Home Purchase
Congratulations! You've found the home you want to buy, and the sellers have accepted your offer. It typically takes 30 – 45 days to finalize financing and close on a home. New construction and unique financing options may cause it to take longer, but now is the time to finalize your moving plans, secure home insurance, negotiate home repairs (if needed), and line up utilities. You'll also need to provide your mortgage broker with needed credit documentation and information to complete the loan package, as well as closing costs and down payments wired to the settlement agent. If you're selling a home, you'll have an additional set of tasks for your own property, including accommodating inspections, scheduling repairs, and signing the deed. This will be a whirlwind of a month but so worth it in the end.
Conclusion
Now, you have an idea of what a home buying plan can look like. Depending on your finances and personal needs, this timeline could be shortened or stretched out. If you're thinking about buying a home in the greater Wilmington area, we are happy to help. Let us know what you're looking for and if you have any questions about the buying process, and one of our team buyer specialists will be in touch.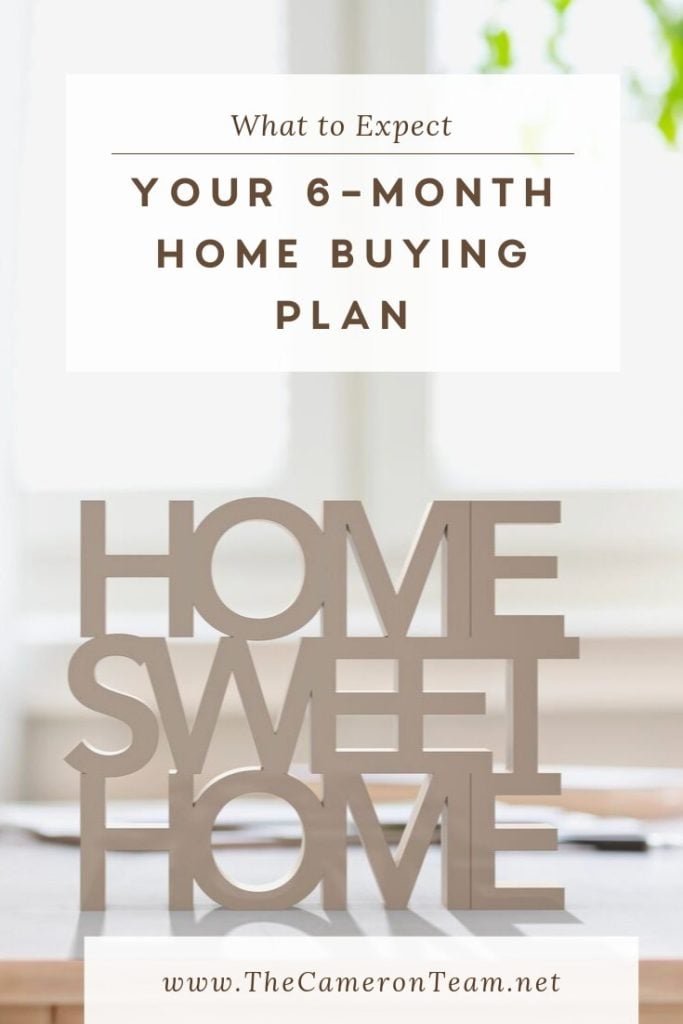 [the_grid name="Home Buyer Tips"]