Luxury Neighborhoods in Wilmington NC
When choosing a luxury home to purchase, home buyers aren't just shopping for an incredible property, they're also looking for a community that fits their lifestyle. Therefore, we've compiled a list of luxury communities in Wilmington, NC. We've not only identified luxury neighborhoods but have also provided some insight into the general character and amenities that each provide. Let us know if you have any questions about a particular luxury neighborhood.
Please note: we've linked to listing pages for each luxury community. These are updated with new listings and price adjustments daily. Sometimes there aren't homes on the market in a specific neighborhood. However, you can bookmark the page to return to it or save the search in your account. We'd also be more than happy to set up a custom search for you upon request.
Airlie Road
The communities located on Airlie Road are some of the most sought-after in Wilmington. They aren't very large, but they all benefit from an excellent location – directly across from the Intracoastal Waterway on the last road before the bridge to Wrightsville Beach. Residents are within biking and walking distance of excellent waterfront dining and marinas, as well as the popular walking "Loop" at the beach. This is truly the treasure of Wilmington.
Luxury communities in this area include Airlie Place, Bel Arbor, Bradley Creek Point, Corbett Place at Airlie, Edgewater, Gray Gables, and Oak Village. There are also some homes located outside of formally established neighborhoods. Of the neighborhoods, Edgewater and Gray Gables have private community docks with assigned boat slips. Many homes in Bradley Creek Point and Corbett Place have waterfront properties with private piers. Additionally, some homes have deeded boat slips at nearby yacht clubs.
All the homes are custom built and range from 2,100 sq.ft. to over 6,700 sq.ft. While many are Coastal and Colonial-inspired, there are some unique gems mixed in, including Mediterranean and Island Style. Each home is extensively landscaped and surrounded by beautiful mature trees. The interiors have high-end finishes and a variety of floor plans. See homes for sale in the Airlie Road area.
Autumn Hall
Located off Eastwood Road, Autumn Hall has some of the most charming homes you'll ever find in Wilmington. Their Southern Style elevations with tall windows and wide front porches, many on two stories, are reminiscent of the plantation homes from the 18th century. All are built with alley-access garages so cars can't be seen from the main roads. That, combined with excellent landscaping, has created beautiful curb appeal for the whole neighborhood.
Inside the homes, luxury home buyers will find Transitional floor plans, which have some conventional features (formal dining rooms, studies, etc.) but are more open concept than Traditional Style homes. The luxury homes range from 3,100 sq.ft. to over 5,000 sq.ft. of heated living space with 4-5 bedrooms and 4-6 bathrooms. They have exquisite features, including extensive molding and wainscoting, trey and coffered ceilings, beautiful hardwood flooring, convenient built-in shelving, gourmet kitchens with high-end appliances, spa-like master suites, and relaxing outdoor living spaces. They're sure to please even the most affluent buyer.
Autumn Hall has excellent amenities (completed and coming soon), including a swimming pool, multiple parks, a playground, and a clubhouse on Bradley Creek. There are some businesses located at the front of the community, including a medical center and coffee house. It's also just 5 minutes from Wrightsville Beach and the top-notch dining and shopping in Mayfaire Town Center and The Forum. Learn more and see homes for sale in Autumn Hall.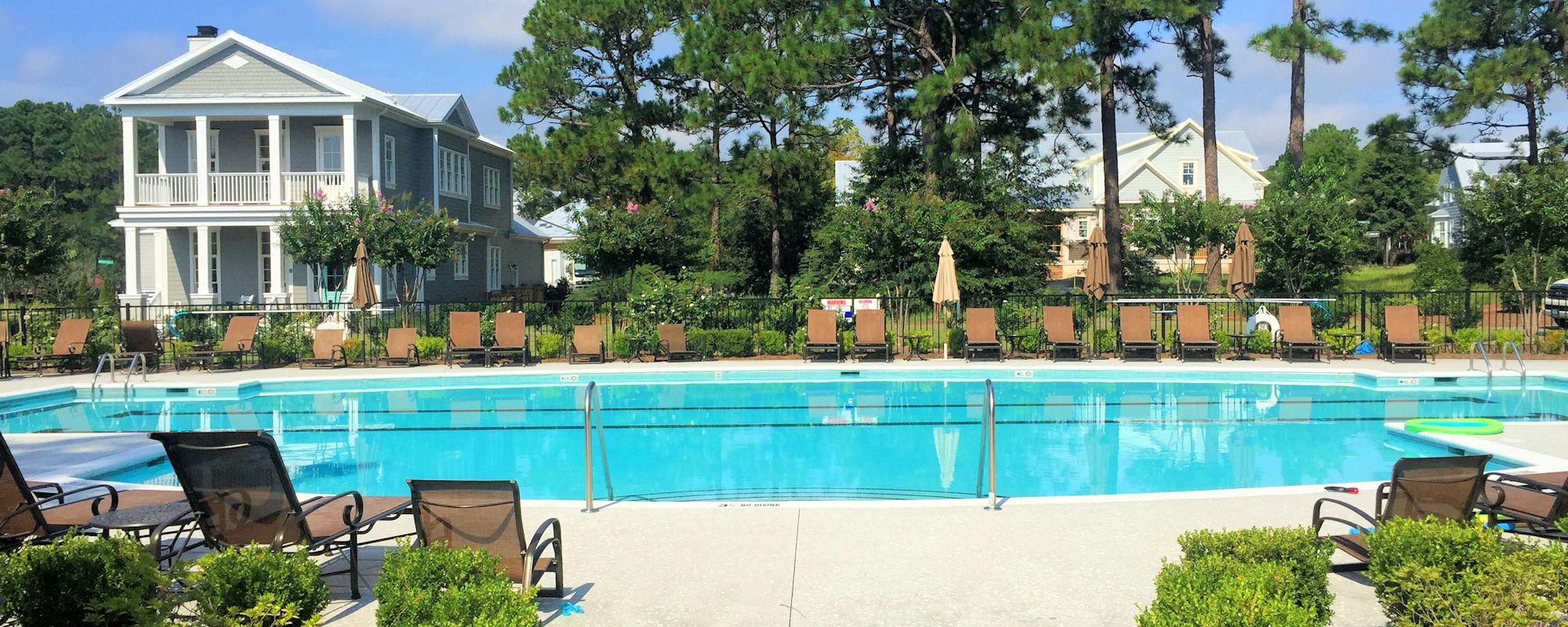 Avenel
Avenel is a hidden gem located off Edgewater Club Road in the Porters Neck area of Wilmington. This community has a private pier that stretches out into the sound to accommodate larger boats. The homes are built on heavily wooded, elevated lots that feel very private despite being minutes from Porters Neck Country Club and Golf Course and Eagle Point Golf Club.
To minimize traffic, the roads have landscaped medians with one-way sections. Each street ends in a cul-de-sac, and some homes are hard to see from the street due to trees. Be careful when driving through – it's not uncommon to see wildlife crossing the road.
Avenel has a little over 60 homes ranging between 2,200 and 5,000 sq.ft. Each home is custom built, so you'll find interesting features, like double-sided fireplaces, twin kitchen islands, extra-large soaker tubs, cabinets with intricate molding, and extensive custom shelving. Of course, some of the best homes are located right on the creek and have beautiful water views from multiple rooms. See homes for sale in Avenel.
Beasley on Masonborough
The entrance to the exclusive gated community of Beasley on Masonborough is located on Beasley Road, minutes from sought-after Walter L. Parsley Elementary School and dining on Masonboro Loop Road. This neighborhood has less than 20 homes but features a club house, swimming pool, and tennis court. Many larger communities in Wilmington can't even claim that!
Developed in the late '90s and early 2000s, none of the homes are under 4,000 sq.ft. and all of the lots are well over half an acre. The homes are custom built, but many have Colonial and Southern design features, like pillars, symmetrical elevations, large front porches, etc. There's a mix of Transitional and Traditional floor plans with formal dining rooms, gourmet kitchens, two-story great rooms, and large master suites. A few of the homes are located on the creek and have water views. See homes for sale in Beasley on Masonborough.
Cedar Island
For luxury buyers looking for a unique home location, Cedar Island is one of the top communities on the list. This enclave community is a small island with just 15 homes which means there are views galore! Located off Greenville Loop Road, it sits within a water basin which has created a nice protected area for the waterfront homes with docks on the inner side of the island. Homes on the outer stretch have docks reaching far into the Intracoastal Waterway, which is great for large vessels.
All the lots are well over 1 acre, so it's not uncommon for a home to have a swimming pool, tennis court, or additional outdoor living space. Each home has its own unique style and floor plan, but all the homes have one thing in common – multiple decks and levels for enjoying the views. But to forewarn you, homes in this unique neighborhood don't come on the market very often, so you must act quickly when they do. See homes for sale in Cedar Island.
Cedar Landing
Just 12 homes make up this waterfront community, which includes a pier on Hewlett's Creek. The pier has assigned boat slips and best serves smaller boats, like pontoons or sport models. The neighborhood is located just off Greenville Loop, which means it's a short drive from shopping and dining located on Oleander Drive.
Southern, Charleston, and Low Country Style homes are popular in Cedar Landing. Lots run half an acre to a full acre, and mature trees create a nice buffer between homes. Only a few properties are located right on the water; however, all the homes are very spacious and have unique features, like indoor pools, greenhouses, and multi-bay garages. See homes for sale in Cedar Landing.
Demarest Landing
Tucked away off Middle Sound Loop Road in Wilmington is the private luxury neighborhood of Demarest Landing. Here buyers will find a collection of unique homes with excellent amenities. The community itself has a clubhouse, swimming pool, dock on Howe Creek, basketball court, tennis court, boathouse, kayak/canoe launch, parks, ponds, and walking trails. The homes, themselves, have even more to offer.
Surrounded by mature trees and a lush landscape, homes here aren't quite like those found in other neighborhoods. The architects and owners weren't afraid to think outside the box. That's why buyers will see gorgeous front-yard gardens, double entrance doors, breakfast nooks with wrap-around benches, hallways with built-in reading nooks, unique alcoves, bunk rooms, and outdoor living spaces with full fireplaces and kitchens. Some of the homes are located on the creek, and are afforded private docks and gorgeous views. Learn more about this community and see luxury homes for sale in Demarest Landing.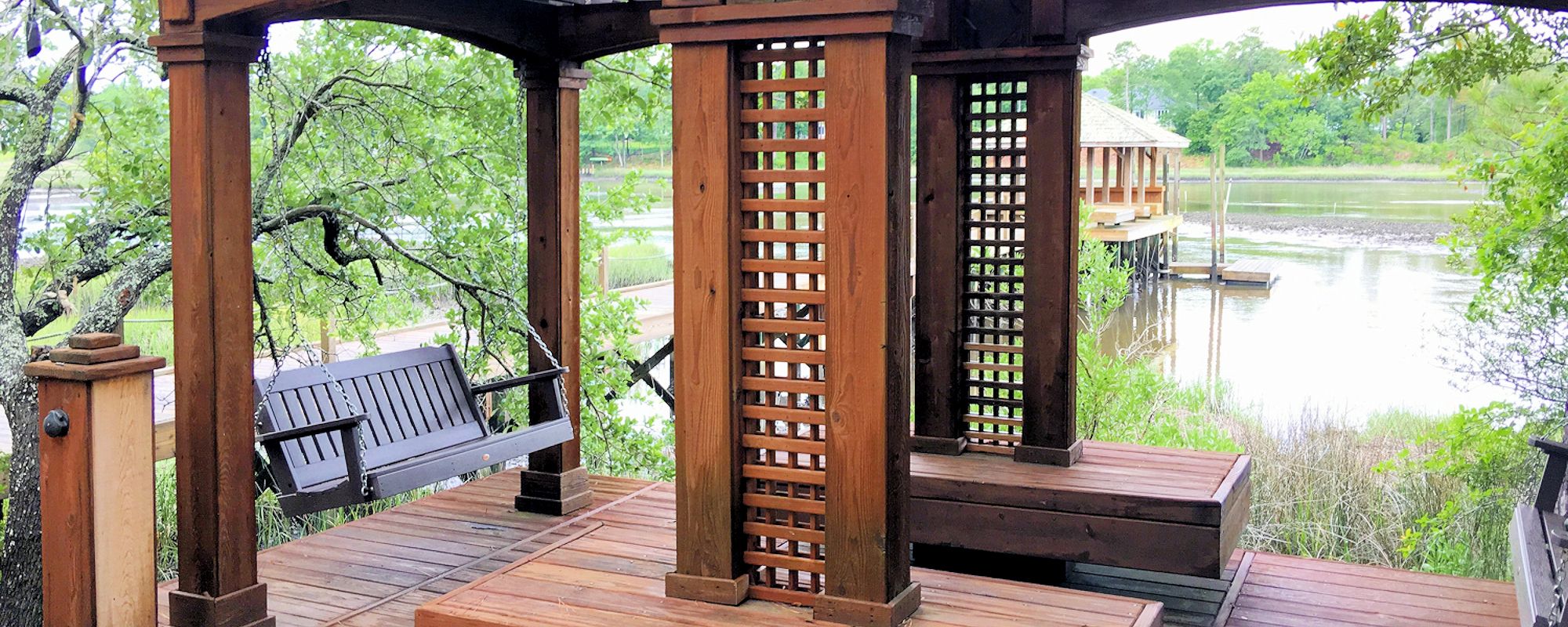 Eagle Point
This exclusive waterfront community is located at the southern tip of Bald Eagle Lane, just minutes from Eagle Point Golf Club and Porters Neck Country Club in Wilmington. It has less than 10 homes but offers some of the most beautiful views and unique properties in this area. The neighborhood also has a dock and assigned boat slip for each home, so a day out on the water is never very far away.
Each home has been custom built and designed to take full advantage of the available water views. The floor plans are often open and spacious – filled with tons of natural light. No two properties are alike and some unique features you may see include a lap pool, roof top deck, Juliet balconies, wet bar, and stacked arched windows. See homes for sale in Eagle Point.
Figure Eight Island (Figure 8 Island)
Figure Eight Island is the most prestigious luxury oceanfront community in Wilmington. The 1,300 acre island has been called "The Hamptons of the South" and is accessible by one bridge, which is gated. No commercial developments are allowed on the island, just the 475 privately owned residences and the Figure Eight Island Yacht Club with its marina, clubhouse, swimming pool, and racquet club.
The exclusivity of the island has created a feeling of mystique around it. Many celebrities have owned homes or rented private residences while in the area, including Jennifer Aniston, Kim Basinger, Alec Baldwin, Robert Downey Jr. and wife Susan, George C. Scott, Sissy Spacek, V.P. Al Gore and wife Tipper, Richard Gere, Andy Griffith, Gene Hackman, Dustin Hoffman, Kathy Bates, Ben Stiller, and more. While celebrity interest is rooted in the island's private nature, their presence seems to add a whole degree to the island's air of mystery.
To see a home on Figure Eight Island listed for less than a million dollars is a rare thing. Properties smaller than 2,000 sq.ft. have sold for over a million. The location is everything here. The lots are large for oceanfront communities and the Coastal Style homes are incredibly spacious. Browsing through pictures will reveal features that the average person would covet on Pinterest – gourmet custom kitchens, cathedral ceilings with exposed beams, giant great rooms, exotic woods, built-in wet bars, stacked stone fireplaces, exquisite lighting, pools and spas with ocean views, multi-level and rooftop decks, and guest quarters sure to impress. Of course, many homes have private docks with lifts and most (if not all) include a membership to the Figure Eight Island Yacht Club. See homes for sale on Figure Eight Island.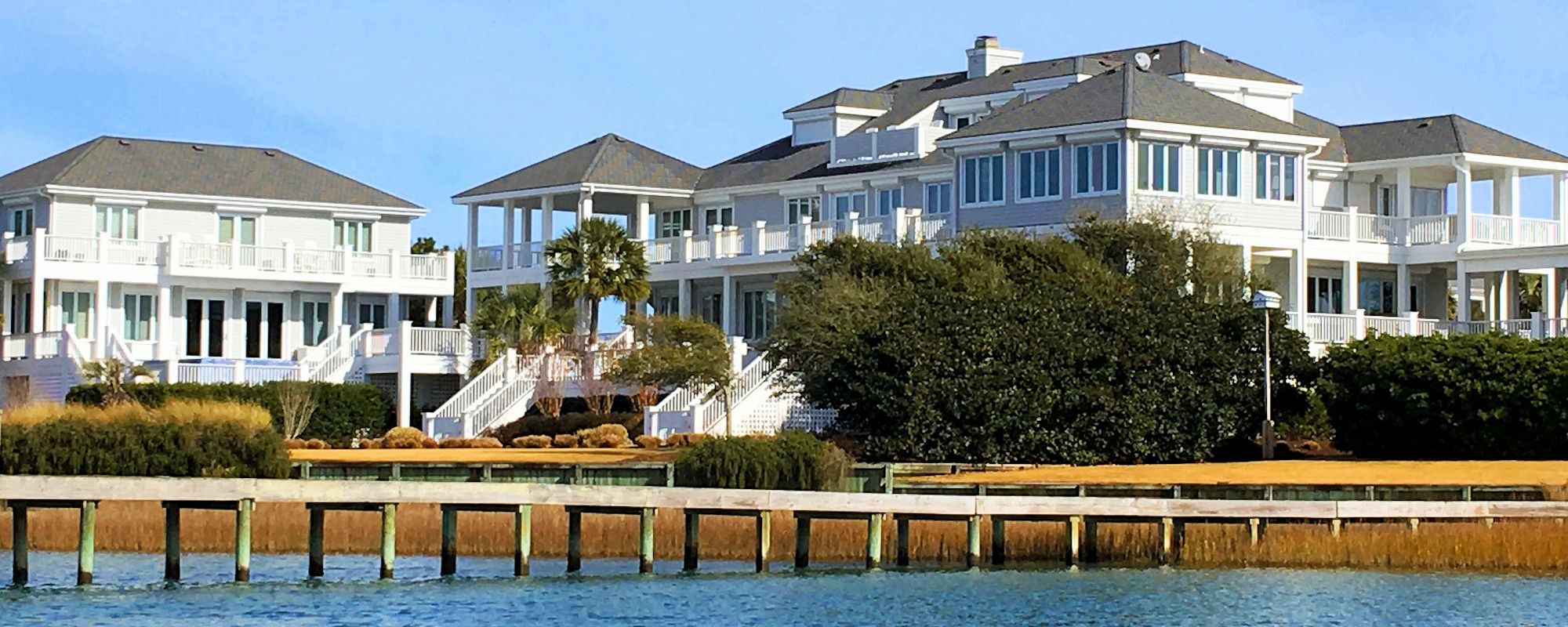 Greenville Sound Gardens
Located just 5 minutes from Wrightsville Beach on Towles Road in Wilmington, Greenville Sound Gardens is Intracoastal Waterway-front living is at its finest. This affluent luxury neighborhood is a small community with a private gated marina that features a yacht club, boat ramp, and assigned boat slips. A few of the homes are located on the ICWW and have private docks, others back up to a pond, but all have gorgeous views.
An impressive list of architects and builders constructed the luxury homes in Greenville Sound Gardens, including Parker Dudley and Michael Kiersting. The interiors are opulent with gorgeous wood floors, custom gourmet kitchens, elevators, extensive molding, bead board, plantation shutters, and lots of built-ins. They have the ideal exterior features for a coastal home – large covered porches (some on multiple stories) and outdoor showers. They look like the ideal candidates for Better Homes & Gardens and Coastal Living. What isn't there to love? See homes for sale in Greenville Sound Gardens.
Helms Port
Bordering the Intracoastal Waterway at Masonboro Sound, Helms Port is a gorgeous gated luxury home neighborhood with a protected 75-slip marina, private beach, kayak launch, clubhouse, and swimming pool. It offers Intracoastal front homes and marina front homes so the boats are always just a short walk away.
The community is filled with charming Southern Style homes with large wrap-around front porches. The interiors are beyond believable with gourmet kitchens with custom cabinetry (glass panes made to resemble porthole windows), high-end light fixtures, spa-like bathrooms, custom shelving, popular finishes (shiplap), coffered ceilings, and tons of windows that let in an abundance of natural light. The developer did a wonderful job choosing floor plans that take full advantage of the views and surrounding landscape. Learn more and see homes for sale in Helms Port.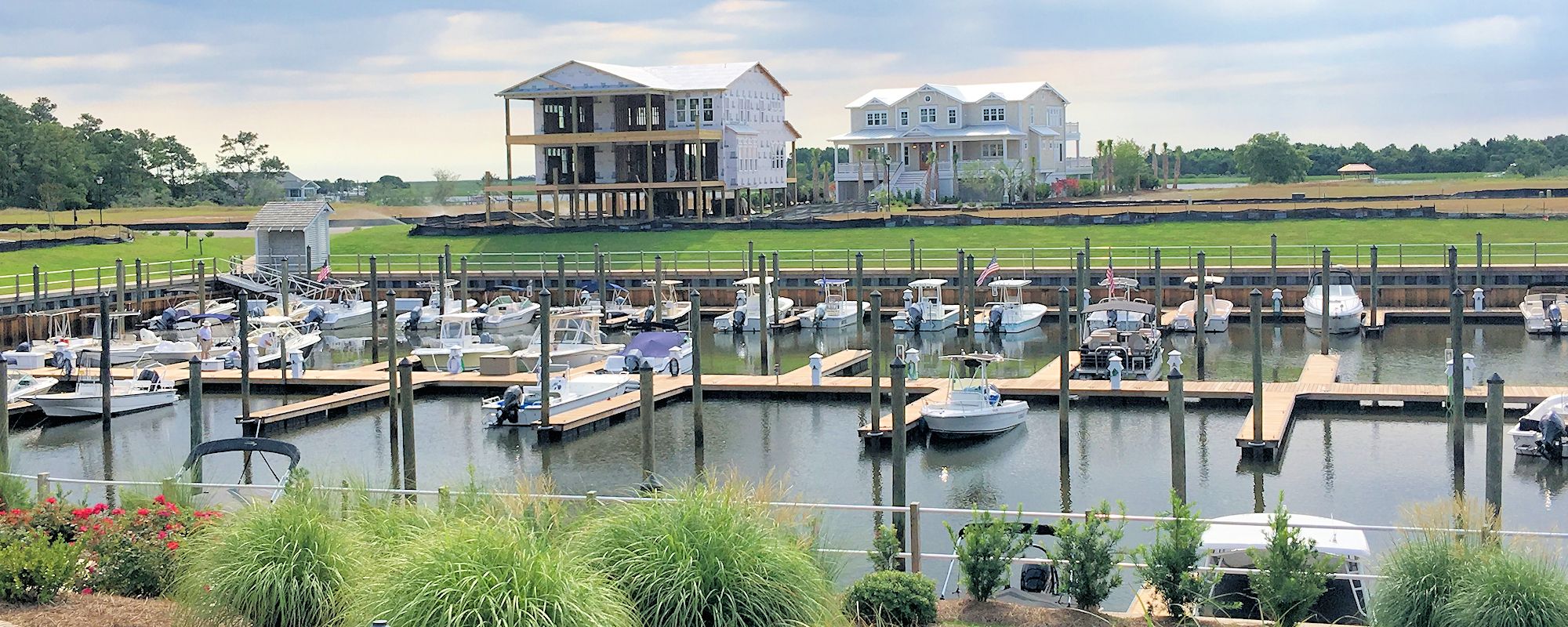 Historic District
Wilmington's Historic District is not a traditional luxury neighborhood. To buy a home in this community is to commit to the upkeep of a home that may well date back to the 1800s. That includes structural maintenance and adhering to the Wilmington Design Guidelines for Historic Districts and Landmarks, which determine the colors, finishes, and structural changes that can be made to the exteriors of historic homes. Still, it is the perfect area for luxury buyers who love history and want to be near all the entertainment, shopping, and dining of downtown Wilmington.
Italianate, Colonial, Queen Anne, and Victorian are some of the styles luxury home buyers will find in the Historic District. Wilmington has a rich history and it's displayed in the surrounding architecture. Many of the interiors have been updated, but older structures come with a special set of creaks and groans that many history lovers just attribute to the property's story. Those that have been updated were completed with finishes that would maintain the antique feeling of the property. Buyers shouldn't expect these homes to have sleek and shiny finishes. Features like antique cabinetry, era-style light fixtures, and handmade stained class are considered "upgrades", but that's why people love these homes. Just walking through the area makes you feel like you're in a different time and that's the charm of this neighborhood. Learn more and see homes for sale in the Historic District.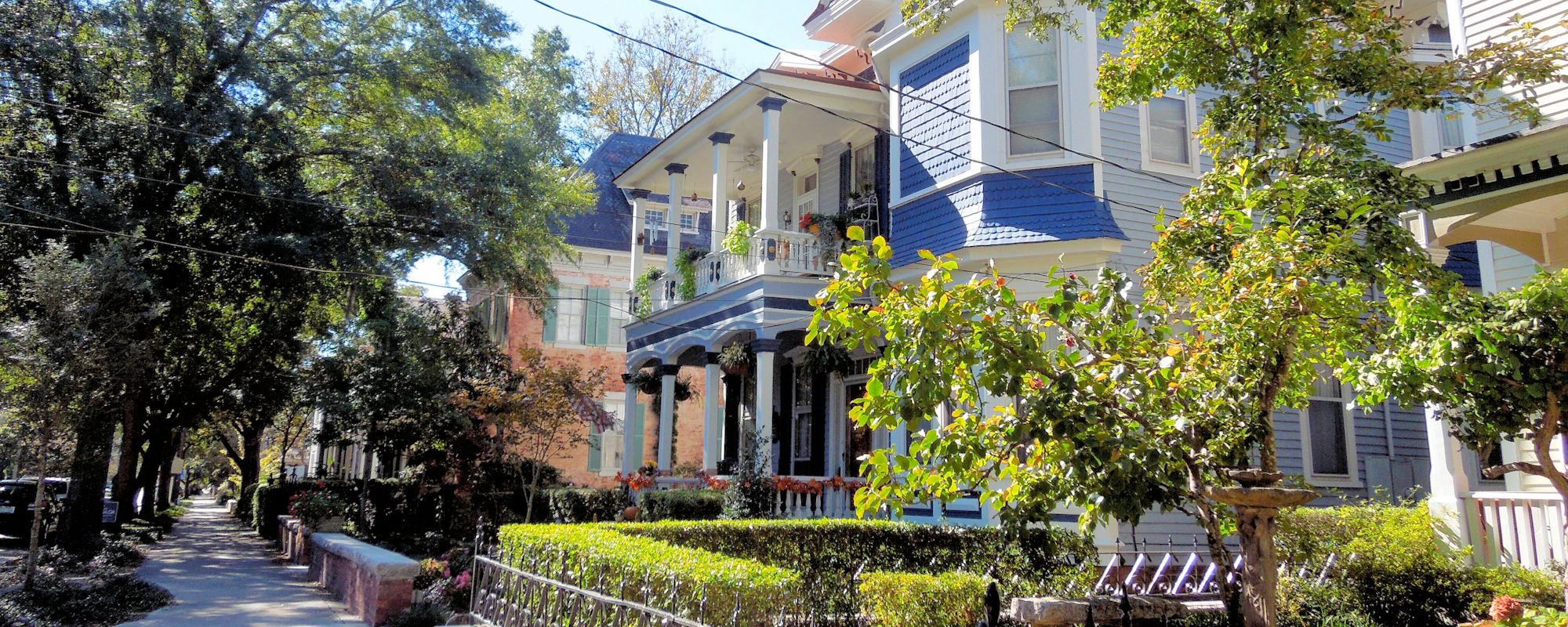 Inlet Point Harbor
This is a boater's paradise! A long, protected basin with a bulkhead stretches the length of the community. Many of the homes are built along it, allowing home owners to keep their boats at their back doors. Homes not on the water aren't missing out. They have deeded wet slips.
Most of the homes in Inlet Point Harbor were built in the 1990s and early-2000s. Low Country and Southern Coastal are common styles and all the homes are multiple stories with outdoor living spaces for enjoying the views. The exception is "Sea Lilly", a private luxury estate with its own water fountain, heated swimming pool, separate pool house, lighted tennis court, basketball half-court, chipping green, tennis court, pier, gazebo, deck, and 24ft boat slip on the Intracoastal Waterway. It sits behind an electric gate to the side of the main community. This is truly a unique neighborhood. See homes for sale in Inlet Point Harbor.
Landfall
Located off Military Cutoff Road and Eastwood Road is one of the most premier luxury communities in Wilmington – Landfall. This neighborhood consists of over 2,200 acres of land and over 2,000 home sites. It has a 24-hour community patrol, 29 miles of private roads, and 3 guarded, restricted-access gates. At its center are two championship golf courses by Pete Dye and Jack Nicklaus. The community also has a state-of-the-art fitness facility, pro-shop, Olympic-sized swimming pool, multi-faith chapel, several sports fields and courts, two luxury clubhouses, restaurants, nature trails, and more. Plus, there are events held throughout the year.
The luxury homes in Landfall are beyond compare. They range in styles from Southern to Mediterranean, each as unique as the next. Construction dates as far back as the 1980s and has continued into recent years, but don't let the years fool you as these properties continue to be updated with only the most high-end details and finishes. All the homes in Landfall are open and spacious with high ceilings, fireplaces, and large master suites. Some have pool houses, in-law quarters, and lovely flex spaces. Outdoor living is also big with sprawling verandahs, outdoor kitchens, brick fireplaces, and gorgeous professional landscaping.
While luxury homes in larger communities are often focused in one specific area, like on the golf course or along the water, the luxury homes in Landfall are equally spaced throughout the community. This gives buyers plenty of options to choose from, including homes that sit along the 4 miles of waterfront or that back up to the 350 acres of conservation land. Inside and out, this is truly a luxury neighborhood. Nearly a third of the Wilmington luxury homes sold in the past 10 years were in Landfall. Learn more and see homes for sale in Landfall.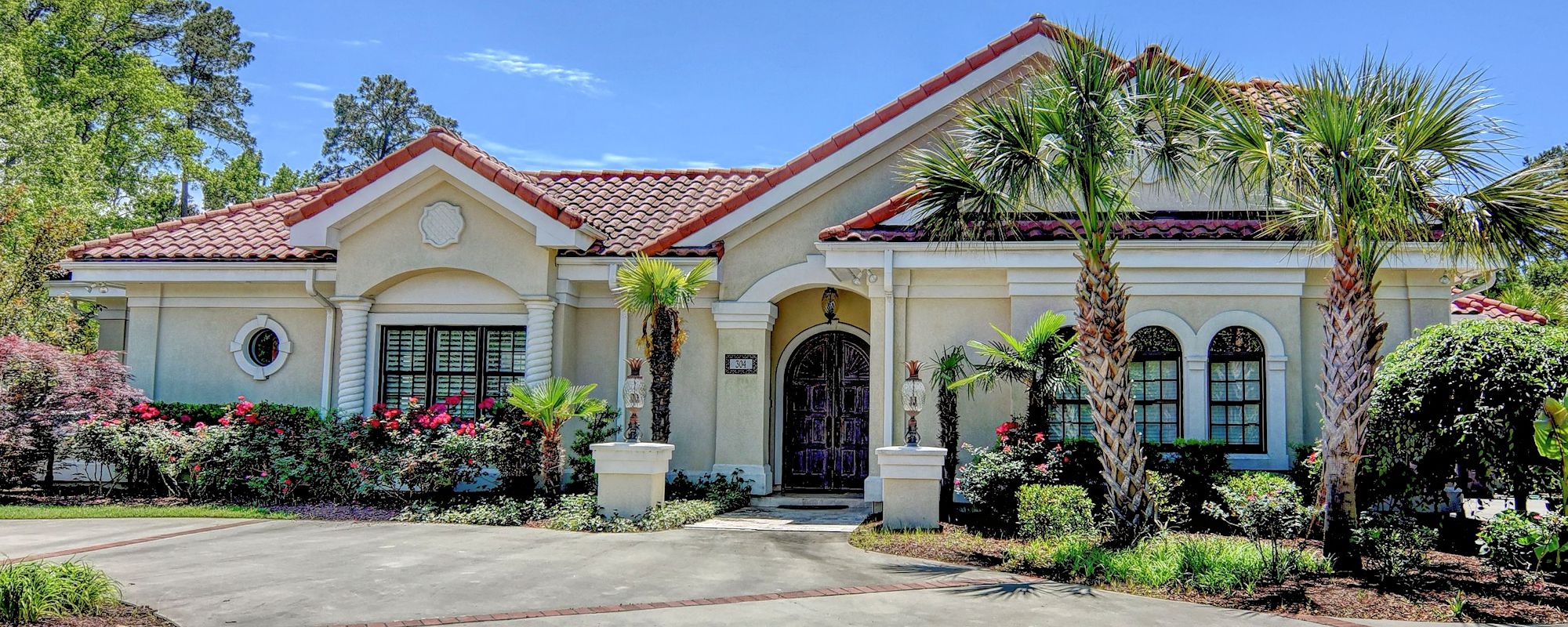 Mason Harbour Yacht Club
Mason Harbour Yacht Club is a fun waterfront community with just 25 homesites. It has a protected marina, clubhouse, and swimming pool. The ICWW is right at the entrance of the marina. Each home has an assigned boat slip and Wrightsville Beach is a short boat ride away.
All the homes in Mason Harbour Yacht Club are a Coastal Style with open floor plans and high-end finishes. Some of the features include beautiful wood flooring, fireplaces with custom surrounds, custom wainscoting, high ceilings, wet bars, surround systems, smart home thermostats, custom tile work, shiplap, and large kitchen islands. They also have additional flex rooms, huge master suites, and large outdoor living spaces. There's so much to love! See homes for sale in Mason Harbour Yacht Club.
Oyster Bay
Located off Masonboro Sound Road, the small luxury community of Oyster Bay has its own protected marina and private boat ramp. This area is highly sought-after by boaters due to its proximity to Masonboro Island and Wrightsville Beach. It's also located in a popular school district.
The homes were built over the course of 3 decades. All are custom built and have a variety of floor plans that range from Transitional to very open concept. All have gorgeous outdoor living areas, including large wrap-around decks, covered patios with fireplaces, and in-ground swimming pools. There's something to appreciate about each one. See homes for sale in Oyster Bay.
Palmetto Pointe
The luxury neighborhood of Palmetto Pointe offers buyers the opportunity to own in a waterfront community. This is a great choice for anyone who wants the views but doesn't need a marina or boat slip. The community has 15 lots, 5 of which are directly on the water. At the center is a park for picnics and playing. On Hewlett's Creek is a community pier and day dock for short stays.
The homes in Palmetto Pointe were constructed in the 2010s. They offer coffered ceilings, trey ceilings, arched doorways, thick molding, fireplaces, large open kitchens, resort-style master suites, expansive decks and porches. There are even highly customized features like home theaters, reading nooks, double-sided fireplaces, multi-head showers, and extra garage bays for golf carts or boats. It's hard to go wrong choosing a home in this neighborhood. See homes for sale in Palmetto Pointe.
Parkside at Mayfaire
Parkside at Mayfaire is one of the most picturesque communities in Wilmington that luxury buyer will see. Charleston and Southern Style homes line heavily landscaped streets with brick inlays. Parking is located at the back of each home, so the front entrances open to lovely porches and the neighborhood's extensive sidewalks. It feels like the classic small-town neighborhood where the home owners sit on their front porches drinking lemonade and conversing about the day's weather.
The home interiors are truly lovely. Each one has unique features from custom medallion ceilings to offices with ceilings that are two stories high. There are breakfast nooks/sitting areas with fireplaces, gorgeous master suites with custom tile work, bonus rooms that are like mini movie theaters, and outdoor living spaces that buyers will want to be in year-round. The community itself does not have any amenities besides a picnic area and lovely, large water fountain, but it's tucked away behind Mayfaire Town Center so shopping, dining, and the movie theater are within walking/biking distance. It's also 5 minutes from Wrightsville Beach and all the rewards of the beach town. Learn more and see homes for sale in Parkside at Mayfaire.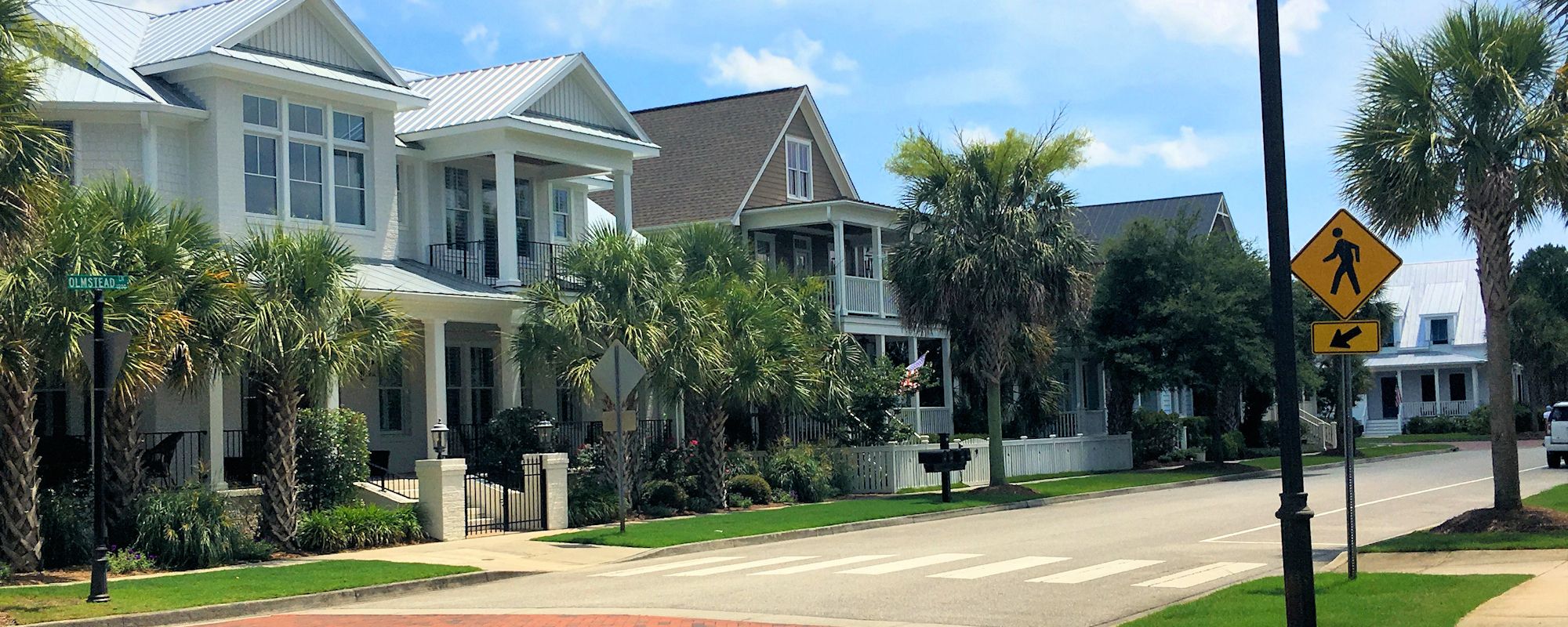 Porters Neck Plantation
The master-planned community of Porters Neck Plantation has been named multiple times by national publications as one of the top places to retire due to its excellent amenities. At the heart of the community is the Tom Fazio 18-hole Championship Golf Course along which many homes are built. It also has a clubhouse, day dock, boat ramp, walking trails, and a sports complex with a lap pool, fitness center, and clay tennis courts. Plus, the neighborhood is dotted with ponds, lakes, creeks, and preservation areas.
The luxury homes in Porters Neck Plantation are primarily built along the Intracoastal Waterway and Futch Creek, though there are some found on the golf course. Many of the waterfront homes have docks, piers, and lifts. A few even have their own private beaches.
Development of Porters Neck Plantation began in the late 1980s, though buyers will find a few homes built prior to the finalization of the community plans. Even back then, buyers were in pursuit of this premier location. The landscape is gorgeous, so buyers will rarely come across a luxury home that doesn't have relaxing views.
The home styles are incredibly diverse: Coastal, Southern, Colonial, Contemporary, Mediterranean…even European-influenced. The floor plans are just as varied, though great rooms and elaborate master suites are very popular. Some of the more unusual features found in these homes include rear-entry frameless glass showers, formal libraries, indoor swimming pools, secret tunnels, submarine doors, metal paneled walls, and walk-in wine cellars, to name a few. Learn more and see homes for sale in Porters Neck Plantation.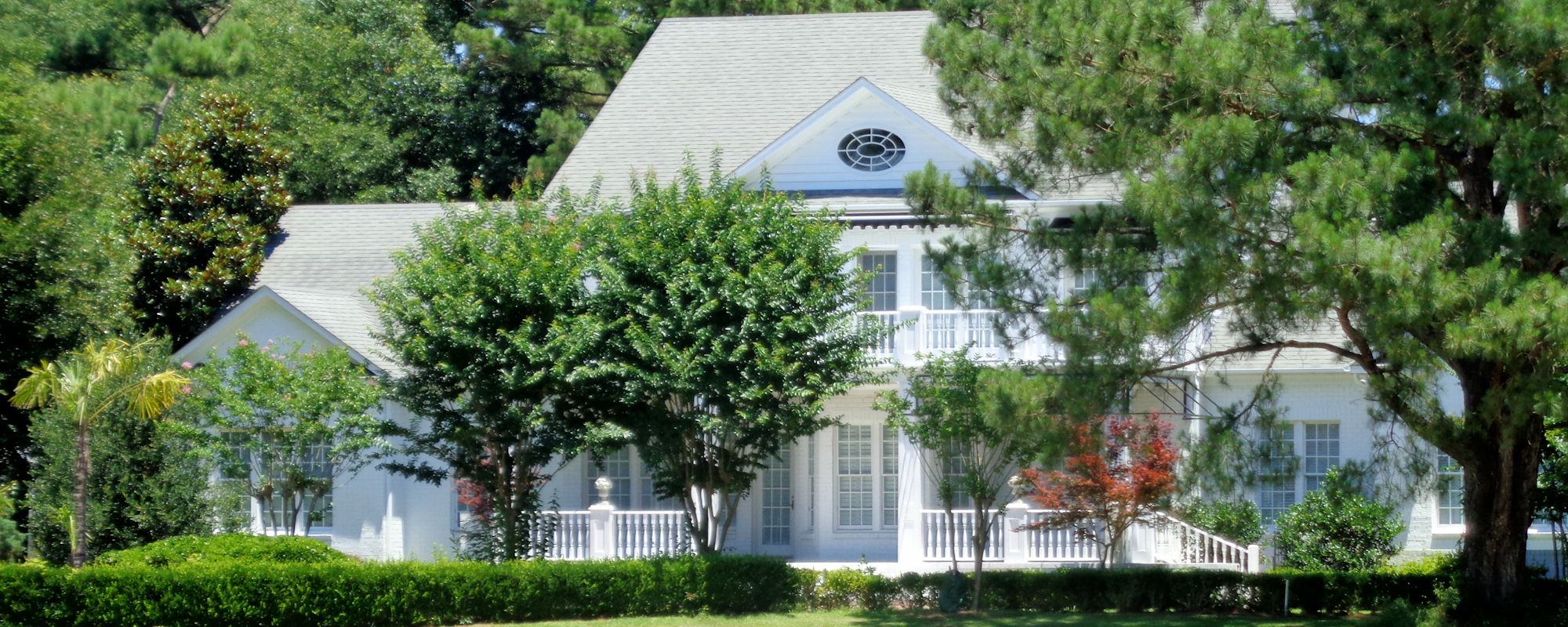 Shandy Point
Located off Greenville Sound Road, Shandy Point is a water access neighborhood with a protected marina and deeded boat slips. Some of the homes are waterfront, some have private docks. All have access to one of the best boating locations in New Hanover County.
The homes in Shandy Point have been built across multiple decades and are some of the most unique in Wilmington, including Greenville Manor, a stately home built in the 1920s that has a potting room, full home theater with copper bar, walk-in wine cellar, and old world charm. There are some Transitional homes in the neighborhood, but most lean toward Traditional layouts with enclosed kitchens and dining rooms. See homes for sale in Shandy Point.
Shinn Creek and Shinn Point
The luxury communities of Shinn Creek Estates and Shinn Point are a lot alike. Both are water access communities with swimming pools. They're even located right beside each other off Greenville Loop Road. However, Shinn Creek has a deck with built-in seating, a floating day dock, and its own private boat ramp to the Intracoastal. Shinn Point has a private dock with assigned boat slips. So, each has its pluses and minuses.
Luxury homes in both communities are very similar. There are properties that go as far back as the 1950s and as recent as the 2010s. For this reason, there are both Transitional and Traditional homes to choose from. Most of the homes are Low Country and Coastal Styles with decks and porches aligned to take advantage of the views. The homes that are waterfront have private docks allowing the homeowners to be just steps from their vessels. See homes for sale in Shinn Creek and Shinn Point.
Tidalwalk
This very unique gated community has nearly a quarter-mile of sandy beach, as well as a private island. It also has a zero-entry pool, cabana, clubhouse, fitness center, sidewalks, and walking trails. The homes are surrounded by waterfront and conservation areas rewarding residents with plenty of nature and relaxing settings.
The luxury homes in Tidalwalk are located deep within the neighborhood along the water. They are of a Coastal Style with lots of windows providing views from almost every room. With high-grade finishes, boat slips, and opulent features, like walk-in wine cellars and resort style master suites, they are sure to appeal to most luxury buyers. Learn more and see homes for sale in Tidalwalk.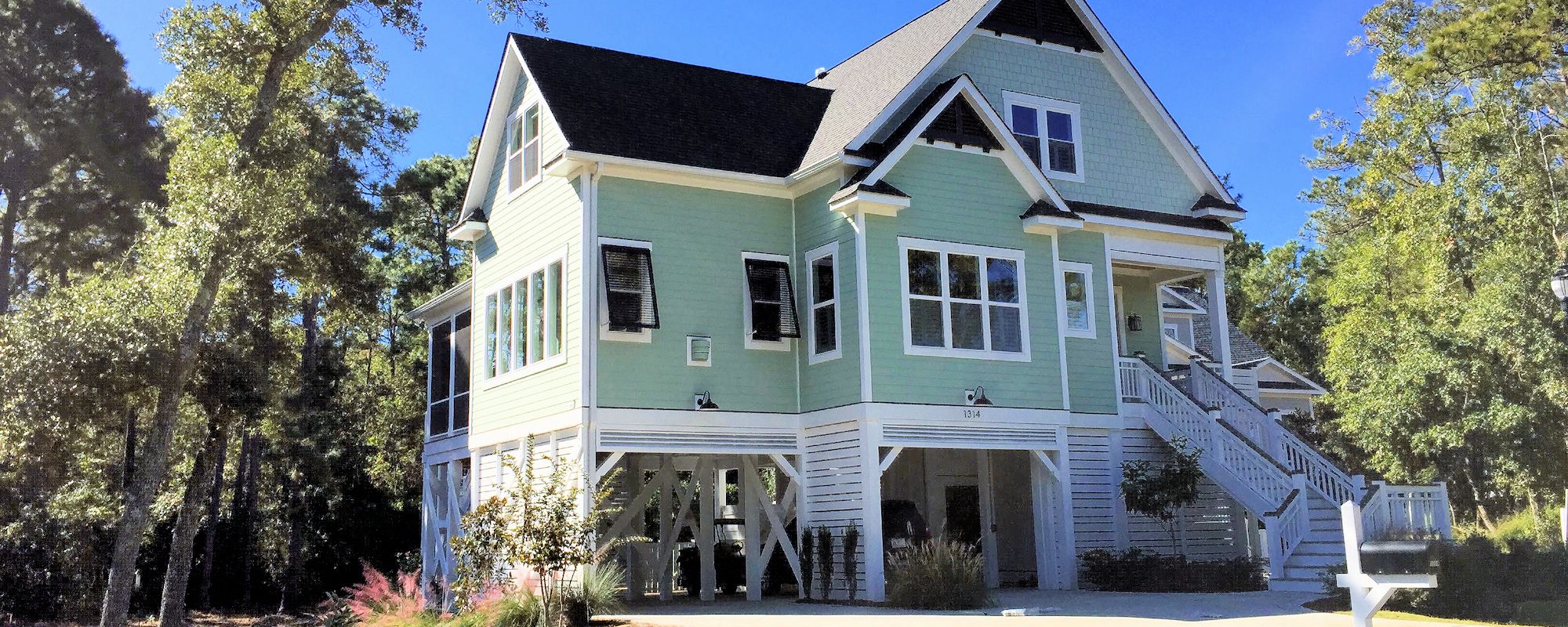 Windchase
One of the most unique locations on the Intracoastal Waterway! This small neighborhood sits on a peninsula with the community dock at the very tip. It includes less than 10 homes, all custom built and spanning over 4,000 square-feet. While all are cozy enough to be well-suited for daily life, they're also designed to entertain and provide sweeping views of the salt marsh and ICWW. See homes for sale in Windchase.
Other Communities
Due to Wilmington's coastal location and rich history, there are many more luxury homes located outside of formal communities and within neighborhoods that are not primarily higher-end. If you are in the market to purchase a luxury home in Wilmington or any of the surrounding areas, we are more than happy to build a custom search that fits your requisites. Melanie Cameron is a Global Luxury℠ Specialist and experienced in handling the special needs of affluent buyers. Don't hesitate to reach out to her at (910) 202-2546.