Wilmington
NCDOT Live Traffic Cams: Over 20 cameras for the Wilmington area.
Battleship Cam: Live Camera at the Battleship North Carolina overlooking the Cape Fear River and Bridge.
Cape Fear Community College: Views of the downtown Wilmington campus and the Cape Fear River.
Downtown Wilmington: Gorgeous view of Cape Fear River and Battleship.
Intracoastal Waterway: Located in Myrtle Grove area.
Mayfaire Town Center: This web cam was experiencing some errors.
Frying Pan Tower: Underwater shots included.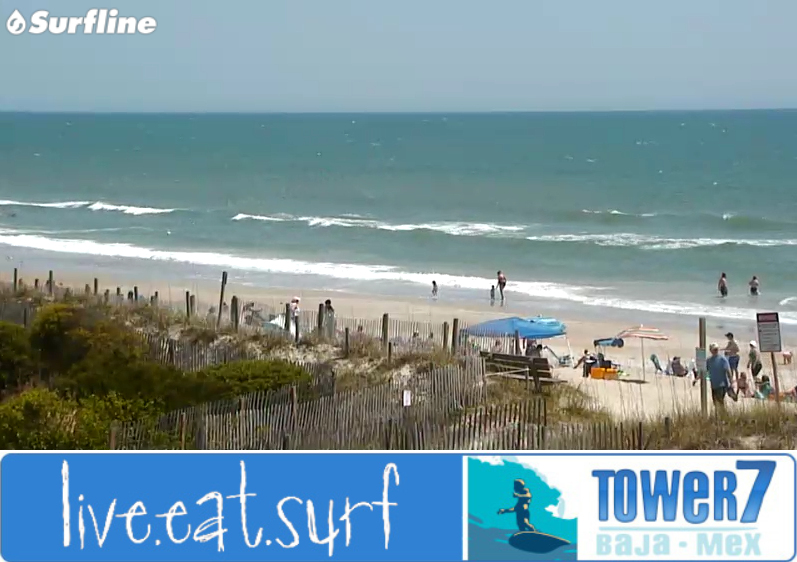 Wrightsville Beach
Banks Channel: View from WBSUP.
Intracoastal Waterway: View from Bluewater Grill.
Intracoastal Waterway: View from Seapath Yacht Club.
Live Surf Cam: Courtesy of Sweetwater Surf Shop.
Live Surf Cam: Courtesy of Surf City Surf Shop.
Johnnie Mercer Pier Cam: Located right at the pier on Wrightsville Beach. Cam may not be working. Let them know when it's not.
Crystal Pier Cam/Oceanic Restaurant: Shots change
Wrightsville Beach: High shot of Wrightsville Beach.
Carolina Beach/Kure Beach
Carolina Beach Fishing Pier: Looks straight down pier and out to the Atlantic Ocean.
Live Surf Cam: Courtesy of Hot Wax Surf Shop
Kure Beach Fishing Pier Cam: Views of the beach, parking, and nightlife.
Kure Beach Street Cam: Good shot of main roads.
Leland
Have a live cam in Leland? Let us know.
Hampstead
Have a live cam in Hampstead? Let us know.
Surf City/Topsail Island
Live Surf Cam in North Topsail Beach: Pans to show different views down the beach.
Surf City Pier – North: This camera may have an error.
Surf City Pier- South: View of pier and beach (good for seeing the Dolphin Dip on January 1st).
Sound View: A view of the sound from Bill's Weather Station.
Surf City First Alert: View of businesses and main road in Surf City.
Surf City Surf Shop: HD Cam near pier.
Southport
Fishy Fish Café Cam: Great views of the boats and water, but there may be an error.
Southport Marina: Weird things going on with this one.
State Port Pilot Cam: Panning views of Southport waterfront.
Southport Waterfront: Views from the First Alert camera.
Southport Waterfron Park: High view.
Oak Island
Oak Island Pier Cam: No longer available.
Ocean Crest Pier: See how the fish are biting.
Ocean Isle Beach
Ocean Isle Beach First Alert Cam: Views of the waves rolling in.
Ocean Isle Beach Surf Cam: View from Islands End Beach House.
Others
Hatteras: Views of the surf rolling in at the beach.
Rodanthe: May have an error.