Wilmington
NCDOT Live Traffic Cams: Over 20 cameras for the Wilmington area.
Battleship Cam: Live Camera at the Battleship North Carolina overlooking the Cape Fear River and downtown Wilmington.
Cape Fear Community College: Views of the downtown Wilmington campus and the Cape Fear River.
Downtown Wilmington: Gorgeous view of Cape Fear River and Battleship.
Downtown Wilmington: Weather cam view of skyline.
Intracoastal Waterway: Located in Myrtle Grove area (was experiencing errors).
Frying Pan Tower: Underwater shots included.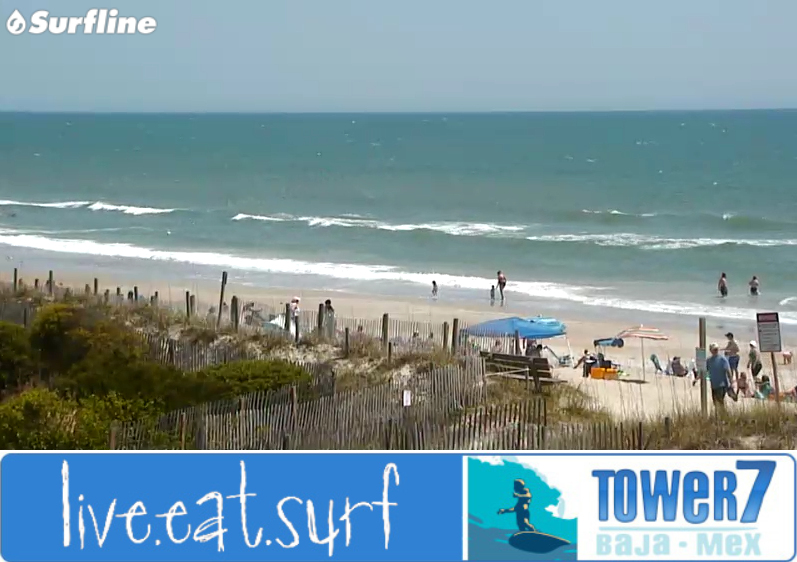 Wrightsville Beach
Intracoastal Waterway: View from Bluewater Grill.
Intracoastal Waterway: View from Seapath Yacht Club.
Live Surf Cam: Courtesy of Sweetwater Surf Shop.
Live Surf Cam: Courtesy of Surf City Surf Shop.
Johnnie Mercer Pier Cam: Located right at the pier on Wrightsville Beach. Cam may not be working. Let them know when it's not.
Crystal Pier Cam/Oceanic Restaurant: Shots change
Wrightsville Beach: Weather cam view of skyline.
Carolina Beach/Kure Beach
Carolina Beach Fishing Pier: Looks straight down pier and out to the Atlantic Ocean.
Ocean Cure: Overlooks the beach flooring in front of the Carolina Beach Boardwalk.
Live Surf Cam: Courtesy of Hot Wax Surf Shop
Kure Beach Fishing Pier Cam: Views of the beach, parking, and nightlife.
Kure Beach Street Cam: Good shot of main roads.
Leland
Have a live cam in Leland? Let us know.
Hampstead
Have a live cam in Hampstead? Let us know.



Surf City/Topsail Island
Live Surf Cam in North Topsail Beach: Pans to show different views down the beach.
North Topsail Beach: View of waves rolling in.
Surf City Bridge: A view straight up the bridge at the roundabout.
Surf City Pier – North: This camera may have an error.
Surf City Pier- South: View of pier and beach (good for seeing the Dolphin Dip on January 1st).
Sound View: A view of the sound from Bill's Weather Station.
Surf City First Alert: View of businesses, water tower, bridge, and main road in Surf City.
Surf City Surf Shop: HD Cam near pier.
Jacksonville
Live Eye 9: Rotating weather cams, including an aerial of Jacksonville and ECU.
Southport
Fishy Fish Café Cam: Great views of the boats and water, but there may be an error.
Southport Marina: Live stream with 4 cameras on YouTube.
State Port Pilot Cam: Panning views of Southport waterfront.
Southport: Views of street from weather cam.
Southport Waterfron Park: High view.
Oak Island
Ocean Crest Pier: See how the fish are biting (may not be working).
Oak Island Water Rescue: A live video feed from their station on SE 49th Street (may need to click to view it on YouTube. See the beach condition flags, part of the skate park, and parking along the 49th Street Beach Access.
Shallotte
Shallotte Pointe: Where the river meets the ICWW.
Ocean Isle Beach
Ocean Isle Beach: Weather cam with views of the waves rolling in.
Ocean Isle Beach Surf Cam: View from Islands End Beach House.
Others
Atlantic Beach: Panning views of the pier.
Hatteras: Views of the surf rolling in at the beach.
Nags Head: Views at Jennettes Pier.
Nags Head: High view of water from Abalone Street.
Nags Head: View from S. Oneto Lane.
Rodanthe: May have an error.