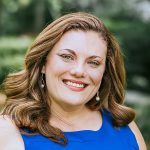 Heather Lindquist-Bull
Client Care Specialist
A little about me
Heather M. Lindquist-Bull is a marketing communications and business development professional who has also worked as a real estate paralegal. She graduated from Elmira College in Elmira, New York with a Dual B.A. in International Relations and Foreign Languages. Sight unseen in March 2014, she moved from New York to Wilmington. The lure of the North Carolina coastal climate, lifestyle, and community was too strong to resist and does not disappoint. Heather is grateful for the hospitality that the kind people of Wilmington show her. She extends that generosity to everyone else that calls greater Wilmington "home" and those that visit our incredible region. Heather is focused on supporting the powerhouse Cameron Team's efforts to continue exceeding client expectations and ensuring that each interaction she makes is a positive one. When not working or loving on her family, you may see Heather on stage performing with several local theatre companies. She also enjoys volunteer activities, traveling, photography, pottery, Zumba®, and kickboxing.
Our clients are awesome
"We have been working with Melanie for over 20 years with purchases and sales. She goes above and bey
…
Read More
ond and is always very knowledgeable and professional. Her expertise makes the experience much less stressful. She has also helped many family members in the same way. We consider her to be family as well. She has a great team and I want to especially thank Heather who helped us out when Melanie was away for a short period. I recommend the Cameron team 200%. Heather, Lincoln says hello!"
Read Less
"Wonderful service! My broker Melanie Cameron has an outstanding knowledge of her profession and the
…
Read More
best team members with her same high standards. Melanie was always on top of every detail and also had a list of competent reliable companies who has the same high standards displayed by Melanie Cameron's team members to help with all the things needed to complete the sale of the property. A special kudos to Melanie's personal assistant Heather who took the rein while Melanie was on a short vacation and helped me tremendously. I was unable to return to Wilmington toward the end of the sale to complete the cleanup needed to transition the property to the new buyer and Heather made sure everything was taken care of in Melanie's absence. Gold star service!"
Read Less
"The team was very responsive and professional at every interaction. Heather set up my online searche
…
Read More
s and updated them as I focused in on certain areas.Tammy reached out and quickly got to know me. When I found my ideal home, Tammy worked quickly to present my bid. Through each step of the process she was professional, available and efficient. I could not have imagined my home buying process could have gone so flawlessly. I highly recommend this team to anyone looking for a home in the Wilmington area."
Read Less