Buying a home is a major investment. The rule of thumb is that no more than 28% of your monthly debt payments should go to your mortgage. Let me repeat – 28% of your money every month could go to your mortgage and that doesn't include property upkeep. With a commitment like that, you want to make sure that you're investing in a solid product that isn't going to bring you any surprises down the road, which is why we have a Due Diligence Period. One of the things we highly encourage during the Due Diligence Period is getting a home inspection. You'll hear a lot of Realtors recommend this, but we go one step further and recommend getting a separate HVAC inspection.
If you're already getting a home inspection, you're likely wondering why an HVAC inspection would be necessary. The fact is, the home inspection is a visual inspection. The home inspector will test the unit's thermostat, as well as heat differentials around the home. They will, basically, turn on the heat and A/C at the beginning of the inspection, let it run, and then use a hand tool to measure the temperature at registers around the home. They will use this info to make an educated guess if the unit is working optimally. They do not open the unit to check coils, moving parts, or the casing, just like they don't break into walls to check the wiring. They could be held liable for damages.
While a unit can appear to be functioning correctly, there's still a chance that there's a leak or crack, or some other issue that can lead to expensive repairs down the road (think thousands of dollars), as well as a higher-than-normal monthly utility bill. Nearly half of your energy bill will go towards paying to heat/cool your home, so this is something you really want functioning correctly.
After a HVAC inspection is completed, if any issues are discovered, you can ask the sellers to repair them or adjust the offer price as part of the final negotiations. Of course, there are exceptions. Seller motivation and the contract price can affect what repairs the sellers are willing to complete. If you're getting the home at a great price, the HVAC repairs may be something you choose to take care of. Above all, you know they exist, which is more than you could have said prior to the HVAC inspection.
Here is some good news! Home warranties are becoming increasingly common in negotiations. You can ask the seller to provide one or purchase one yourself. See this 2-10 Home Warranty brochure? It's worth $25,000.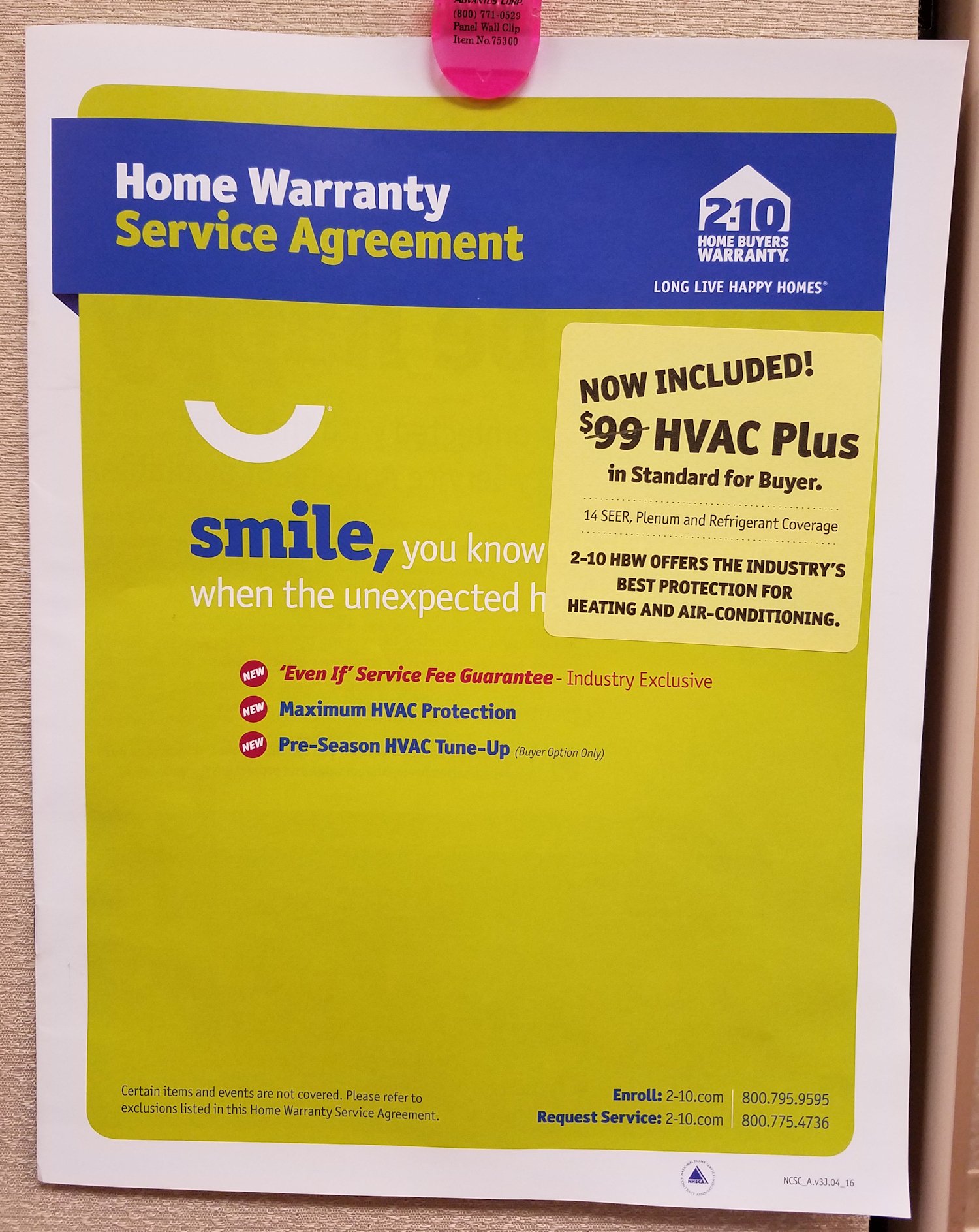 That is how much the service agreement could potentially cover if your new home suddenly turned into a money pit. That includes a HVAC unit replacement with no price limit for you. That means, if there were no known issues when the home warranty was enrolled and the unit completely breaks down, 2-10 will replace it with a comparable unit with no cap on the cost. Some companies have a max dollar amount, which can lead to you getting a lower quality unit. 2-10 doesn't want their customers settling for anything less than what they expected to have.
In order to guarantee this coverage, 2-10 Home Warranty requires the unit be certified by an HVAC professional. 2-10 works with a number of local independent HVAC companies to get units certified, which is the typical HVAC inspection. The warranty company's customer service is great, and they do try to work with buyers who choose to have a unit inspected outside of their network, but unless you have an HVAC company that you really, really love, you can get an HVAC inspection done at a very competitive price through 2-10, and you're giving them all the info (and paper trail) they already need for future services.
Even if you aren't getting a home warranty as part of the offer to purchase, we encourage you to get a separate HVAC inspection. Prices can vary between heating and air companies, but they average at $100 and can save you thousands.
If you are thinking about purchasing a home in the Wilmington area, give us a call! We're happy to answer your questions on this subject, as well as any others you may have about buying a home.
Related Posts
[the_grid name="Home Buyer Tips"]