Are you just not feeling up to preparing a whole Thanksgiving meal? Would rather spend time with the family than slave away in the kitchen making dinner? Or maybe you'd like to deliver a nice holiday meal to someone you know isn't able to cook their own. Well, you're in luck, because there are multiple places around Wilmington where you can order a whole take-home Thanksgiving meal, sides and all. Reading their menus had my mouth watering, and I'm sure yours will be too!
Note: Listings updated for 2019 are marked.
Also see "Thanksgiving Seated Dining Options in Wilmington".
1. Sweet N Savory Café (Updated for 2019)

1611 Pavilion Place, Wilmington, NC 28403
Reservations required: 910-256-0115
Pick up 11:00 a.m. – 6:00 p.m. on Thanksgiving Day
Sweet N Savory offers 3 packages for their Thanksgiving meals:

The Intimate Thanksgiving Dinner (feeds 4-6 comfortably) – $102.95
• Slow roasted hand carved turkey (1 whole breast)
• Homemade gravy
• Cornbread and sausage stuffing
• Buttermilk smashed potatoes
• Cranberry sauce (jellied)
• Sweet potato casserole
• Green bean casserole
• A 10" Pumpkin Pie
• A dozen dinner rolls with whipped honey butter
The Classic Thanksgiving Dinner (feeds 8-12 comfortably) – $172.95
• Slow roasted hand carved turkey (1 whole turkey)
• Homemade gravy
• Cornbread and sausage stuffing
• Buttermilk smashed potatoes
• Cranberry sauce (jellied)
• Sweet potato casserole
• Green bean casserole
• Roasted Cauliflower and Broccoli
• A 10" Key Lime pie
• A 10" Pumpkin Pie
• 2 dozen dinner rolls with whipped honey butter
• Sweet Cornbread
The Ultimate Thanksgiving Dinner (feeds 12-18 comfortably) – $255.95
• Everything in the Classic Thanksgiving Dinner Package
• Jerk spiced pork loin with mango chutney over wild rice
• Homemade macaroni and cheese
• Coleslaw
• Shrimp n Grits
• Apple Cobbler
2. SeaWitch Cafe (Updated for 2019)

227 Carolina Beach Ave N, Carolina Beach, NC 28428
910-707-0533
The SeaWitch cafe is offering two dinner packages to go. They each feed 6-8 people. Customers can choose between a whole roasted turkey (8-12 lb) and a spiral ham. Then, choose 3 sides from macaroni and cheese, stuffing, mashed potatoes, sweet potatoes, green beans, corn and cranberry relish. Finally, they can choose between apple and pumpkin pie. The tukey dinner is $54.99 and the ham dinner is $69.99.
3. Bojangles
Five locations in Wilmington and Carolina Beach
Offering Bojangles'® Seasoned Fried Turkey serving up to eight people for $39.99 at participating locations. Pricing and participation may vary by location. Complete your Thanksgiving meal with their mashed potatoes and gravy, green beans, mac 'n cheese, Bojangles Dirty Rice®, buttermilk biscuits, and desserts.
4. Cracker Barrel
21 Van Campen Blvd., Wilmington, NC 28403
910-794-1162
Their Heat 'n Serve Holiday Family Meal To-Go makes cooking for friends and family easier than ever. Just order online and pick up ahead of time to get a simple-to-prepare feast that's ready in 2 hours or less. Their Thanksgiving meal kit comes chilled and ready to heat. See below for details on all of their Thanksgiving offerings." It's recommended you order at least 24 hours in advance of planned pick-up.
Several options including:

Heat 'N Serve Holiday Family Meal To-Go (oven to table in 2 hours or less, serves up to 10, includes 2 turkey breasts, cornbread stuffing, turkey gravy, cranberry relish, choice of 3 Country Sides, sweet yeast rolls, pumpkin pie [while supplies last] and pecan pie)
Homestyle Turkey 'N Dressing Family Meal To-Go (hot and ready to serve up to 6, includes Turkey, sugar-cured ham, cornbread stuffing, turkey gravy, cranberry relish, choice of 3 Country Sides, choice of bread).
Fresh baked pies (pecan, chocolate pecan, apple pecan streusel, no sugar added apple, pumpkin).
5. Fresh Market
1060 International Dr., Wilmington, NC 28405
910-256-3524
Fresh Market offers an extensive holiday meal menu with complete meal options as well as a la carte turkey, ham, standing rib roast, beef tenderloin, pork crown roast, turducken, leg of lamb, rack of lamb, oysters, lobster, shrimp, scallops, lasagna, sides, platters, breads, and desserts.
6. Harris Teeter
Multiple locations
Order Online (enter zip code)
Harris Teeter prepared holiday meals are available for order on-line or in-store. The Turkey Dinner is $49.99 for 9-12 lbs. fully cooked Butterball® turkey, turkey gravy, cranberry relish and your choice of three different 2 lb. trays sides (Yukon Gold mashed potatoes, green bean casserole, sweet potato casserole, cornbread dressing). The meal will require reheating prior to serving 8 – 10 people. They also offer "Chef-Prepared Holiday Meals". This Fresh Turkey Dinner is $69.99 for 12-14 lbs. turkey (ready to roast or pre-cooked then chilled) with carrot souffle, turkey gravy, cranberry relish, stuffing (sourdough cranberry or cornbread), green beans (with spicy candied pecans or string bean casserole), and potatoes (red skin mashed or fingerling sweet). They have similar options for prime rib, beef tenderloin, and ham dinners as well as a la carte.
7. K&W Cafeteria
3501 Oleander Dr., Wilmington, NC 28403
910-762-7011
K&W offers several options including dining in (noted below). There is buffet take-out, a build-a-meal menu, party platters and family size items to-go. You may also pre-order (in-store or via phone) a Family Feast (serves 6 for $65.00) or Family Gathering (serves 20 for $135) with choices between sliced roast turkey or baked ham, both basic accompaniments, and three sides chosen from mashed potatoes, yam soufflé, macaroni and cheese, greens, and green beans.
8. Cast Iron Kitchen (Updated for 2019)

8024 Market Street

, Wilmington, NC 28411
910-821-8461
Cast Iron Kitchen is offering take-home meals that feed between 2 and 14 people. Customers can choose one protein: roasted turkey breast or slow cooked pork shoulder (shrimp and grits is also available as an add-on entree). Three sides are included and can be chosen from: sausage stuffing, sweet potato casserole,  braised collards, mac and cheese, classic green bean casserole,  mashed potatoes with gravy, and hashbrown casserole. Packages range from $65 (2 people) to $250 (10-14 people). Additional sides can also be purchased for $10 each.
8. Lowe's Foods
Multiple locations
Lowe's offers several pre-cooked and ready to reheat dinners with either turkey or ham and sides. You may ask the local deli counter for an order form. They also have sandwich, seafood, chicken tenders and wings, meat and cheese, fruit and cheese, and vegetable trays, as well as Chicken Kitchen, ready to eat, and heat and serve meals, meats, sides, breads, and desserts.
9. S&L Deli (Updated for 2019)

2317 South 17th Street

, Wilmington, NC 28401
910-794-1764
Order before 11/18 per their Facebook post. They have a 10-people minimum requirement ($16.99/person). Menu: Turkey, gravy, mashed potatoes, pecan praline sweet potatoes, collards or green beans, cranberry orange relish, rolls or cornbread, and creamy baked mac and cheese. Plus, banana pudding, sweet potato bread pudding, pumpkin bread pudding, and rice pudding and cannolis. You can also order half a pan of Thanksgiving morning French Toast Bake (ready-to-bake) for $19.99. Pick up or delivery (fee).
10. Pine Valley Market
3520 South College Rd., Wilmington, NC 28412
910-350-3663
**Pre-order turkeys while supplies last. The deadline to order side dishes is Saturday, November 17th at noon.
Pick up: Tuesday, November 20th or Wednesday, November 21st by noon.
Pine Valley market sells fresh, never frozen, free-range turkeys from the Koch Family Turkey Farm. Their turkeys never receive antibiotics or growth promoters and are fed a fortified vegetarian diet. The turkeys must be ordered in advance and are sold raw unless otherwise specified. Since they are not frozen, the turkeys are not available for pick up until Tues., Nov. 20th. If you prefer, the Market will prepare your turkey for you. It will be fully seasoned, oven-roasted, and basted in white wine and butter. You can order turkeys in several sizes ($3.99/pound raw or $6.49 cooked), as well as turkey breast (average 8-10 pounds) for $6.99/pound. They have numerous a la carte sides offered in small (feeds 2-4), medium (feeds 6-8), and large (feeds 10-12). Sides include traditional dressing, sweet potato soufflé, corn soufflé, green bean casserole, collard greens, baked macaroni and cheese, roasted root vegetable, mashed potatoes, cider glazed brussels sprouts, roasted red potatoes, apple cranberry crisp, gravy, gluten-free gravy, cranberry sauce, breads, caramel pound cake, and made-from-scratch pies.
11. Publix
Multiple locations
48-hour advanced notice required for orders.
You can order Publix Deli fully-cooked (reheating required) turkey dinner (turkey breast for 7-10 at $59.99, whole turkey for 7-10 people at $49.99 or 14-18 at $89.99) or Boar's Head sweet sliced ham for 7-10 people at $54.99. Each turkey dinner includes holiday dressing, mashed potatoes, Publix signature gravy, Marshmallow Delight, and cranberry orange relish. The ham dinner includes sweet potato casserole, green bean casserole, and Marshmallow Delight.
12. Whole Foods
3804 Oleander Dr., Wilmington, NC 28403
1-844-936-2428
With available pick-up dates between 11/14/18 – 11/23/18, you may order classic roast turkey or a holiday dinner with a spiral-sliced ham, prime rib dinner, or choice between Southern, hickory-smoked, classic, or organic roast turkey. Some serve 4 or 8 people. You may get a larger meal with multiple meat options combined as well. They also offer holiday a la carte sides, desserts, appetizers, party platters, Hanukkah, and vegan holiday items along with everyday selections.
13. Denny's
Multiple locations
For $36.99, participating locations are offering a new Turkey & Dressing Dinner Pack (serves 4-5 people) with tender-carved turkey breast served family-style with savory stuffing, turkey gravy, and cranberry sauce served with your choice of two sides (mashed potatoes, French fries, fresh sautéed zucchini and squash, broccoli, whole grain rice, or Southwest creamed corn). Sweeten your meal by adding a classic pecan or pumpkin pie for $8.99. The limited-time offer is available exclusively through Denny's online ordering platform, 'Denny's on Demand'.
14. Dickey's Barbecue Pit
5120 S. College Rd., Suite 104, Wilmington, NC 28412
910-777-5412
Dickey's offers several holiday meal options that serve 10 people on average including combinations of spiral cut ham, smoked turkey, or prime rib while supplies last. The popular Cajun fried turkey has already sold out. The "Feast" options include cornbread dressing, gravy and rolls. Additional a la carte items available are bacon and onion green beans, baked potato casserole, rolls, pecan and pumpkin pie. They recommend that you order your holiday meal a week in advance. You may pick it up the day before Thanksgiving up until 9 PM.
15. Golden Corral Buffet and Grill
5130 New Center Dr., Wilmington, NC 28403
910-392-1984
You may order a la carte holiday sides, or a roasted or smoked turkey holiday dinner serving 6 – 8 people for $129.99 to go from their website. The dinner includes turkey, cornbread stuffing, mashed potatoes, gravy, cranberry sauce, and yeast rolls with a vegetable and pie choice. To-go orders require a 7-day advance notice.
Did we miss a business in the Wilmington area offering take-home Thanksgiving meals? Let us know in the comments!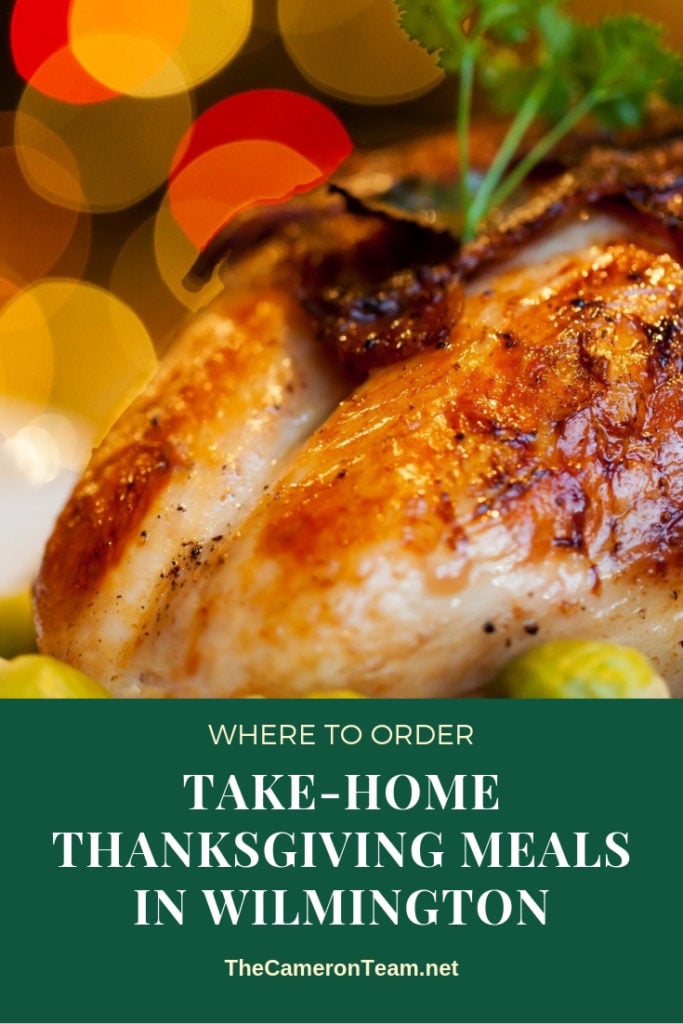 July 10, 2020
Area Info
,
North Carolina
,
Soda Pop District
,
wilmington
What is posed to be the next area to undergo a resurgence or revival in popularity, the Soda Pop District is an area of Wilmington, NC, bordered by Dock, Chestnut, 8th, and 12th Streets. It received this name because of the old Coca-Cola...