Don't have room to host a Thanksgiving meal or don't feel like cooking a whole feast? Well, thank your lucky stars, because we've got some great dine-in options here in the Wilmington area! Below are over 25 options to choose from. Some require reservations, so make sure you carefully read through your favorites. If we we missed anyone, please leave a comment with the restaurant name and as many details as you can provide.
Also see Where to Order Take-Home Thanksgiving Meals in Wilmington.
1. Banks Channel Pub
530 Causeway Dr., Wrightsville Beach, NC 28480
910-256-2269
Banks Channel Pub will be open and offering its regular menu. (Opening time to be confirmed.)
2. Bluewater Waterfront Grill
4 Marina St., Wrightsville Beach, NC 28480
Reservations highly recommended: 910-256-8500
Bluewater Waterfront Grill on the Intracoastal Waterway will be serving their regular dinner menu as well as a Thanksgiving day feature of turkey, mashed potatoes and gravy, sweet potato casserole, collard greens, dressing, cranberry sauce, and a special dessert for $19.95.
3. Boca Bay Seafood & Oyster Bar
2025 Eastwood Rd., Wilmington, NC 28403
Call for details and reservations: 910-256-1887
A Thanksgiving buffet of turkey, ham, prime rib, and traditional Thanksgiving offerings will be served from 11 AM – 5 PM for $32.95 per person.
4. Bridge Tender
1414 Airlie Rd., Wilmington, NC 28403
Reservations required: 910-256-4519
Thanksgiving service starts at 11 AM with a four-course select menu with a choice of one of three entrees featuring oven-roasted turkey and gravy ($28), a glazed honey ham ($28), or certified angus prime rib ($36). Each entrée is served with choice of mashed Yukon gold or sweet potatoes, and braised kale or haricot vert. The appetizer is crab dip with garlic toast points. You may choose the Lumina Greens salad, Caesar salad, or New England clam chowder for your second course. Finish your meal with a slice of house-made pumpkin pie served with fresh cream. Children 12 and under dine for $14.
5. Carolina Ale House
317-C College Rd., Wilmington, NC 28403
910-791-9393
Carolina Ale House will be open and serving their regular menu from 4 PM to close on Thanksgiving Day.
6. Carolina BBQ
1602 S. College Rd., Wilmington, 28403
Reservations accepted for parties of 8 or more only: 910-799-3464.
Carolina BBQ is a hot spot for dining on Thanksgiving day (11 AM – 5 PM). So, if you are planning to dine with a party of eight or more, call ahead and make a reservation. They will be serving a traditional Thanksgiving dinner which they call an "amped-up" version of their Sunday buffet. It will feature turkey, ham, roast beef, BBQ ribs, whole baked sweet yams, swiss medley, cranberry sauce, and the usual Sunday fare for $12.99 (adult), $11.99 (seniors), and $6.99 (kids).
7. Casey's Buffet 
5559 Oleander Dr., Wilmington, NC 28403
910-798-2913
Casey's is a popular dining location for the holiday with its large selection of all-you-can-eat food items at the buffet for a good value. Be prepared to wait depending on your arrival time. They may not accept reservations.
8. Cracker Barrel
21 Van Campen Blvd., Wilmington, NC 28403
910-794-1162
Open regular business hours Thanksgiving day and serving a traditional Thanksgiving meal beginning at 11 AM. Their classic Turkey 'n Dressing meal includes: Turkey 'n dressing, gravy, sampling of Sugar Cured Ham, sweet potato casserole with pecans, cranberry relish, choice of country side, buttermilk biscuits or corn muffins, choice of refillable beverage (not included if ordered to-go), slice of pumpkin pie.
9. Denny's
Multiple locations
Denny's has several holiday meal and dessert options, including the Turkey & Dressing Dinner, a traditional favorite served with carved turkey breast, savory stuffing, turkey gravy, a sweet cranberry sauce, and a choice of two sides and dinner bread.
10. Freddie's Restaurant
111 K Ave., Kure Beach, NC 28449
Reservations required and limited: 910-458-5979
The traditional American and Italian eatery is already completely booked for 2018! The lucky diners who have secured their reservation for either the 2 PM or 4 PM seating look forward to a choice of roasted turkey, glazed ham, grilled pork chops or grilled salmon filets, and sides.
11. Front Street Brewery
9 N. Front St., Wilmington, NC
910-251-1935
Wilmington's "Original Restaurant & Brewery" will serve its full menu all day, as well as a traditional thanksgiving turkey plate during lunch and dinner for $8.99. Open regular hours, 11:30 AM to midnight.
12. Golden Corral Buffet and Grill
5130 New Center Dr., Wilmington, NC 28403
910-392-1984
Golden Corral will be open normal hours on Thanksgiving. The holiday menu will include savory slow-roasted beef, carved turkey, carved ham, homestyle cornbread stuffing, sweet potato, casserole, and coconut cake…plus their normal buffet!
13. The Harp
1423 S. Third St., Wilmington, NC 28401
Reservations recommended: 910-763-1607
The Irish pub will be open its usual hours from 6 AM to 2 AM and will serve a traditional buffet-style Thanksgiving dinner featuring turkey, ham, roast beef, sides, and dessert from noon – 6 PM.
14. Hell's Kitchen
118 Princess St., Wilmington, NC 28401
910-763-4133
Hell's Kitchen will be open from 6 PM – 1 AM on Thanksgiving Day and offer its full standard menu. Head Downtown in time to catch the Atlanta Falcons play against the Saints in New Orleans for American's favorite post-Thanksgiving-feast pastime.
15. Henry's Restaurant & Bar
2508 Independence Blvd., Wilmington, NC 28412
Reservations recommended: 910-793-2929
Beginning at 10 AM, Henry's will be offering its dinner menu all day as well as Thanksgiving day plates of turkey with gravy, ham with house-made pineapple teriyaki glaze ($21.99), or a combo plate for $25.49. Each plate is served with collard greens, green bean casserole, stuffing, and choice of sweet potato or garlic mashed potatoes and includes a holiday dessert of pumpkin or pecan pie.
16. Hops Supply Co.
5400 Oleander Dr., Wilmington, NC 28403
Reservations recommended: 910-833-8867
In addition to the standard menu, Hops will serve plates of roasted turkey and gravy with cornbread stuffing, baked mac and cheese, green bean casserole, mashed potatoes, cranberry sauce, and a choice of pie for $17.99 or $9.99 for children from 11 a.m. to 7 p.m. You may also order plates to go.
17. IHOP
5355 Market St. and 5628 Carolina Beach Rd.
IHOP will be open on Thanksgiving Day from 6 AM – 3 PM serving their standard menu, including some limited time offers for the holidays that area inspired by Dr. Seuss' The Grinch.
18. K&W Cafeteria
3501 Oleander Dr., Wilmington, NC 28403
910-762-7011
The Thanksgiving Day Special includes roast turkey with dressing, cranberry sauce, two vegetables, fresh baked bread, scratch-made dessert, and refillable beverage for $8.49 (excluding tax and tip). Other selections are available at regular prices. Served 10:30 AM-8 PM.
19. Niche Kitchen and Bar
5954 Carolina Beach Rd., Ste. 170,  Wilmington, NC 28412
Reservations recommended: 910-399-4701
Niche will be open Thanksgiving Day from noon – 6 PM featuring a special Chef created menu at $32 per person. Starters include your choice of a cup of roasted pumpkin bisque or kale and arugula salad. Entrée choices are stuffed turkey breast, pan-seared duck breast, herb-crusted swordfish, grilled fillet of beef medallions, or vegetarian beet risotto. Top it off with either pumpkin spice cheesecake or apple crisp with vanilla bean ice cream.
20. Oceanic Restaurant
703 S. Lumina Ave., Wrightsville Beach, NC 28480

910-256-8500
Historically, Oceanic is a lovely option for a Thanksgiving dinner at Wrightsville Beach, but due to Hurricane Florence, it will be closed through the end of 2018 for repairs. Consider them for holiday meal when they reopen next year.
21. Ogden Tap Room
7324 Market St., Wilmington, NC 28411
910-821-8185
Ogden Tap Room will be open during its regular hours (4 PM to midnight) and offering the standard menu.
22. Pilot House
2 Ann St., Wilmington, NC 28401
Reservations recommended: 910-343-0200
Enjoy a four-course Thanksgiving dinner inside or outside on the heated patio in historic Chandler's Wharf along the Cape Fear River. Dinner (served 11 AM – 8 PM) includes your choice of soup, salad, entrée (oven-roasted turkey with giblet gravy or smoked ham with maple glaze) with three sides, and dessert for $28 (adults) and $14 (children under 12). A 20% gratuity will be added to all parties. Vegetarian options are available. Soups are Carolina bisque, butternut squash, or country ham and collard. Salads are mixed greens with apple, bleu cheese, dried cranberries, and sherry vinaigrette, or Caesar salad with housemade croutons and imported Reggiano cheese. Accompaniments are candied yams, citrus cranberry chutney, collard greens, mashed potatoes, buttered carrots, French green beans, and sausage and cornbread stuffing. Dig into a slice of pecan, pumpkin, or apple pie for dessert.
23. Ruby Tuesday
1138 Military Cutoff Road and 5218 South College Rd, Wilmington, NC
Both locations open at 11 AM on Thanksgiving Day. The Mayfaire location closes at 8 PM and the Monkey Junction location closes at 9 PM.
24. Ruth's Chris Steak House
301 N. Water St. in the Hotel Ballast, Wilmington, NC 28401
Reservations recommended: 910-343-1818
Their chef's traditional three-course feast ($39.95/person) includes a soup or salad starter, hand-carved oven-roasted turkey with sausage and herb stuffing, and your choice of one of Ruth's three most popular personal sides. The meal will be finished off with a dessert duo…Or you may enjoy a favorite from the full dinner menu and create a holiday tradition of your own. $39.95 for adults. Service begins at noon.
25. Steam Restaurant
9 Estell Lee Place, Wilmington, NC 28401 at Embassy Suites by Hilton® Riverfront
Reservations required: 910-726-9226
Steam's "Thanksgiving Day Extravaganza"  multi-course dinner includes local oysters on the half shell, steamed Carolina shrimp, an artisan cheese display, local vegetable crudité, prime rib, apple cider-brined turvey and gravy, crab cakes, creamed corn, green bean casserole, cornbread and sage stuffing, mashed potatoes, sweet potato and pecan casserole, mac 'n cheese, assorted rolls, cornbread, cranberry sauce, and an abundance of seasonal and local sweet indulgences. Dinner will be served from 11 AM – 4 PM for $38 (adults), $16 (children under 12), $6 (kids under 5).
26. Sweet N Savory Café
1611 Pavilion Place, Wilmington, NC 28403
Reservations required: 910-256-0115
All-you-can-eat family-style platters of turkey, homemade gravy, cornbread and sausage stuffing, jellied cranberry sauce, sweet potato casserole, roasted cauliflower, green bean casserole, shrimp 'n grits, mac 'n cheese, jerked pork loin with mango chutney over red beans and rice, dinner rolls, sweet cornbread, veggie lasagna, pumpkin pie, key lime pie, apple cobbler and pecan pie a la mode, and flourless chocolate torte with assorted mousse. Soft drinks, coffee, and ice tea included. Seating times from 11 AM – 7 PM. Prices are $32/adult, $25/elders (75+), $20/kids (9-12), $12 kids (5-8), and FREE for kids under 5.
27. Village Café
47 S. Hampstead Village Drive, Hampstead, NC 28443
Reservations strongly recommended: 910-821-1234
Village Café will be serving its 4th annual Thanksgiving buffet starting at 10 AM with the last seating at 3 PM. The mouth-watering menu includes salt and pepper roast turkey and gravy; shallot and fresh herb roasted and sliced London Broil with carmelized onions and mushrooms; crab crusted salmon with pumpkin rice pilaf leek beurre blanc; corn bread stuffing; bourbon and brown sugar sweet potato casserole; buttermilk mashed potatoes and au jus gravy; sautéed baby green beans; bacon brussel sprout mélange; fall vegetable ratatouille; rosemary roasted tri-color baby potatoes; creamed corn souffle; garden salad with assorted dressings; spinach salad with apples, walnuts, and cranberries; cranberry relish; apple compote and other assorted chilled salads/relishes; honey cornbread; and dinner rolls. Dessert delicacies are pumpkin tiramisu, sweet potato pie, hot chocolate brownie bars, lemon curd parfait, blueberry shortcake parfait, chocolate chess mousse parfait, and assorted dessert bars and cookies. The price is $23.95/adult, $12.95/young adults ( 7-12), and $5/child (under 7).
Not open:
Applebee's Grill & Bar
The Basics
Brasserie Du Soleil
Cape Fear Seafood Company
The Copper Penny
Carraba's Italian Grill
Elijah's Restaurant
Elizabeth's Pizza
Flaming Amy's
The George on the Riverwalk
Indochine Restaurant
Jax
JohnnyLukes KitchenBar
Kickback Jack's
Mac's
Olive Garden
Osteria Cicchetti
Waterman's Brewing Company
Did we miss one? Leave it in the comments!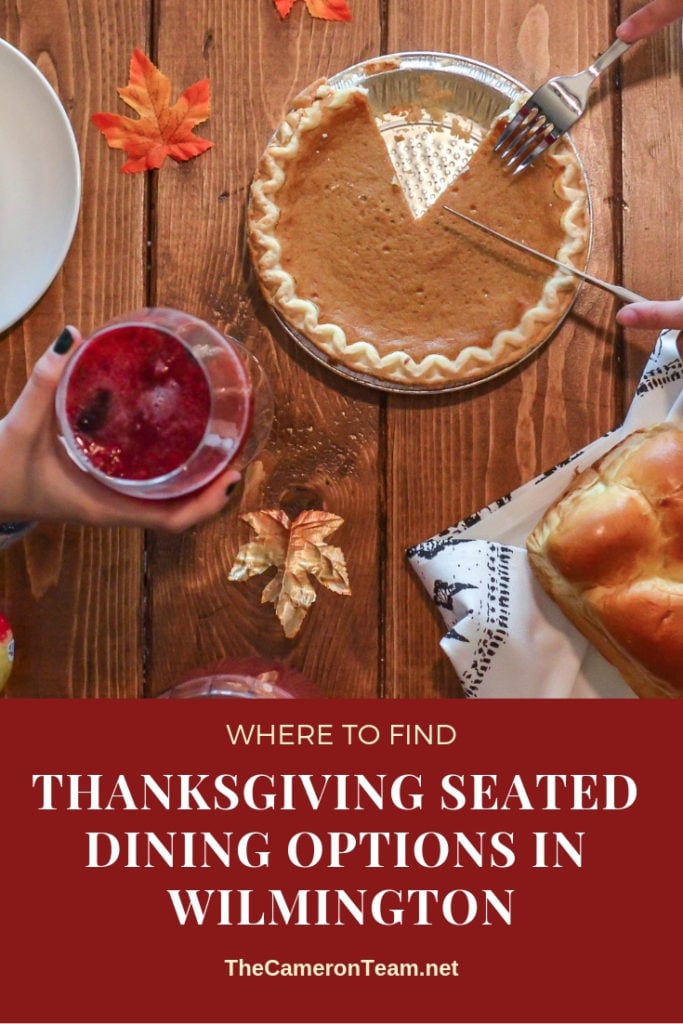 September 23, 2019
Area Info
,
Events
,
Autumn
,
Fall
,
North Carolina
,
Seasonal
There are so many fun things to do all across North Carolina during the fall. Inland areas have traditional apple and pumpkin picking. The coastal areas have a bunch of autumn festivals. But the Tar Heel State also has some traditions th...