A bridge loan is a short-term loan, typically 6-12 months, that allows for payment of expenses while waiting for long-term financing. It acts like a "bridge" between two loans. In real estate, a bridge loan can cover expenses (closing costs, down payment, etc.) you would usually pay with the proceeds of your home's sale to secure a mortgage on a new home.
It's very common for a buyer to have to sell a home before buying a new one, but this usually places a contingency on any offer they make on a new home. For a seller, that's an additional risk. If the offer on your home falls through, then you won't be able to follow through with the purchase of their home.
Bridge loans allow you to purchase a home without first selling your current home. This removes the contingency and can strengthen your offer on the new home, which is helpful when you are in a multiple-offer situation and competing with other buyers.
With a bridge loan, you can borrow up to 80% of the combined value of your current home and the home you are buying (minus what you owe on your current home). Requirements depend on the lender, but due to the risk involved, bridge loans are usually reserved for people with excellent credit and lots of equity (typically a combined 20% in both properties).
If you feel you may qualify, here are some things to consider:
Pros of Using a Bridge Loan
You can tap into your home's equity without selling first.
Bridge loans are approved and funded faster than traditional loans.
They give your offer an advantage over buyers that need to sell their own homes first.
If you're under a time crunch, like starting a new job, it could be the difference between meeting your move deadline or not.
Cons of Using a Bridge Loan
Some lenders require you to pay your current mortgage and the bridge loan at the same time (others pay off your current mortgage or don't require any payments until a later date).
They usually have higher interest rates and origination fees than traditional loans.
Some lenders require monthly payments, while others expect a full lump-sum interest payment at the end of the loan.
Your home is used as collateral and won't be protected if the contract on your home falls through and you are unable to pay back the money.
Bridge Loans Are Best for Certain Conditions
Bridge loans can be risky in an unsteady market. They are best used when you are extremely confident your home will sell for a price that can cover your mortgage payoff, down payment, and closing costs (for the new purchase and bridge loan).
To assess if you can manage a bridge loan, ask yourself:
Is your property in a sought-after neighborhood?
Does it have features similar to other sold homes in the neighborhood?
Have comparable homes consistently sold in the past 6 months?
If you were to sell your home for the same price, would the proceeds cover all your expenses with the current mortgage, bridge loan, and new purchase?
Because your current home is used as collateral, you don't want to risk it sitting on the market for very long. We recommend first speaking with a Realtor about your home's potential market value. It will give you a clear understanding of where your home needs to be priced to sell and anything you may be able to do to increase its buyer appeal.
Keep in mind, even in a strong seller's market, there are homes that don't sell. This is due to at least one of three things: too high of a price, poor condition, or a bad location. A Realtor can help you identify potential sale-threatening issues prior to listing your home on the market.
The risks of a bridge loan do not always justify its use. Sometimes, it's better financially and mentally for you to wait until you find a seller who will accept your contingent offer. Everyone's circumstances are different and can be influenced by personal finances, activity in the target price range, and other market conditions.
A financial advisor is the best person to speak to about your personal finances. If you would like the contact info for a reputable local advisor or want to know more about how homes are selling in your Wilmington area neighborhood, give us a call at (910) 202-2546 or send us a message.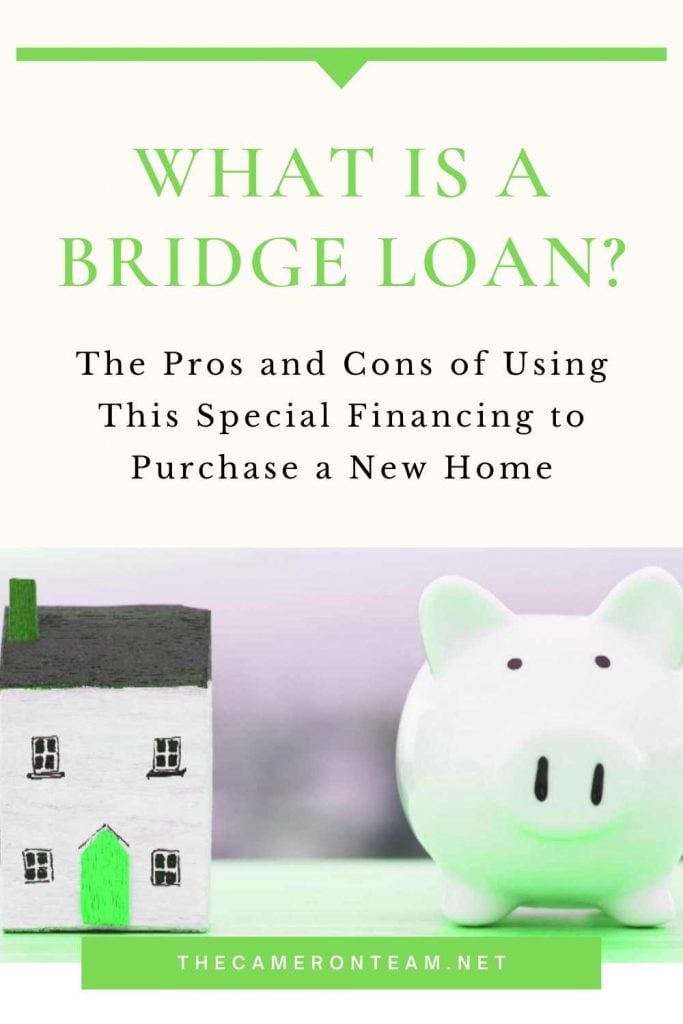 [the_grid name="Home Buyer Tips"]