Listing agents provide a lot of valuable insight about properties when they list them in the Multiple Listing Service (MLS), and many MLSs have apps that you can download on your phone. You may already be using one if you are looking for properties with a Realtor. If you aren't, these apps let you easily see information about a home's systems, flooring, foundation, attic, exterior, etc. – information you should know as material fact.
But there are other things that you may not think about until you're standing inside the home, like…
Where Does the Sun Rise and Set?
Obviously, you can walk outside to check the position of the sun, but Sun Tracker AR and Sun Position tell you the times the sun will rise and set, and give you a visual representation of that path. This will help you estimate how much sun a room will get. A space dimly lit in the afternoon may get lots of sun in the morning (or vice versa). It's a great way to predict if the lighting will meet your needs.
Also, if you love spending your time outdoors, these apps may answer your questions about how you can use a home's exterior living spaces. For example, the screened porch may not be the best place to host a dinner and watch the sunset, because the trees will block the view. Or the deck may get most of the sunlight throughout the day, making it a bit unbearable during the hot summer months. Or the back yard may get too little sun throughout the day making it difficult to plant a vegetable garden. All of these are good bits of information that can affect how the property is used.
Will My Grandmother's Writing Desk Fit Here?
…or my couch? Or my big screen television? Or my bedroom set?
Whatever it is, you'll want to be able to quickly measure a section of the room or possibly a doorway to see if it will fit. Don't lug around a big tape measure. Instead, use your phone. Tape Measure‪™ and Air Measure are apps that will measure furniture, door frames, walls, windows, cabinets, etc. using just the camera.
Keep in mind that these apps aren't 100% accurate. For example, old Air Measure reviews report a slight discrepancy of 2" to 4", depending on the phone. However, accuracy appears to be improving and these apps can give you a good idea of size when you're standing in the home.
Where Can I Get a Light Fixture Like That?
…or a desk? Or a faucet? Or a ground cover?
It's so easy to find features you love in the homes you visit, especially if you're visiting model homes in the newer communities. All those pretty lights and shiny tile! You'll want them in your new home too. But if those properties aren't ticking off all the items on your "Need" list, you may have to settle for saving them in a portfolio for purchasing later.
Apps like Google Lens and Amazon can help you identify products using the camera on your phone. Google Lens can even help you identify plants, if you come across some that catch your eye. If these apps can't find the exact thing you're looking for, they'll show you products that are similar (and possibly better?). Either way, you're setting yourself on the right path to identifying what you'll really love.
What's Nearby?
Chances are you've already scoped out the neighborhood online, but if you haven't, there are apps that will tell you the closest businesses, venues, banks, and more. Google Maps (iOS/Android) has quick links for common searches (restaurants, gas, groceries, etc.) at the top of the app when it's opened and user-submitted pictures from nearby locations below. You may find this information is different from what you've already discovered, because being on the property helps Google target better information to share.
AroundMe is another app that shows you nearby places. It lists popular categories and displays information about the businesses from around the web, including the physical distance, ratings, hours of operation, contact details, etc. While its organization is a bit more convenient than Google Maps, it relies on third-party information, so it may not be the most up-to-date.
Are there any uncommon apps you found useful while viewing homes for sale? Share them in the comments.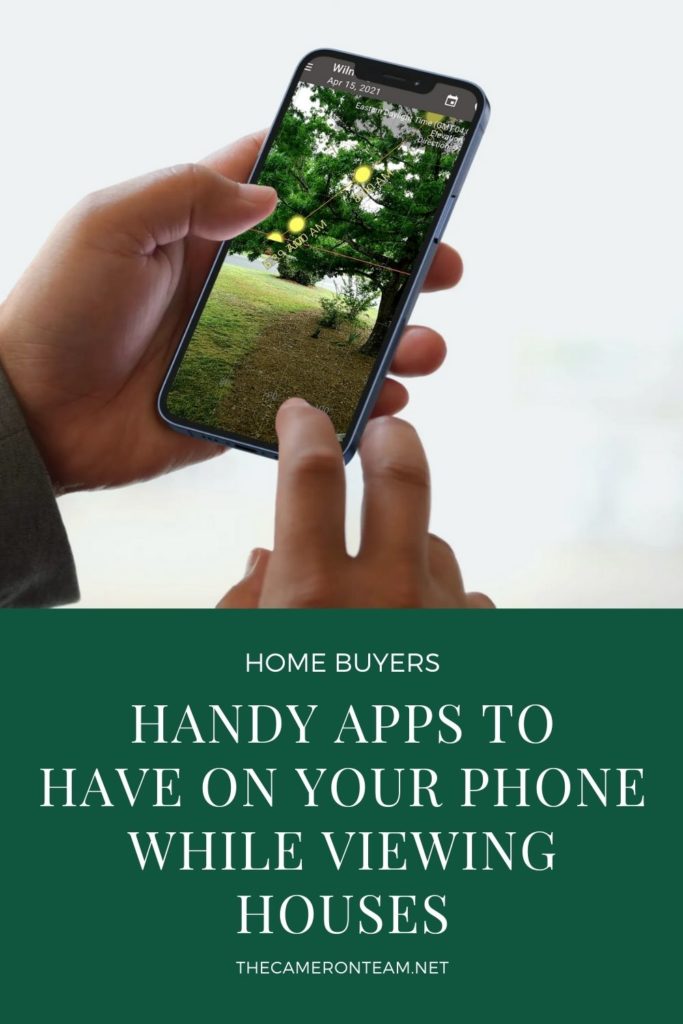 [the_grid name="Home Buyer Tips"]