Today, I read an interesting suggestion for choosing your new home's community. If you want to purchase a home that will have the highest resale value possible, "go where Starbucks goes."
I find it amusing that I should read this now. I was recently at the Harris Teeter in Landfall where they've put in a new Starbucks. If you aren't familiar with Wilmington, this makes the THIRD Starbucks in the Mayfaire Towncenter commercial development. There's a standalone on Main Street right near the main entrance, one in Barnes & Noble a block away on Inspiration Drive, and now there's the one located in Harris Teeter half a mile down Military Cutoff Road off Parker Farm Drive. As I stood in the middle of Harris Teeter, I wondered, "Why did they chose this location? I come to a grocery store to shop for groceries, not to order coffee, and now the display aisles are shoved together to make room for the café tables. People are running into each other trying to avoid them. Is it really inconvenient for Starbucks lovers to have to go half a mile to get their coffee? Wouldn't it have made more sense to invest in a new building with a drive-thru, similar to their recent projects on S. College Road and Oleander Drive?" But I digress…
Is the proximity to Starbucks really a sign of a good investment? Mayfaire is located across from Landfall, which has been a well sought-after community for some time. But, has there been a significant increase in demand for homes there or is Starbucks just banking on the growth of the commercial development?
To feed my curiosity, I decided to pull the sold stats for Landfall for the past 3 years. Here is what I found:
2012
86 Homes Sold
$612,051 Avg. Sold Price
244 Avg. DOM
2013
121 Homes Sold
$668,790 Avg. Sold Price
245 Avg. DOM
2014
118 Homes Sold
$660,902 Avg. Sold Price
175 Avg. DOM
As you can see, there was a large increase in homes sold between 2012 and 2013, but sales have remain pretty level since then. But what about the other neighborhoods directly around Mayfaire? I pulled the stats for those, as well: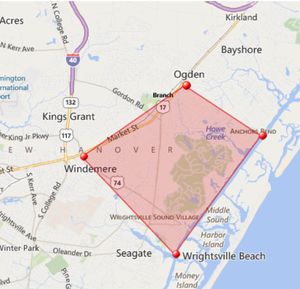 2012
329 Homes Sold
$368,426 Avg. Sold Price
176 Avg. DOM
2013
363 Homes Sold
$422,785 Avg. Sold Price
163 Avg. DOM
2014
365 Homes Sold
$426,513 Avg. Sold Price
133 Avg. DOM
Again, there's a significant increase in homes sold from 2012 to 2013, but the stats remain pretty close for the past 2 years. I was curious if there was a tipping point for homes sold. So, I expanded the search to all neighborhoods from I-40 to the ocean, which would have the residents that would be most likely to shop in Mayfaire. The results were quite different:
2012
812 Homes Sold
$325,200 Avg. Sold Price
158 Avg. DOM
2013
878 Homes Sold
$329,734 Avg. Sold Price
139 Avg. DOM
2014
916 Homes Sold
$349,067 Avg. Sold Price
121 Avg. DOM
Here's the tipping point! There's a steady INCREASE in the number of homes sold and their sold price. There's also a steady DECREASE in the days on the market (DOM). The only problem is that this is a wide expanse of land with many communities stretching across parts of 28403, 28405, and 28411. If the property values in one community are going up, it doesn't necessarily mean property two communities over are also increasing.
Curious about the source behind the Starbucks assumption, I went further down the rabbit hole of research and took a look at the TIME Magazine article that helped coin "Starbucks Effect". It turns out, Stan Humphries, chief economist of Zillow and co-author of the book The New Rules of Real Estate, conducted a study of the appreciation of homes near coffee shops compared to those that aren't. He found a ring of properties located close to a coffee shop appreciated faster than those that weren't, the rate of which decreasing from one outward ring to the next. In his example, properties near Starbucks almost doubled in value, while the outer rings only increased 65%. He also found that properties located near Starbuck appreciated faster than those near a Dunkin' Donuts. So, the type of coffee matters.
What wasn't entirely clear in the first source was that this study was based on 17 years of data. Think back to 1997. There were about 1,400 Starbucks stores internationally, most of them in large metro areas. Now, there are over 12,000 Starbucks stores in the U.S.. 7 to 10 are located in Wilmington, either directly managed by Starbucks or under secondary management, as is the case with the café located in Barnes & Noble. Combine them with other international and local brands, and the market is saturated, unlike in 1997.
But the real topic here isn't Starbucks, or coffee for that matter. It's convenience. People want to be able to walk to or be within short driving distance of their primary shopping destinations – coffee shops, grocery stores, restaurants, gyms, etc. Specialty coffee just happens to be the most recent growing fad; matter-of-fact, the TIME article also mentions that specialty grocers can raise appreciation rates. If you're looking for a home with better than average resale potential, look for a community near popular local amenities. Nothing in real estate is a 100% guarantee, but it could improves your chances.
For more info, also read: "Walkability in Growing Demand in Greater Wilmington".
What do you think? Would a home be more likely to be added to your Top 3 list if it was near a coffee shop?