Most people could not imagine buying a house without first setting foot inside. After all, how do you get a clear feeling of the layout, room sizes, and all the little details that make you fall in love with a home? Is that not just a crazy leap of faith to trust a house has everything to fit your needs when you have never stepped inside? Actually, it happens more often than you probably think.
Disclaimer: Never make an offer on a home without seeing it in person first, unless you feel fully comfortable doing so. The act of buying a home sight unseen does come with risks. Touring a home in person is always the ideal step before submitting an offer. However, not everyone is able to do that. You do what you feel most comfortable doing.
Employees being relocated for jobs are probably the most common buyers to purchase a home without seeing it first, because timing and finances do not always allow for a trip to view homes. However, other buyers are now entertaining the idea due to the onset of the pandemic, which has caused travel restrictions and concerns for high-risk consumers. A recent Redfin survey of 1,400 people showed 45% purchased their home sight unseen in the past year, and a current Zillow survey showed that 36% more people than in the past are now willing to purchase a home entirely online. If you are thinking of purchasing a Wilmington home sight unseen, we have some tips for making it a safe and smooth process.
1. Choose a Real Estate Agent You Can Trust
Unless you have an existing relationship with a real estate agent, this may be one of the hardest parts of the buying process. You do not want to choose just anyone to help you buy. They will be an extension of you, so you need someone willing to listen and understand your needs.
To choose an agent who will be a good fit, ask friends for referrals and read online testimonials. Then, interview a few. You want to see who has experience with the technology required to buy a home from a distance, like Facetime, YouTube, and programs for capturing electronic signatures on documents. You also want to gauge who you connect with the best, because those are the agents who will give you the needed time and attention.
2. Make a Detailed List of Wants and Needs
Before you start your home search, make two detailed lists of features you want and need. These will not only help you narrow your search in the Multiple Listing Service but will give your real estate agent features to look for when they walk through homes without you. These include details that are not always easy to ascertain when reviewing online listings, like the distance between bedrooms and sound levels from nearby roads.
3. Utilize Virtual Tours and Videos
The quality of listing photos has improved over the past 5-10 years, but editing has made them borderline too good at times. That is why it is important to have a virtual walkthrough of each home you are interested in. Sometimes the selling agent will provide a 3D tour of the property when it is listed. These are good for understanding the layout of the home but not all the technology is the same quality. Walls can look skewed. Small rooms may be cut off. There may even be glitches where the program can't accurately stitch the photos together. But for the most part, it makes you feel like you're standing in the home.
Videos are good for capturing the true feeling of the home. Most buyer specialists will do virtual showings for their clients. This is when they record a live video with you through Facebook, YouTube, Facetime, or Zoom and answer any questions you may have. Even a simple video walkthrough uploaded to YouTube is a good option, because it shows the property as-is and not in a digitally polished state.
4. Search for Homes on Google Maps
Google Maps alone is great for seeing what is located near a property – shopping, dining, schools, parks, highways, etc. The aerial view will show you how much greenery is located around the home. If there are not too many trees, you may see the home, driveway, pool, etc.
Keep in mind that images on Google maps are updated every 1-5 years (Google says 1-3 years, but we've noticed it can take longer). So, a newer community may appear as a plat of dirt and details around an existing property may not be 100% correct. Don't ever use it as concrete evidence that the property has certain features.
Unless the property is located off a private dirt road or in a gated community, there's a very good chance it will appear on Google Street View, which is a panoramic of the whole road, including the homes on either side. Just search for a property on Google Maps and drop the little yellow man onto the road beside the pin. This will load a view of the road, and you'll be able to see the front of the home, which can give some insight to lot layout and property upkeep. If the road doesn't highlight in blue when you drag the man, Google Street View is not available.
Again, if a home does have a street view, keep in mind that it may be outdated. Google takes even longer to update this map view than the satellite photos, because it requires someone to drive by in a Google Street Car. If the view appears outdated, ask your Wilmington real estate agent to do a drive-by video of the home and community.
5. Order a Full Home Inspection, Pest Inspection, etc.
You cannot be there, so make sure the people who know homes inside and out are. Home inspectors (and pest inspectors, fireplace inspectors, pool inspectors, etc.) will point out what may be wrong with the property, so you are not blindly walking into the purchase. They will also give you a clearer idea of the lifespan of the major systems and potential upkeep they may need. You will likely learn things about the home you would not have known otherwise.
The Wilmington real estate market and really, most of the nation, has a shortage of homes on the market. To beat out other buyers in multiple-offer situations, some people are opting to forgo inspections and cut the closing timeline. We highly recommend you do not do this. You could end up purchasing a home with defects and issues that will only cost you more money in the future.
6. Don't Skip the Appraisal
Buyers purchasing a home with a lender are required to have an appraisal, which is a third-party opinion of the value of the home. Buyers paying cash are not. However, that doesn't mean you should automatically skip the appraisal if you're paying cash. An appraisal will tell you if you're making a sound investment. If it comes back low, you may be overpaying for the home, which means you'll already be losing money when you sign on the dotted line. It can also be a sign that the usual indicators of value – condition, location, and market demand – are not as up to snuff as your research implies.
7. Purchase a Home Warranty
If a home warranty is not already being offered with the sale of the property, consider asking the seller for one or purchasing a warranty yourself. If something in the home is going to break, it's most likely to happen within the first year of ownership. Depending on the package, a home warranty will cover the heating, air conditioning, major appliances, electrical, and plumbing. Repairs still have a deductible, but a warranty can save you a considerable amount of money.
8. Plan for a Remote Closing
Unless your lender has laid out specific requirements for closing day, you can do your closing as a "mail away". Your attorney will prepare the closing package with everything clearly marked and will mail it to you to sign in front of a notary. You will then overnight the signed documents back to the attorney, who will then record the sale at the county courthouse. The home will not officially be yours until it records.
If you are concerned about the coronavirus, some attorneys are doing drive-up closings where the buyers stay in their vehicles while they sign. This maintains social distancing while allowing the buyers to ask questions in person. If this is the method you prefer, your real estate agent should ask the attorney if they do this before scheduling the closing.
9. Mentally Prepare for Your Move-In Day
No matter how many videos you view and photographs you analyze, there will be something about the home that does not meet your expectations. We pray that whatever home you choose will far exceed them, but the truth of the matter is that each property has a lot of details for your mind to process and define, and it's easy to miss something. So, before you see the property in person for the first time, review your lists of needs and wants, and remind yourself of all the requirements the home meets. It will help fight off even the smallest instance of home buyer's remorse.
Conclusion
While buying a home sight unseen does come with some risks (mainly, the home not meeting all your expectations), a good team of professionals can ease your worry. Technology today provides multiple ways to view a home and all its features, and a good Wilmington real estate agent will know how to use it to find a property that fits your needs. The inspectors will give you detailed insight into the condition of the property and investments you may need to make in the future. And an attorney will make it as easy as possible to complete the closing from a distance. Just make sure you do your due diligence before hiring anyone and read reviews of their services online.
If you are considering purchasing a home in the Wilmington area sight unseen, please reach out to us at (910) 202-2546 or send us a message. We are experienced in helping buyers who are relocating to the area and are unable to view homes in person. We would love to share our insight into the process, as well as the tools we would use to help you find the perfect home.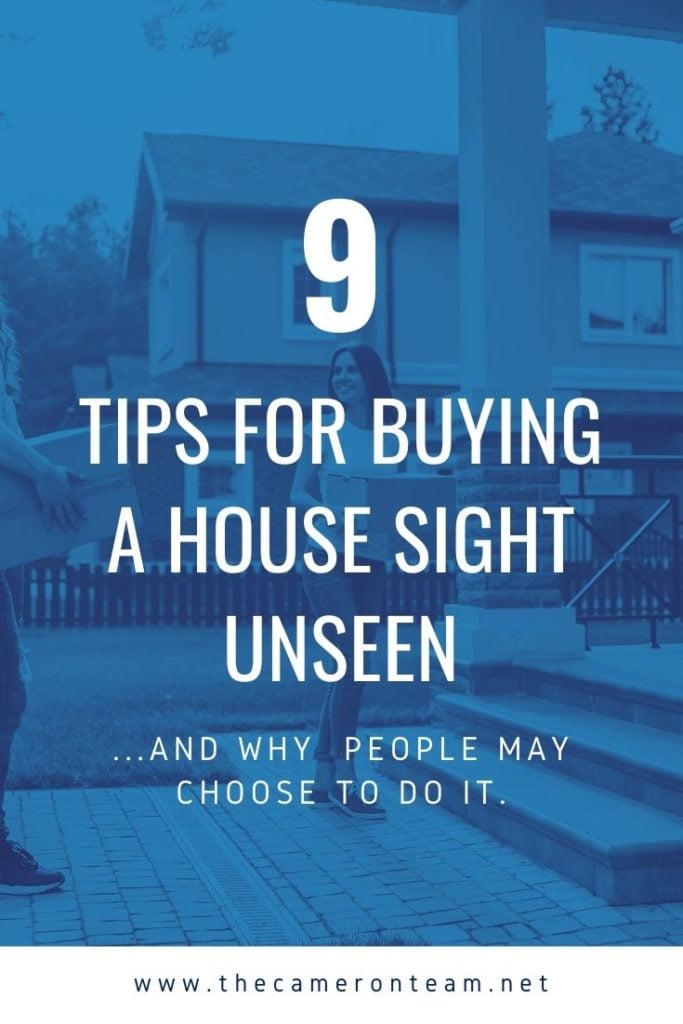 [the_grid name="Home Buyer Tips"]