You've looked at available resale homes and weighed your options, now you've decided that a new construction home is the ideal purchase for you. You're probably dreaming about floor plans, master suites, and the perfect light fixtures. Pinterest and home décor blogs are probably your new best friends. After all, it's exciting to imagine what your perfect new home will look like and new construction will allow you to make every detail completely yours. But hold up. While the idea of new construction is great, choosing the wrong builder could make the experience a nightmare.
Whether you're considering purchasing in a new community or buying a lot in an existing community and hiring your own custom builder, you need to realize the intention of a builder is to impress you with everything they are capable of doing. Their representatives will show you model homes and portfolios to give you ideas about what they can do for you. This is no different than other companies trying to win your business, but there are many steps to building a home and multiple details to settle. It's easy to overlook things and assume that other are already included. That's why you should always ask these critical questions before signing a contract with a builder.
1. Which features of your model home are standard and which are upgrades?
This question is important for setting a limit of expectations right from the start. Not all features a builder shows you will be "standard" or included in the base price of the home. Anything considered an "upgrade" will cost you more money on top of the base price. And don't assume what one builder considers standard will be the same as another. This is especially true when shopping new communities versus choosing a custom builder. Some start with the absolute base features (wood in foyer, carpet in living room, polished chrome fixtures, etc.) to initially attract buyers with the price of their homes, others include additional higher-cost features (laminate or hardwood throughout the main living areas, tile in bathrooms, stainless steel fixtures, etc.) in their standard list. The base price may be higher, but sellers don't feel like they have to pay for as many upgrades. Both approaches have benefits. The first allows buyers to choose just what they want to upgrade. The second may have buyers paying for upgrades they don't need, but the builders are often spot-on choosing the upgrades that are currently most popular with buyers. Either way, this question will help eliminate sticker shock when you receive your builder quote and disappointment when the home starts to take shape.
2. Does the price include landscaping?
While the home's interior features are often the topic of conversation, it's easy to overlook the land the house sits on. New communities normally include sod or seeding and basic shrubbery along the front of the home. It's important to clarify what will be installed once the home is built. Otherwise, you may end up with a second project on your hands that you weren't expecting.
3. What can I customize?
This is another question that carries a little more weight when you're shopping in new communities versus a single build. A custom builder has more flexibility than one with a multi-home development with set floor plans to choose from. How much you can customize also depends on what stage of construction the home is in – presale, under construction, or inventory. Presales allow you to choose the floor plan (including flex spaces and optional rooms), exterior colors and accents, and all interior finishes. A home that's under construction already has the floor plan set but you may still be able to customize the interior finishes. An inventory home is complete and probably not customizable in any way, though we have seen builders agree to certain additions, like grab bars in a bathroom, as long as they don't require ripping out existing finishes. Asking this question will help you determine which stage of the build you want to enter and/or if the builder is the right choice for your needs.
4. Do your homes come with warranties?
A new construction home can include two types of warranties – builder and manufacturer. The manufacturer warranties are usually those provided by the company that makes the materials or appliances and systems. These are the same warranties that you would have if you went to Lowes or Home Depot and bought the materials or appliances yourself. A builder warranty is a separate coverage that the builder purchases themselves. It usually covers workmanship and materials, except what a manufacturer warranty covers. Examples of coverage include siding, doors, windows, trim, drywall, paint, plumbing, electrical, and the HVAC. The length of coverage depends on the component and can be anywhere from 1 year to 15 years. Major defects are also covered but not the expenses the owner may incur from having to evacuate the home. These are just general guidelines. Each warranty company provides something different, which is why it's so important to ask.
5. What is the typical build timeline?
It's very difficult to give an exact date for when a new home will be completed. Work is affected by weather, supply deliveries, and the schedules of multiple craftsman. Still, the builder should have a general idea of how long the build should take. Without choosing a floor plan, most builder representatives in new communities can give a range for how long their homes are taking to be built (4-5 months). That timeline can be narrowed once a floor plan is chosen.
6. How do you handle problems that come up during the construction process?
This may seem like an open-ended question, but what you're looking for is how frequently and in what manner they will communicate with you. Will there be one person tasked with keeping you updated? Who will that person be? What is the best way to reach them? There are a lot of moving parts in getting a home built and snags pop up, but you don't want to be kept in the dark when complications arise that may affect the completion date of your home.
7. Do you have references?
Online reviews are a great way to gauge the overall reputation of a builder, but they're also super easy to fake. However, no builder who has confidence in their services will hesitate to give you the name and number of some past clients that you can talk to about their work. If the builder does, that should send up some red flags. Proceed with caution!
8. Are you currently offering any financing plans or incentives?
Sometimes, builders will give a certain amount of money to use toward upgrades and closing costs if requirements are met during a specific time range or if you use their preferred lender. It may be on a request basis, so make sure you ask and don't wait for an incentive to be offered. You never know what kind of extra deal you may receive. It may be just enough to have you choosing one builder over another.
9. What happens if I want to terminate my contract?
Most home buyers don't enter into contract on a new home with the intention of terminating, but complications do arise. What if one of the buyers loses their job and they can no longer afford the home? What if the builder doesn't meet the expectations outlined in the contract? What if a natural disaster occurs? Sometimes a termination is necessary. Builders usually have termination policies that allow buyers to cancel their builds within a certain amount of time without penalty. Canceling after that may require financial compensation. Make sure you read the policy in detail before signing a contract with a builder.
Conclusion
Before you get all caught up in the excitement of buying a new home, make sure you vet your home builder. While initial interviews may take place with an in-person conversation, have all details recorded in writing. A typed and signed contract is best for this, but as changes occur throughout the building and design process, even an email can hold up as evidence that your builder hasn't met all expectations.
The Cameron Team has helped many home buyers purchase new construction in the greater Wilmington area, and we would love to extend that experience to you. Give us a call or fill out our Perfect Home Finder form.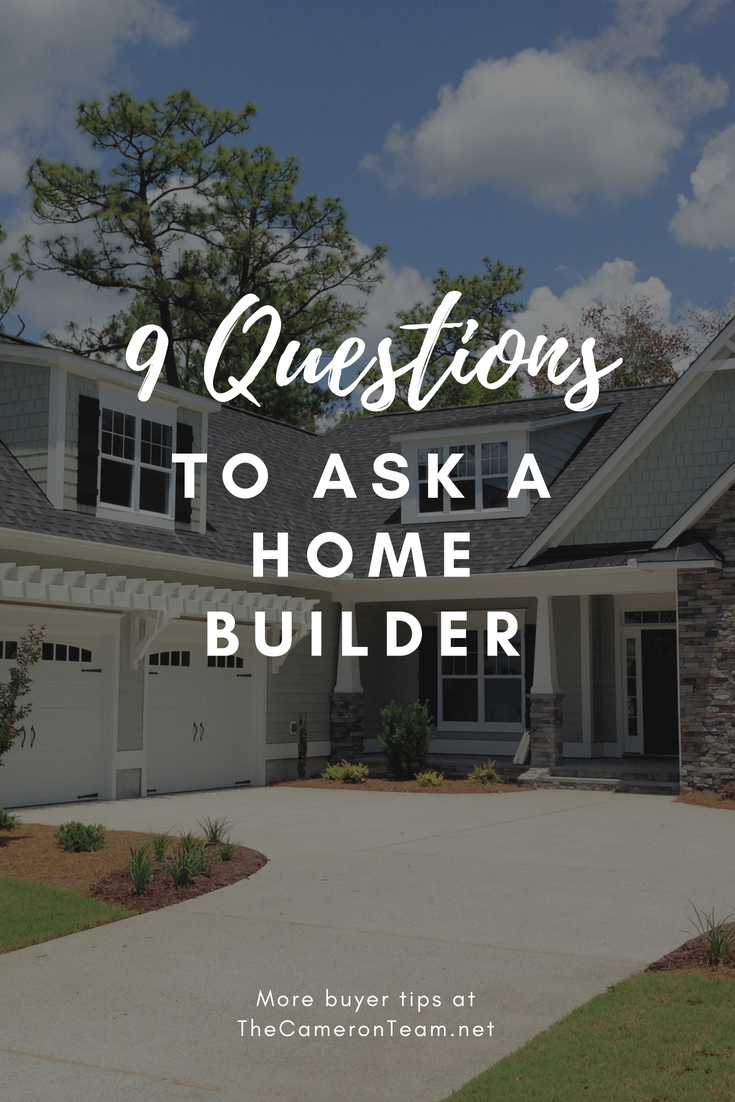 [the_grid name="Home Buyer Tips"]