When you buy a home, counters, flooring, paint, and the like can be changed. What can't be changed is location. So, you want to choose a good community for your needs. Below are 9 factors to consider when choosing a community to buy a home in.
Affordability
Each buyer has their own budget: the maximum purchase price, closing costs, upfront fees, and moving fees that they are willing to pay. With that said, affordability is different for everyone, but it should always allow for wiggle room in your monthly budget after purchase. Otherwise, you may not be able to handle bills that unexpectedly pop up, like health emergencies or car repairs.
Listing prices in communities tend to stick within a certain range, unless they're very large communities with preplanned subcommunities designed to cover a wide range of prices. Not every community will be in your budget. Some may fit perfectly, others may be on a sliding scale. While one community may allow you to buy a larger home, it may not fit your lifestyle, so you may opt to buy a smaller home in a more expensive community that better fits your lifestyle.
Keep in mind that one community may have the same price range as another, but may be more expensive due to HOA fees, city taxes, or insurance requirements. What may cost you the same upfront, could cost you more in the long run. Make sure you dig into all your monthly and annual costs before making an offer on a property.
Also, affordability may have an affect on the location of the community you choose. In Wilmington, if your budget is $200,000 or under, you'll find that the majority of the single-family homes are clustered around the downtown area and the northern part of the city, but there are a few qualifying communities down toward Carolina Beach. Not as many options for someone who may work in that area and want to be near their job.
Commute to Work
If you work from home, you're lucky! Otherwise, you're part of the great masses that must commute to work every day. Some people don't mind a 30 or 40-minute drive. It helps them clear their mind. For others, the shorter the drive, the better. At first, a 20-minute drive doesn't feel like much, but if there's a lot of traffic, it can feel like a 40-minute drive. We suggest that you take a test drive through peak rush-hour traffic or when you normally drive home and see how you feel about the drive before committing to a community.
In our area, the further out from Wilmington and the beaches you go, the more affordable the properties. If you don't mind a 25-30 minute drive, buyers often find larger homes and lots for the same price in communities in Leland, Hampstead, and Rocky Point.
Convenience
Some buyers feel it's a necessity to be close to shopping and dining. Others don't mind driving 15, 20, or 30 minutes to get to a grocery store. Before you start shopping for a home, it's important to get a number in your head of how long you want to travel to get to everyday needs. If you go to the grocery store multiple times a week and prefer that, you may want to make sure one is within 3-5 minutes of your home. If you go once a week, that may be closer to 10 or 15 minutes. Do this same strategizing with restaurants and other retail.
Master planned communities often have commercial areas located near their entrances. This can be convenient for people who want shopping and dining nearby. For other communities, a quick Google Maps search can reveal nearby businesses. If you're looking in the greater Wilmington area, you can also check out the Our Areas pages for info on highly rated nearby businesses. You can view cities and featured neighborhoods.
Crime & Safety
You should always feel comfortable where you live, and you don't want to discover that a community has had crime and safety issues after you've already bought. So, do your digging before making an offer. Crime maps, sex offender databases, and child predator databases can be found online. You can also see if the community has a Facebook group that may reveal suspicious activities in the area.
A law-abiding real estate agent will not tell you if a community is crime-ridden. They could lose their license, because it's considered steering under the Fair House laws. However, they can point you to some good resources. In Wilmington, the crime maps can be found online here and here. Sex offenders can be found here.
Healthcare
Depending on your needs, healthcare may be an important service to have nearby. Buyers looking for retirement homes often feel this to be true, and there are some communities specifically designed to help people age gracefully in place. They have healthcare facilities in the community and some even have optional in-home care. Other buyers may just prefer to be within a reasonable driving distance to an emergency room or urgent care, in case something should happen to a family member.
Wilmington has a large medical community. Much of it is clustered around the New Hanover Regional Medical Center on 17th Street. However, you'll find clinics, specialists, and urgent cares spread throughout New Hanover County. It's become common to have medical facilities near the entrances of large communities. General care is never very far away.
Lifestyle
Every community fits a lifestyle. Choosing one that fits your lifestyle will make life much more enjoyable. If you love to boat, choosing a community with water access or near a public boat ramp may be suitable for you. If you have kids, a community with sidewalks and a park may be the best choice. If you like to swim and work out, a community with a fitness center and pool may be just what you need. On the other hand, if you wish for quiet days and privacy, a more rural or heavily wooded community with large lots may be something to consider. Whatever you desire, now is the time to narrow down exactly what makes you happy.
Pets
Most single-family home communities do not restrict pets, though some may have rules about keeping animals from straying. Townhouse and condo communities often have restrictions on weight or size and where they can be walked. Always read the restrictive covenants, rules and regulations for HOAs and COAs before you buy. Too many homeowners9 have been caught off-guard by community rules after they've purchased and started mismanaging their property. Also, if you have a dog that needs to be walked, you may want to look for a community with sidewalks and a dog park. Your pet will thank you!
Schools
School districts are important features for a community, even if you don't have kids. Popular school districts will draw more buyers with children. That means your home's resale value could have a positive impact. If you're purchasing with plans to sell in the future, you may want to consider this. If you have kids, the sheer educational value is likely important to you. You'll want to review test scores, class sizes, and graduation rates for the area schools.
When house hunting in the Wilmington area, you can see important stats for each school on the NC School Report Card website. You can also view school stats on the Our Areas pages and individual listing pages. At times, the school boards will redistrict areas, so always make sure to double-check a property's district with them.
Tribe
Who are the people you spend the most time with (outside of work)? Are they family members? Friends? Where are they located? Are they in or near the prospective community? These are the people who probably lend you the most support. You should probably consider how much time you want to collectively spend traveling to visit them. It may take a considerable chunk out of your week if they aren't nearby.
If you need an idea of how much time it may take to drive and see them, do a Google Map search from the prospective community to their home. It will show you an estimated time that you can then multiply by the average amount of visits you and they make. You can also do a test drive to see if the estimated times match. Chances are, if the drive is to cumbersome, you'll be seeing less of each other. Ask yourself if that that is something you want.
Conclusion
Depending on your local real estate market, it may not be possible to find the perfect community. Sometimes, your tribe isn't located in an area near work, the boating communities aren't in the best school district, and the affordable communities don't fit your favorite lifestyle. The key is to find a happy median so you can enjoy life in your new home.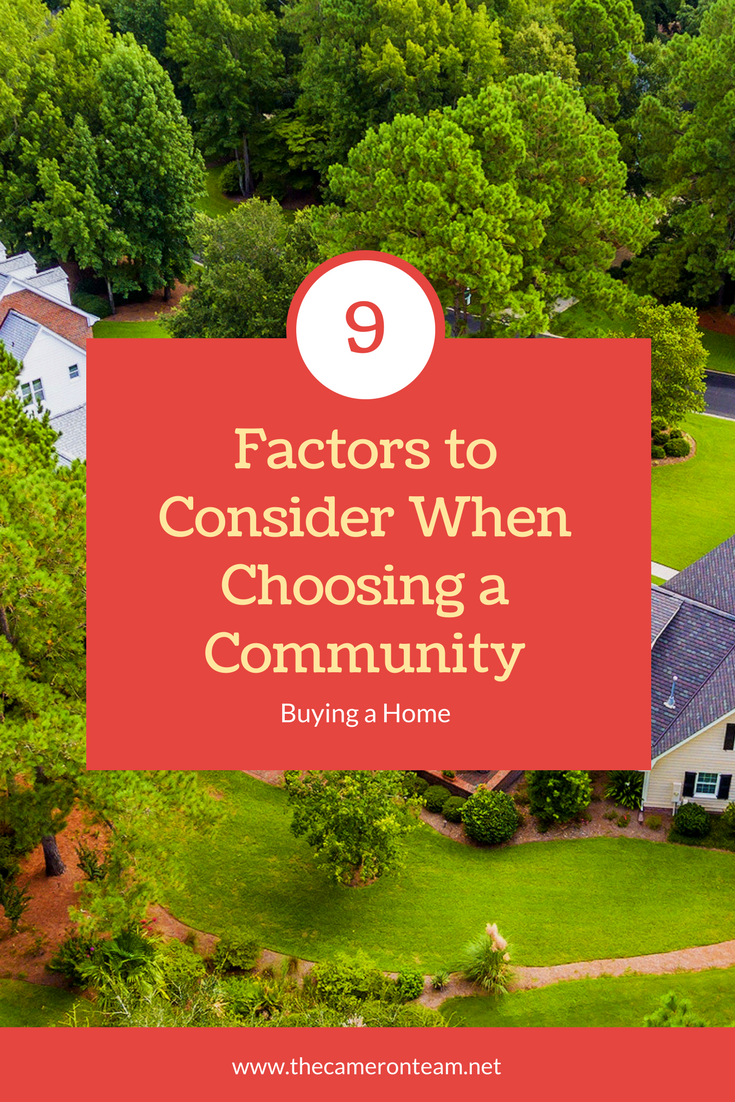 [the_grid name="Home Buyer Tips"]