Are you exploring the process of purchasing a new construction? There's something wholly satisfying about planning your home from bottom to top (foundation to roof?). We've helped many buyers go through the exciting journey of choosing homesites, floor plans, and finishes; completing walkthroughs and punch lists; and eventually arriving at the closing table. So, we've compiled 8 tips for purchasing a new construction home that will help the whole process go smoothly.
1. Hire a Realtor
So, you may be thinking, "Of course, that's what they're going to say. They're REALTORS®!" We would be thinking the same thing in your position, but, honestly, it's not that we want you to hire a REALTOR®, but that we want you to have your own representation – someone looking out for your needs and best interests. That may be us (we are pretty good at it) or an attentive real estate attorney. Whatever route you take, make sure it includes representation.
When you're shopping for new construction homes, your first instinct is to go to a new community's website (the builder's website) and enter in your contact details for more information. It seems logical. After all, you need that information to decide where you want to live, if their floor plan fit your needs, and if it's financially realistic for you to buy right now. However, next time you feel the urge to fill out that form, consider these points:
Onsite agents represent the builder. That means when tough decisions have to be made, they will always choose in favor of the builder. While the term "new construction" elicits positive thoughts of "brand new" and "unscathed", the fact is that the onsite agents can miss things and builders don't always deliver the product they promise. It's good to have someone on your side, providing experience and helping you make sure all your bases are covered.
Many builders won't honor the REALTOR®/client relationship if you send them your contact info prior to a REALTOR® registering you. That includes filling out the form on their website. So, you could, essentially, be forced to purchase a home without representation if you don't hire a REALTOR® first.
All this kind of paints an ugly picture of builders but don't take it the wrong way. We have a lot of great builders in the Wilmington area who want to do right by their product, but they are in a tough place too. They not only need to protect themselves but also the sales agent who is helping them move their inventory. If their sales agent completes the work of a buyers' agent before they're informed the buyers are already represented, they've just lost time and money that they may not be able to recover. So, it's only fair.
2. Consider All Lender Options
Builders often have business relationships set up with loan officers. In exchange for using these loan officers, they offer an incentive, like paid closings costs, specific upgrades, or appliance packages. These special offers can make a purchase much more convenient under good circumstances. However, it doesn't necessarily mean it's the best route for you to take.
Not all loan officers are able to offer the same programs and packages. While paid closing costs can save you money upfront, a different loan package through another loan officer may save you more money in the long run. It's important to explore all your options.
If you need a few names for reputable local lenders, let us know. We're happy to pass them along to you.
3. Don't Expect to Get What You See
Most new construction neighborhoods have a model home. If they don't, the builder will likely send you to another community to view examples of their work. It's important that you know a model home is not everything you're going to get, because a model home is built to show many of the best elements that you can get. That means there is a mix of standard and upgraded features.
A good onsite agent will point out which features are upgraded and which aren't, but we always suggest you ask in every room if they don't mention anything. If you see something you really like, make sure to verify with the agent that it's included. Nothing is more disappointing than going through negotiations and the first stages of building to find out that one thing you really liked is not going to be in your new home and it's too late to add it. So, again, ask lots of questions!
4. Research the Builder and Community
While your future home's floorplan and location are very important, if you don't want the building process to become a nightmare, you want to make sure to choose a builder that has a good reputation. We've seen builders not meet deadlines sending closing and move-in days back a month or more. We've also seen builders install damaged materials and appliances, display poor workmanship, and not adequately honor their warranty. So, the builder's history with other homeowners is very important.
Your REALTOR® must be very careful about what info they give you, because they are not allowed to sway your purchase with opinions. Believe me, there are times when we want to scream, "No! Not that builder!" when we wouldn't touch their homes with a 10ft pole. So, to fill in what we can't share, Google is there to save the day. Search for the builder's name + "reviews". Make sure there are no Better Business Bureau complaints on file against the builder's company. Search social media sites like Facebook. Buyers love to leave reviews on business pages. Just keep in mind that a person is more likely to voice their opinion when they're unhappy than when they're pleased. Try to look at the general consensus in reference to how many homes a builder has sold. If they have only a few ugly reviews but a whole bunch of sold homes, they probably aren't that bad to work with.
After you look up the builder, research the community. Just because a community has new construction doesn't mean it hasn't been around for a while. Some developments have 4 or more phases of building…others may have run into financial issues which led to a building stall. Both can affect the value of your home and reveal good and bad information about the builder. Google the community and review local news articles as they may spread light on the history of the development.
Also research planned development and construction projects in the area that may affect traffic flow and land use. Knowledge of such things falls on your shoulders. The county government and state department of transportation websites are both good resources for this. You don't want to build in a neighborhood where future projects may affect your lifestyle.
5. Think Outside the Box During Negotiations
Builders very rarely go below the listing price, because they don't want other buyers to expect the same discounts. However, they may be open to other non-price-altering ideas during negotiations, like a free upgrade on countertops or tile. You'll never know unless you ask.
6. Get Everything in Writing
You're going to be having a lot of conversations with the builder and onsite agent throughout the buying process. Make sure you get everything they've agreed upon in writing. Including it in the contract is always best, but even an email or letter can work in your favor if something goes wrong. After important conversations, most REALTORS® will tell the onsite agent to send them all the details in an email, but if yours doesn't, make sure they follow-up with an email asking for confirmation.
7. Know Your Warranty
Builders usually offer a warranty with the sale of each of home. These warranties vary but may include:
Coverage for defects in materials and workmanship for the first year.
Coverage for defects in piping, wiring, electrical, heating, plumbing, cooling, mechanical and ventilating systems for the first 2 years.
Coverage for structural defects and load-bearing components for up to 10 years.
You may also have warranties for major system components and materials, like a hot water heater or shingles, but these are not part of the builder warranty as they're provided by the manufacturers.
Always, always read through these warranties prior to closing on the home, so you know exactly what's covered. If there are any gaps, a separate warranty could be purchased from a warranty company. It's also important to know if the builder warranty will still be honored if the builder goes bankrupt. If the builder provides the warranty through a professional warranty company, you should still have coverage, but you'll never know unless you read the details.
8. Do Multiple Walk-Throughs
Typically, there are two walk-throughs of a home. The first happens after the framing and mechanical systems are installed. The second occurs after drywall and finishes are completed. The builder may offer more. Do not skip any! This is your chance to go over everything very carefully. If you turn down a walk-through or miss noting anything that needs attention, like a scratch in the counter or a section of drywall not properly taped or painted, the builder has the right to refuse repair or replacement after closing.
During the walk-throughs, make sure you wear clothing and shoes suitable for a construction site. Your REALTOR® should have the experience to guide you through a checklist of things that you should inspect or test. For example, you'll want to test all the outlets. If one doesn't work, you'll add it to a punch list for the builder to fix prior to closing.
Another option that you have is a home inspection. Many buyers choose to forego the home inspection on new construction, because they don't expect there to be anything wrong with a newly built home. Despite the shiny-new feeling your home will produce, a lot of people will be working on your home and humans make mistakes. A home inspector will give an attention to detail that you may not be able to provide (assuming you're not a professional builder). So, consider having the home inspected prior to that final punch list.
Conclusion
The most important thing to remember when buying new construction is to be proactive. Ask lots of questions, read all documents, and test every system and appliance in the home. After Closing Day, you'll still have the builder's warranty but not everything may be covered. Get the home as perfect as you can before the final paperwork is signed, because you never know what may happen.
If you are thinking about purchasing a new construction home in the Wilmington area, we'd love to talk about your options. We have worked with many builders and new communities, and feel confident that our experience will benefit you. Give us a call at (910) 202-2546 or send us a message through our contact page.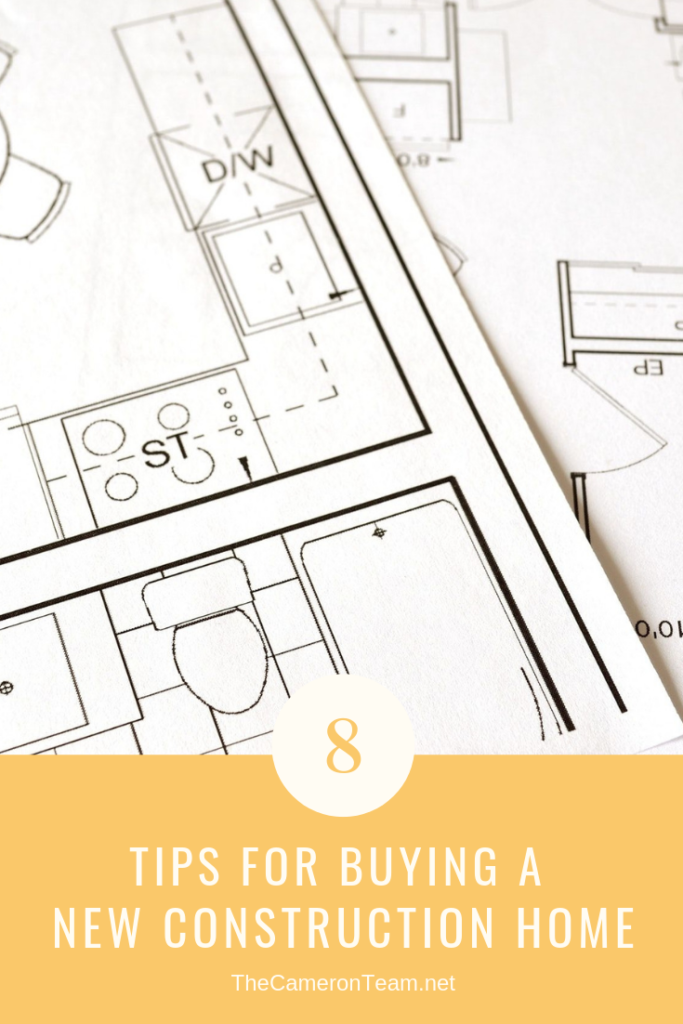 [the_grid name="Home Buyer Tips"]