In honor of National Bubble Bath Day, we've rounded up 7 Wilmington area companies that create bath products. Many of these products are handmade with high-quality, natural ingredients and are available to purchase in retail settings. This is a great way to pamper yourself or a loved one while supporting local businesses that create jobs and fund infrastructure that improves the quality of life in our area.
Glynne's Soaps
Tidal Creek Cooperative
5329 Oleander Dr
Wilmington, NC 28403
Among many other retail locations…
Glynne's Soaps has been making soap locally for a long time. They like to include fun ingredients (beer and coffee) and specialize in dog products. They make all-natural scrubs, bath salts, lotions, lip balms, deodorants, hand sanitizers, yoga mat sprays, flea treatments, and bug sprays.
Three Little Birds
The Veggie Wagon – Carolina Beach
608 S Lake Park Blvd
Carolina Beach, NC 28428
Soaps from Three Little Birds are cold pressed and made in small batches. They make bar soap (including shave bars and kitchen scrubs), bath soaks, lotions, and bug repellent balm and spray. You can also order some of their items via the Veggie Wagon website.
Oliva Olive Oil Soaps
Blue Moon Gift Shops
203 Racine Drive
Wilmington, NC 28403
Oliva Olive Oil Soaps are nature-based soaps, lotion bars, and lip balms. Each bar is handmade using the finest ingredients including olive oil, goats' milk and essential oils from around the world leaving skin feeling creamy and wonderful.
Fresh Up Handmade Body Care
Independence Mall
3500 Oleander Drive, Unit C-28
Wilmington, NC 28403
Fresh Up sells cupcake bombs, bath bombs, bath salts, aromatherapy shower steamers, salt shakes, lip scrubs, charcoal face masks, coffee scrubs, lotions, body washes, shampoo/conditioner bars, and a whole lot more. Their products are paraben-free, cruelty-free, 100% vegetarian, and made in the USA. They also host workshops for kids, which make great birthday parties.
Bumpandfuzzies
Sandalwood Shoppes
2171 Britton Road
Leland, NC 28451
Bumpandfuzzies has been primarily home-based, selling products through online/phone orders and local vendor shows. However, they've just set up a display at the brand new Sandalwood Shoppes in Leland. They sell all-natural soaps, bath bombs, candles, bath salts, lip balm, and lotions. Stop by and take a look!
Coastal Tides Soap & Candles
Sandalwood Shoppes
2171 Britton Road
Leland, NC 28451
And..
Blue Moon Gift Shops
203 Racine Drive
Wilmington, NC 28403
Also available at Sandalwood Shoppes is Coastal Tides Soap & Candles (est. 2014). They make aesthetically pleasing natural soaps (including dog soap), soy candles, men's wet shaving soap, and men's grooming products. All of their products are coastal-themed and perfect for displaying in the guest bathroom (of course, they're great to use, too!).
Carolina Shores Natural Soap
Treasure Coast Square
208 N. New River Drive
Surf City, NC  28445
Carolina Shores Natural Soap began making bath products in 2012 and has since expanded to include a wide selection of natural soaps, salt soaks, scrubs, lotions, natural deodorant, salves, and more. All their cold processed soaps are crafted by hand in small batches and are made with premium ingredients, such as shea butter, cocoa butter, mango butter, plant oils, milks, honey, aloe, and sea salt.
Did we miss a great Wilmington area bath products company? Share it in the comments!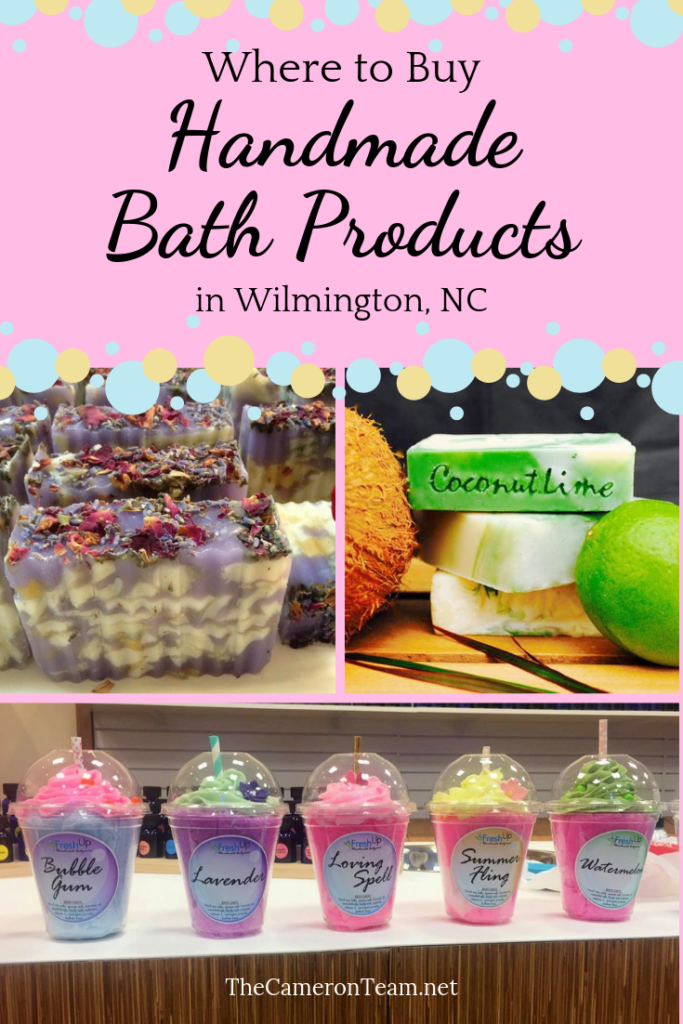 [the_grid name="Area Info"]