You may not have heard of it, but the newest trend in Minimalism is doubling in searches year-over-year on Pinterest and is gaining in popularity overseas and with big-name stars (If you watched the episodes Ellen Degeneres filmed for her talk show at home, you've seen it). Called "Japandi", it is a calming combination of Japanese and Scandinavian design.
It first emerged mainstream in 2018 but was the result of long-standing cultural similarities between Japan and Scandinavia. Both appreciate simple design and natural, handmade materials, as well as the imperfections of pieces that have been worn down over time.
Japandi is characterized by:
Neutral, calming colors and earth tones
Simple, clean lines
Natural materials (primarily wood and stone)
Wood in a light or blonde tone
Unglazed pottery
Unadorned patterns (no curvy lines, checks, or other busy details)
Minimal accessories
…and most of all, no clutter.
Note: Links on this page may take you to Amazon to view more information about the product. These are affiliate links. If you choose to purchase on Amazon, the author of this blog will earn a small fee. This costs you nothing. It's like a high-five for providing good content. 
Incorporating the Japandi Style
If this hygge-influenced style appeals to you, there are a few ways you can incorporate it into your home décor.
Colors
Choose a calming neutral color palette with earth tones for your walls and furniture. Keep in mind that neutral does not mean it has to be boring. You just want to choose something that is low-key and muted.
NewsChain has a good article about using some of the more recent neutral colors in your home. Behr also has some great options in their 2021 Color Trends.
Furniture
When it is time to choose furniture, look for pieces crafted with natural materials and earth tone colors. Wood in a blonde or light wood tone, as well as light gray, should be the finishes at the top of your list. Avoid fabrics in bright colors or busy patterns.


Furniture lines should be very simple and smooth. No ornate details. No complex curves and beveling. No crackle finishes.


Skinny-legged furniture is very common in Japandi design. You will find a lot of Modern furniture has the same details. So, Modern furniture stores are a good place to start your shopping.
Lighting
Many of the same guidelines mentioned before can be applied when choosing Japandi lighting. Look for smooth lines, natural materials, and neutral colors.
It is okay to go dark if you would like to create some contrast. Just make sure you stay away from metal finishes, especially chrome.
Bamboo and other natural fibers are also options for lighting finishes.
Accessories
All decorating accessories should be kept to a minimum in the Japandi style. Anything displayed should be done with a purpose and reflect the natural, neutral guidelines mentioned above.
Common Japandi accessories include clay pottery (usually unglazed), grass plumes, simple pillows, and baskets or woven canisters. Each of these serve a purpose and/or reinforce the natural elements of the design. If you need to add anything else, try to keep it in the common colors and finishes of Japandi.
Not Everyone Will Like Japandi
If you love knick-knacks and bright colors, Japandi is probably not the design style for you. You may want to consider a more Modern style, which will have the same simple lines but less rigid requirements.
If you're looking for décor ideas, check out our Japandi Pinterest Board. It is full of color and design examples, and we are adding to it often.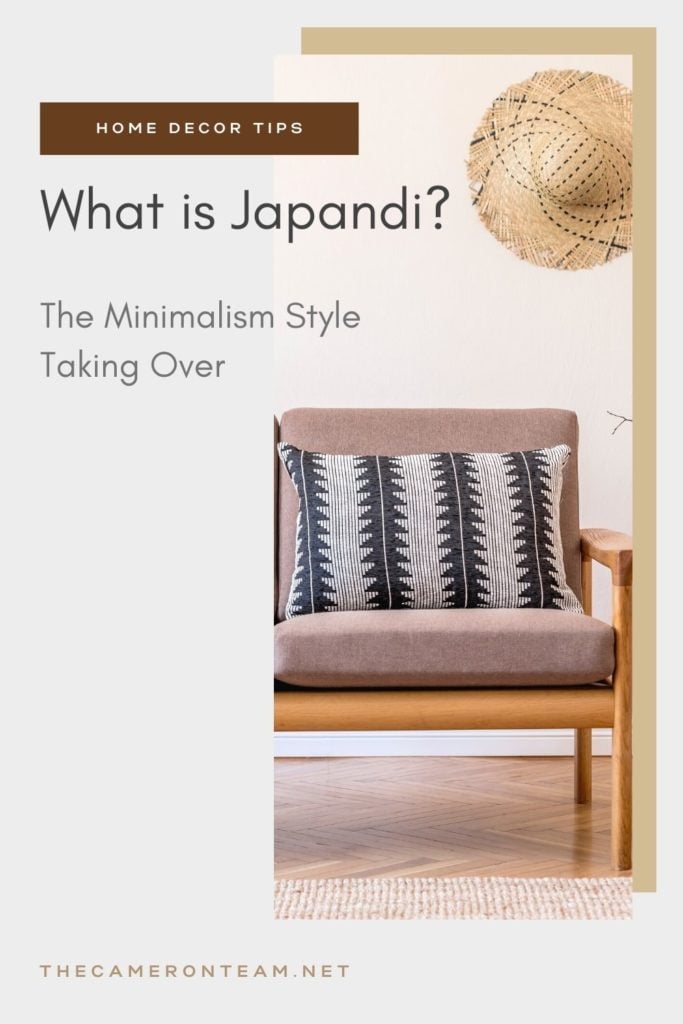 [the_grid name="Homeowner Tips"]