Don't have a toasty fireplace to curl up next to? Want to enjoy the relaxing sound of wood crackling in the hearth? How about some cheerful Christmas music? Below are some of our favorite yule logs that you can play on YouTube via your favorite internet-connected device – smart TV, video game console, computer, or smartphone. You may not be able to feel the warmth from the fire, but they're sure to increase your holiday cheer.
Traditional Yule Logs
Some of theses videos contain just a crackling fire. Others have a fire and Christmas music playing in the background.
10 Hours of Crackling Logs
The most basic yule log out there.

Christmas Instrumental and Yule Log Surrounded by Christmas Decorations
Watch a crackling fire, enjoy the giant nutcrackers, and listen to instrumental Christmas music.

Instrumental Christmas Music with Fireplace
Instrumental Christmas music with a fireplace's crackling fire sounds 24/7.

Christmas Music from Popular Artists and Yule Log
Get ready for the Holidays with this yule log featuring songs from Idina Menzel's 'Holiday Wishes,' Michael Bublé's 'Christmas,' Josh Groban's 'Noel,' Seal's 'This Christmas,' and Andra Day's 'Winter Wonderland' & more!

Michael Bublé – Christmas
A tradtional yule log with music from Michael Bublé's Christmas album.

Unique Yule Logs
These videos have a little something extra and will often elicit a chuckle or two from house guests.
A Very Happy Yule Log – Hallmark Movies & Mysteries
Puppies + Kittens + Yule Log + Christmas Music = Holiday Cheer Overload

Holiday "Yule Log" on the Beach
For everyone who would rather be at the beach on Christmas.

Nick Offerman's 'Yule Log' Ten Hour Version
Because Nick Offerman makes everything 110% better.

Harry Potter Yule Log from Wizarding World
Feel like you're sitting beside the fire in one of Hogwart's houses with this unique video from Wizarding World. Anyone else waiting for Sirius Black to appear?

Darth Vader Yule Log
This yule log is for all of the classic Star Wars fans.

BB-8 and the Yule Log
Another Star Wars yule log. This one is much cuter. It features BB-8 from The Force Awakens.

The Happy Holiglazer | A Krispy Kreme Yule Log
Not exactly a "yule log" but a fun alternative for Krispy Kreme Donuts fans or anyone who really likes to watch donuts get glazed.

Budweiser Holiday Fireplace Yule Log with Dalmatian & Clydesdale
This is the perfect yule log for anyone who can't get enough of the Budweiser commercials. It has a dalmation and clydesdale horse hanging out in front of the fire.

Childrens' Yule Logs
These videos are primarily directed toward children but can also be enjoyed by adults.
PBS KIDS Yule Log
A simple animated yule log.

KIDZ BOP Kids 1 Hour Holiday Yule Log
The official holiday yule log of The KIDZ BOP Kids! Enjoy music from their album "KIDZ BOP Christmas"!

Unikitty | One Hour of Relaxing Yule Log | Cartoon Network
One hour of Unikitty sleeping next to the yule log. Look for a surprise and enjoy an hour of cuteness. Just don't let the snoring get to you!

Minecraft Holiday Yule Log
Not only is this yule log straight out of the popular Minecraft video game, it's also filled with Easter eggs.

Toy Story Christmas Yule Log
This yule log is filled with Toy Story character Easter eggs. Keep your eyes peeled!

There are even more videos on YouTube. Did we miss a good one? Share it in the comments so everyone can enjoy it!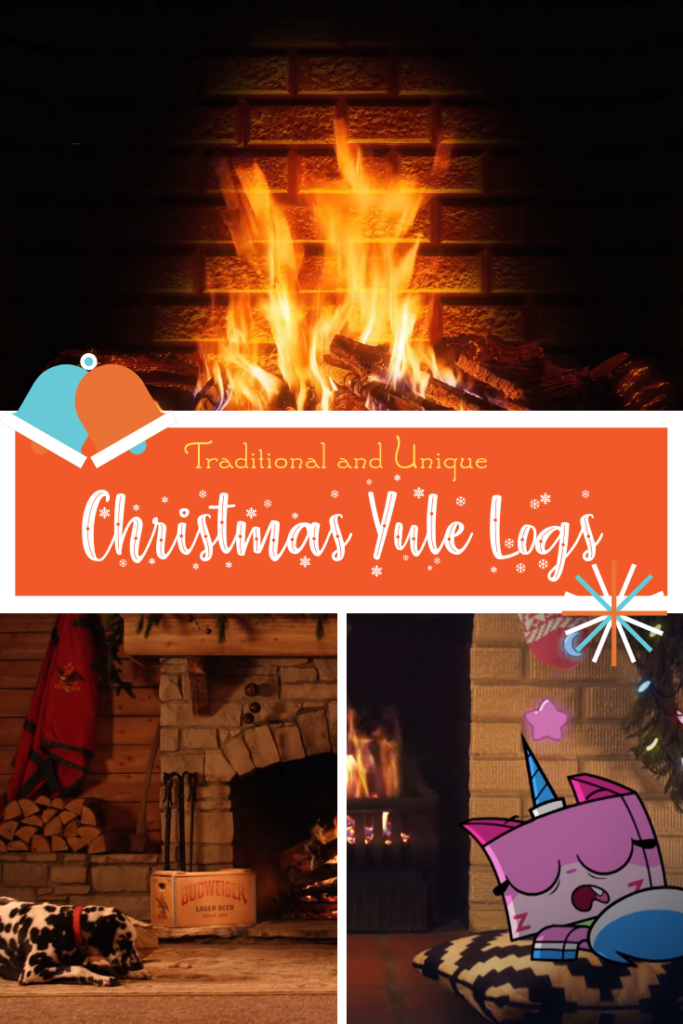 [the_grid name="Events"]