Are you stumped on what gift to buy for the new homeowners? Are you in search of your next awesome deal? Or just curious about what people look for on Amazon? Here are the top 10 most wished for products in the Home & Kitchen Department.
Please note: The Cameron Team has not been paid or received any other compensation to include any of the products featured on this post, but the author has included affiliate links and content. If you click on a link, they may earn a commission with no added cost to you. It's a high-five for great content!
Perfect for small families (2-3 people), this handy appliance will not only pressure cook but can also act as a slow cooker, rice cooker, steamer, sauté (-er?), yogurt maker, and warmer. It makes amazing burgers, shredded pork, and ribs. It's even a great option for vegans. Just be forewarned that "Instant" can be slightly misleading. Recipes do take some work. It's just really good at providing slow cooker results in a short period of time.
These 100% polyester sheets are to care for and super silky soft. They won't wrinkle, fade, or stain,  and they're hypoallergenic. The sheet sets come in multiple sizes, and Mellanni has a 100% satisfaction guarantee because they're so confident you'll love them.
Kacebela claims this grill brush will clean 5 times faster thanks to its 360 degree design. It will clean the top, bottom, and every side of the grill grates. It has a long, reinforced handle that is less likely to break and will keep your hands away from the heat. The brush head is high-quality woven steel wire that won't scratch or damage the grill. It also has a lifetime 100% guarantee.

This home humidifier has a whisper-quiet operation, automatic shut-off, and night light feature. It has a 1.5 liter tank and 360-degree nozzle to direct the mist anywhere in the room. Users don't need to worry that it will shut off in the middle of the night, because it has a low and high setting, and will moisten the air for up to 16 hours on high.
Apparently, there is something to these foam mattresses you can buy online, because not only does this mattress have over 20,000 reviews and 4.2 stars, it's in the top 5 of the most wished for Home & Kitchen Products. What makes this different from other foam mattresses? Some of the traditional petroleum has been replaced with natural seed oil. It's comprised of 1 inch of memory foam and 5 inches of airflow high-density base support foam. Depending on the size of the mattress, it may also come in 8-inch, 10-inch, and 12-inch thicknesses.
These budget-friendly sheets are 100% polyester microfiber and surprisingly soft. They're wrinkle-resistant and machine-washable. They come in a nice range of sizes, including Twin Extra-Long (XL). They have over 14,000 reviews and are rated over 4 stars.
I, personally, own this storage container set and can attest to the fact that it's hard to lose the lids. They SNAP together! It's made it super easy to organize our storage containers and KEEP them organized. I used caps, so you know I'm serious. The only thing better than this? Possibly the 60-piece set, but I don't have that one, so I can't say for sure. Ha!
In order to assure that your plants will thrive, you need to know the pH of the soil. This handy meter makes it easy to test. It will tell you the pH, light, and moisture content, and will work in planters and the ground. It comes fully calibrated and doesn't require any batteries. It's probably one of the best tools you can buy for someone building or maintaining a garden and lawn.
Bedding and sleep options seem to be some of the top products added to Amazon users' wish lists. The next in the top 10 for Home & Kitchen products is this white down alternative quilted comforter that is stuffed with a hypoallergenic microfiber fill. It has 8 side and corner duvet loops. It's also machine-washable and reversible (it comes in 4 other color sets).
This 325-watt Kitchenaid mixer has 10 speed settings, a 5-quart stainless-steel bowl, pour shield, and power hub for additional attachments (ex. pasta roller and food grinder). The tilt-back head makes it easy to change out the tools, which include a wire whip, flat beater, and dough hook. This model will yield 9 dozen cookies and there are larger versions available.
See all 100 of the Most Wished for Products in Home & Kitchen on Amazon.
Are you or have you added any of these to your Amazon Wish List? Let us know in the comments!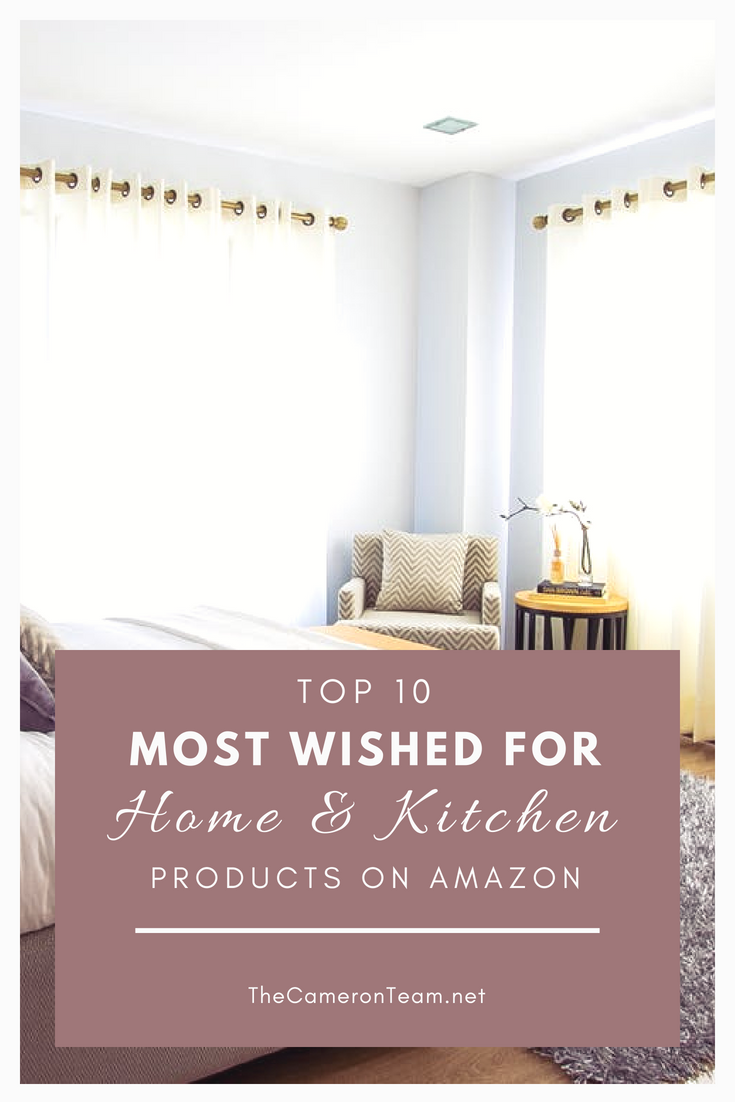 [the_grid name="Homeowner Tips"]