The 2001 American Housing Survey reported that 4+ million homes in America are in a gated community. Considering the growing popularity of gated communities and the passing of over 15 years, we can only assume that several more have been added to that number, the amount of which is hard to track because gated communities are usually privately developed. Clearly, gated communities are an increasing option for home buyers and chances are, if you're reading this, you are considering living in a gated community. But gated communities aren't for everyone. Here are 4 pros and 4 cons of living in a gated community:
Pros
1. Gates help prevent crime by limiting unauthorized foot and vehicle traffic. Does it prevent all crime? No. There have been multiple studies done in different regions of the United States and each have reported different levels of crime prevention. The results really depend on the location of the community and the protocols for entry. If entry is controlled by a keypad, crime prevention is less effective, because homeowners will give out their codes to landscapers, housekeepers, handymen, pizza delivery men, etc. and there's no real lockdown on how far that code may spread. They've also found that while larceny is minimized, other types of crime rise, like domestic abuse. So, before buying in a gated community, it's best to do your research at a local level.
2. Vehicle traffic is minimized by the gates. There are fewer looky-loos, solicitors, etc. and less thru-traffic, which means there are fewer vehicles compared to ungated communities. This can be especially beneficial if you're worried about pets, children, or community walkability.
3. Gated communities often have other amenities. Swimming pools, clubhouses, tennis courts, fitness centers, golf courses, etc. are common for gated communities. This isn't to say that ungated communities do not have these amenities, but you can almost be guaranteed that a gated community will have these additional perks.
4. The streets inside are privately maintained. In addition to paying for the upkeep of the gate(s) and amenities, the homeowners' association (HOA) usually pays for the upkeep of the streets inside the gate. This can lead to more frequent repairs in a city/county where street funds are limited by a yearly budget. Of course, if the HOA is poorly run, the opposite can be true.
Cons
1. Buyers often pay more for homes in gated communities. The sense of security that a gate provides has a tendency to raise property values and market demand. So, a home in a gated community may be thousands of dollars more than a comparable home in an ungated community. Property taxes may also be higher. There are multiple factors to consider when determining the value of a home, but a Realtor can give you an accurate assessment of how local communities compare.
2. Gated communities have HOAs. The HOAs can regulate everything from how often your lawn is cut to the color of the drapes in your front windows. They also have fees. How high these fees are depend on the total number of amenities and services provided; however, they're usually higher than ungated communities. These fees may be monthly, bi-monthly, or annual, and should be disclosed in the MLS.
3. Security protocols add minutes to your travel time. Depending on the type of gate, you have to deal with keypads, security cards, security guards, gates opening/closing, etc. It all adds time to your errands, commute, and more. Some people find that to be a hassle.
4. You and your visitors may be monitored. Again, this depends on community protocol. There are gated communities that just have keypads at the entrance. There are others that have a gate house where visitors must check in and get assigned to a resident.  Security then has a running log of everyone entering and leaving the community. This can be disconcerting to people who value privacy.
Living in a gated community requires some surrendering of control in order to fully reap the benefits of added security. However, not all gated communities are created equal, nor do they all have the same protocols. Before you decide to make an offer on a home in a gated community, make sure you read the Restrictive Covenants and Rules & Regulations. These documents are on file with the county that the community is located in and are most easily attained by your Realtor. They will lay out all expectations for home and land owners in the community, which are, of course, better to know before you purchase.
If you have any questions about gated communities in the Wilmington area, give us a call at (910) 202-2546 or send us a message through our Contact page. We have several years of experience with gated communities in the Port City.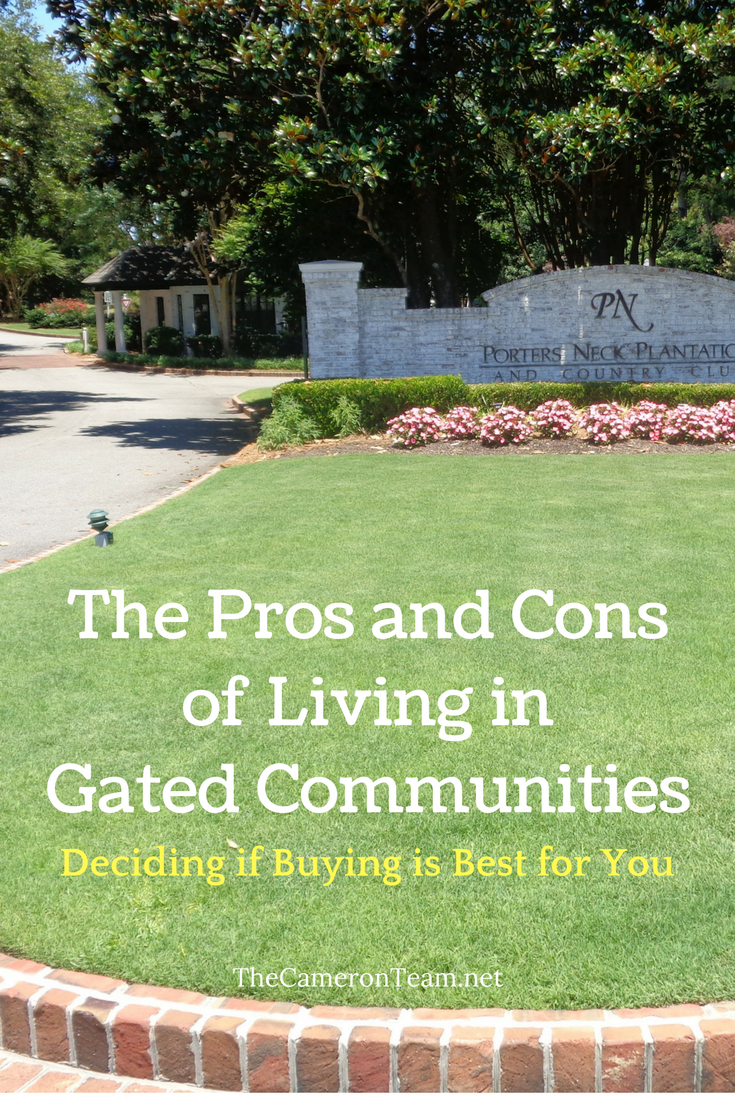 Related Posts
[the_grid name="Home Buyer Tips"]