The bathroom, a place for morning rituals and fresh new starts. It's safe to say that beginning and ending your day in a pleasant space is important. We all have our unique tastes and personality so why not put that to work in this sacred space?
Note: This is a guest blog post by Steven Wood. Read his bio below.
Bathroom Remodel Trends
When it comes to trends, I always prefer to stick to things that are timeless and always look great. Remodeling a bathroom ain't cheap and going with something too drastic will provide momentary excitement but your wallet won't be happy when you're over it.
Small Bathrooms
One of the most note-able trends is small bathrooms. With more and more people living in urban areas the sizes of homes have been decreasing. So small bathroom remodels and making use of small spaces has come forth.
Anytime you're completely remodeling a room it's best to start with the most expensive features. That's why picking a great small toilet that's functional and beautiful should be the first objective(it also helps free up space). Building around that is a great place to start.
Having flat wall décor will help make the space bigger—and save you from any accidents. Examples would be hanging towels on hooks on the back of the door instead of a dedicated towel bar. Also, avoid shelves that stick out and toilet paper holds that stand on their own.
Layering Neutrals
Neutrals will always present a timeless and classic look in a bathroom. You know this won't go out of style. A great way to keep it modern is to use a monochromatic design throughout the bathroom.
Now it doesn't have to be just in the colors you use. Materials can also be stacked as well to make it cohesive. An all marble bathroom or a gray scaled space with hints of white will always look gorgeous.
Greys, whites, and beiges are common colors to work with in the bathroom. Sticking to these will be the easiest way to implement a neutral remodel idea.
Infusing Greenery
Living with nature and adding plants to our homes is on the rise. If you do this just make sure you pick a type of plant that will survive a bathroom environment.
Some popular types are fiddle-leaf figs, orchids, moss walls, and bamboo.
Keep in mind you don't need huge plants to have a big impact on a space. Especially if you have a small bathroom. Small plants with sleek vases are great since they will take up minimal space on a countertop.
A laid-back style can be achieved if you follow cues from a greenhouse. Typically, plants are scattered throughout in them and it can work in a bathroom as well. Walking into a bathroom in this style takes relaxing up a whole level.
You can use stools, countertops, windows, and shelves to strategically place the plants. Don't forget simple hanging in the right spots.
On the other hand going big and bold can work as well. Wherever you place a large plant in a bathroom will be a focal point. Let it rest it's leaves sporadically and be itself. It'll look great.
Marble Elegance
The one martial that will bring your bathroom to luxury, it's definitely marble. Not only is it sturdy, it's gorgeous—which has led to its popularity in the bathroom.
Since it's been around for so long, there are many styles and colors available. There is one for everyone.
For the most dramatic look, opt for black marble. Nero portoro is a deep black marble that comes from Italy. It has gold veins and scream chic.
Another great thing about marble is since it's so versatile it can work as any design element. You can have marble everything in the bathroom from countertops, floors, to walls.
If you prefer clean and open spaces then white marble bathrooms are for you.
About Steven Wood
Steven Wood is an interior designer and owner/writer at  Swankyden.com.To help spread his knowledge and expertise, Steven started blogging to help others make the most impactful decisions to design their dream home.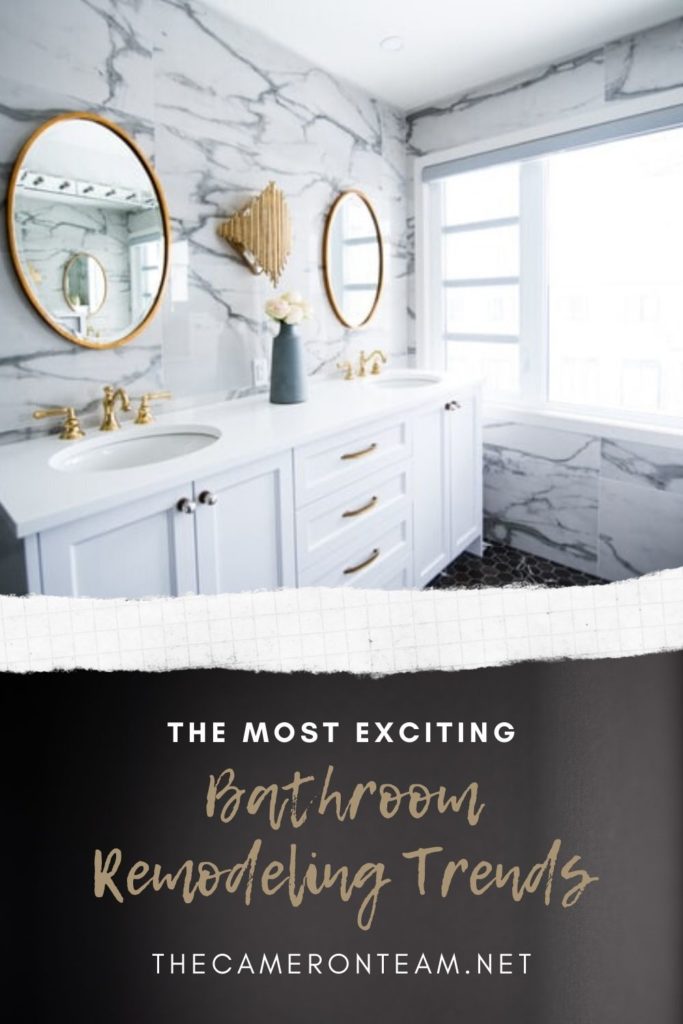 [the_grid name="Homeowner Tips"]