Is getting organized one of your New Year's Resolutions? We know that once you get a system in place, it makes it a lot easier to keep up with household chores. So, this year we are going to share some of our favorite organization tricks. In this post, we're sharing our favorite bathroom tricks.
1. Tension Rods
Keep your cleaners organized with a tension rod in your cabinet. These are the tension rods you use for hanging shower curtains and you can get them for as cheap as $2. Just stick it between the left and right side of your sink cabinet and hang up your bottles of cleaner.
2. Hair Dryer Basket
Hang a rectangular wire basket on the side of your vanity to hold your hair dryer and all its cords. I've seen these baskets in office supply stores in their filing and desk organization aisles. You can even save yourself from drilling holes in your vanity by using 3M hooks with the stick backs.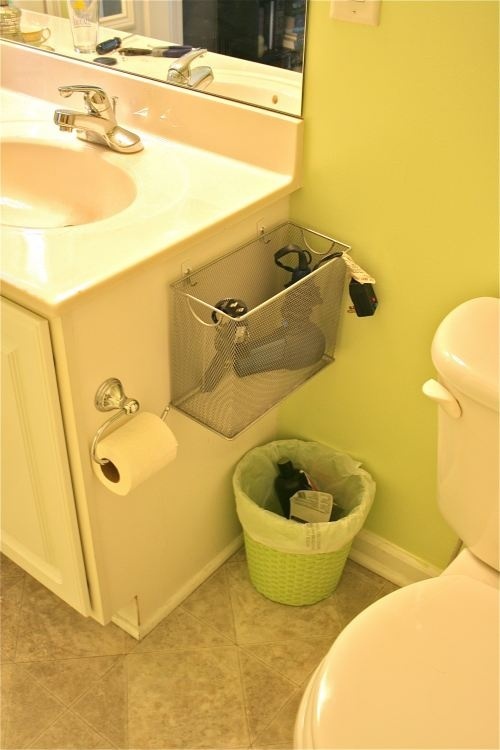 3. Mason Jars
Save some counter space by securing Mason jars to the wall. They can hold toothbrushes, toothpaste, makeup brushes, etc. and they're easy to clean. Just throw them in the dishwasher.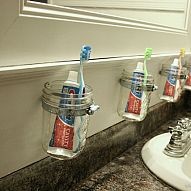 4. Radiator Grate
Frame a decorative radiator grate (about $20 at home depot) and use it as a fancy looking place to hang your earrings. You can cut it to the size you prefer and paint it to match the color to your bathroom.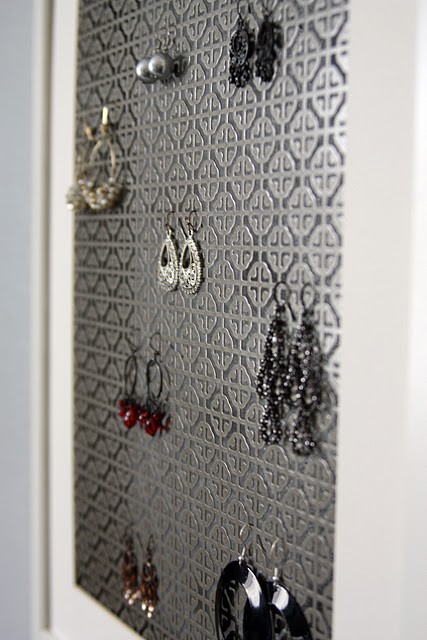 5. Built-in Drawers
Now, this is our favorite trick if you're very handy or know someone who is, because this takes some carpentry work and knowledge of where or where not to cut. Frankly, you don't want to end up sawing into some electric wires trying to cut-out a section of the wall.
Cut out a section of dry wall between a set of studs and frame up some drawers. If you're tight on space, this is a great way to add some storage!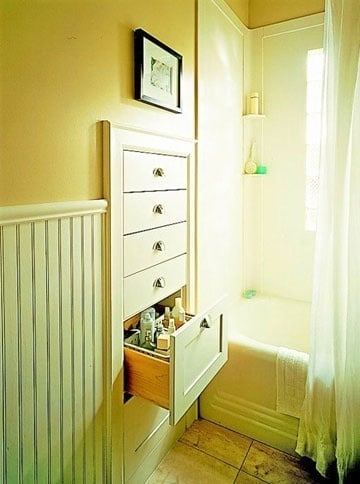 If you have a favorite bathroom organization trick, we welcome you to share it in the comments below! See more on our Organization Pinterest Board.
[the_grid name="Homeowner Tips"]