After a home inspection is completed, the buyers have the option of submitting a repair request. The sellers are not required to fix anything; however, the buyer has the option of backing out at any time prior to closing. So, it's usually in the seller's best interests to negotiate and come to a compromise on repairs. It's common for sellers with experience in carpentry, electrical, and plumbing to think that they can save some money by completing the repairs themselves, but we highly recommend hiring a professional to do the work. Here's why.
Proof of Qualifications
Unless you are licensed contractor, someone who has completed the necessary training and requirements to prove you have competency in a specific trade, you don't have the qualifications to back up your work. You may know how to complete the repair efficiently, but if the buyers were to find fault with the work after closing on the home, you wouldn't be able to argue your competency adequately in a court of law.
Liability Insurance and Bonds
Licensed contractors and tradesman who work for them are usually covered by liability insurance and/or bonds. Liability insurance protects the homeowner when accidents and property damage happen on the job. Bonds protect against financial loss when the contractor fails to complete the job. Not all licensed contractors are insured so make sure you hire one that is.
Complicated Permit Process
Some repairs require a county and/or city permit, including structural repairs, electrical work, and soil grading. While permits are not often required for basic home repairs, when they are, the permit process can be confusing to people who do not do it on a consistent basis. If a required permit isn't pulled, the municipality could find out and force the homeowners to undo all the work. This would clearly lead to financial loss, because the seller would have to pay for the work to be undone and redone with the proper permit. It could also very well cause the buyers to terminate their contract due to a breach of the agreement.
Speed of Repair
When a home goes under contract, time is of the essence, meaning tasks need to be completed in a timely manner. The first stage of the contract, the Due Diligence Period, can be anywhere from 2-4 weeks. The NC Real Estate Commission encourages buyers and sellers to have all inspections and repairs negotiated during this timeframe. Completion of the repairs should be done by the final walkthrough (typically the day before closing). This can leave a few weeks or even days to complete the repairs, which may not be enough time when you have work and other responsibilities. This is in contrast to a licensed contractor who can schedule it into their workday.
Conclusion
While the North Carolina Offer to Purchase and Agreement only states that negotiated repairs should be completed in a "good and workmanlike manner", it is in the seller's best interests to let a third-party licensed contractor do the work. It helps protect the seller and encourages a good relationship with the buyers by providing a quality level of workmanship. Plus, it's always nice to kick back, put your feet up, and have someone else do all the work.
If you're thinking of buying or selling a home in the greater Wilmington area, give us a call at (910) 202-2546 or send us a message. We'd love to present the services that we offer. You can also read past client testimonials on our website.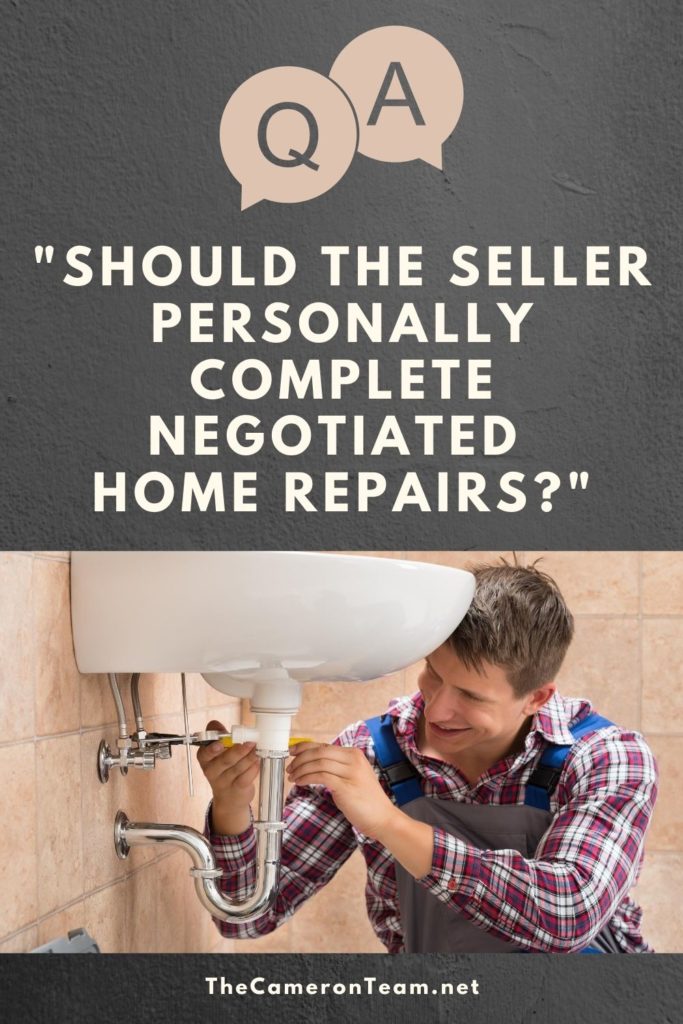 [the_grid name="Home Seller Tips"]