Are you ready to update your home office? Want an inspiring workspace that's both modern and feminine? Below are some products and design tips to help you bring it all together.
Please note: The Cameron Team has not been paid or received any other compensation to include any of the products featured on this post, but the author has included affiliate links and content. If you click on a link, they may earn a commission with no added cost to you. It's a high-five for great content!
Modern White Home Office Computer Desk
Clean, straight lines will help keep your office looking tidy, especially if the "office" is part of a larger room. The Kalos Desk features a tabletop made of reclaimed wood and two open storage compartments. Color choices include white and espresso. It's easy to assemble and comes with adhesive furniture pads to protect your floor from scratches. Once assembled, pair it with a comfy chair.
White Leather Executive Swivel Chair with Rose Gold Frame and Arms
Speaking of comfy chairs…This is no ordinary office chair. The fabric is cushy white leather and the rose gold frame will add some flash to your home office. It also has wheels, built-in lumbar support, and a tilt mechanism.
Rose Desk Pad
A desk pad like this one from Ysagi doesn't just protect your desktop from water, scratches, and stains, but also doubles as a mouse pad. It's as thick as a coin and measures 31.5" x 15.8". It's made of faux leather, so it has a nice texture without any animals having been harmed in the manufacturing. #WinWin
Lamp with USB Port
We love when products serve more than one purpose, as is the case with this white desk lamp. Not only does it have a stylish design, but it also has a USB port so you can charge your devices. It even works when the light isn't turned on.
Rose Gold Metal 5-in-1 Desk Organizer Set
Glam up your office and keep it organized at the same time. This 5-in-1 desk organizer set is made of metal and has a rose gold finish that gives off a little shine. The edges are smooth and rounded to keep them from catching on anything important. The set includes a pencil cup, letter sorter, hanging file organizer, letter tray, and sticky note holder. You can expand on your storage with the matching wall-mount hanging file organizer.
White Marble File Folders
Because the file organizer above sits out, you'll want some pretty folders. What goes great with rose gold? White marble. It's very clean looking and pairs well with the femininity of the rose. So, these white marble file folders are a great option for the theme presented here.
Matching Office Tools
Round out your office supplies with this matching rose gold tool set. It includes an acrylic stapler, tape dispenser, binder clips, staple remover, and…what's that?! ROSE GOLD STAPLES! Wow! Talk about fancying up your work.
White Marble Magnetic Box and Gold Paperclips
Need to keep your paperclips in one spot? This magnetic box has a marble white finish that goes well with our theme AND it comes with 100 gold paperclips to make the deal even better. Who else loves fancy office supplies? They just make working more fun!
White Marble Tabletop Dish
Need some extra organizing? This white marble tabletop dish is 5.6" x 4.4" and perfect for keeping little things, like clips or the bangle bracelets that drive you nuts when you're trying to type on a keyboard. It could even be a phone holder.
Pink Message Board
Everyone needs reminders. If you're like us, you need them right in your face. This is when a message board comes in handy. Not only can you write yourself a reminder, but the actual act of putting the letters on the board will improve your chances of remembering.
Rose Planner
An easy trick to making your office desk look less cluttered is by making everything look aesthetically alike. You can do this by matching your most often used items to your office's theme. This rose colored planner matches our design theme very well. It has a hard durable cover, measures 5.3″ x 7.7″, and includes 3 built-in bookmarks for switching between time spreads (weekly, monthly, etc.), colorful stickers, and a myriad of pages that help with tracking goals and events.
Copper Geometric Wall Planter
Plants filter the air, reduce stress, and improve concentration and productivity – which makes them the perfect accessories for a home office. These wall planters are great for succulents and come in 4 colors, including a copper/cement combination that pairs well with the 5-in-1 desk organizer set above.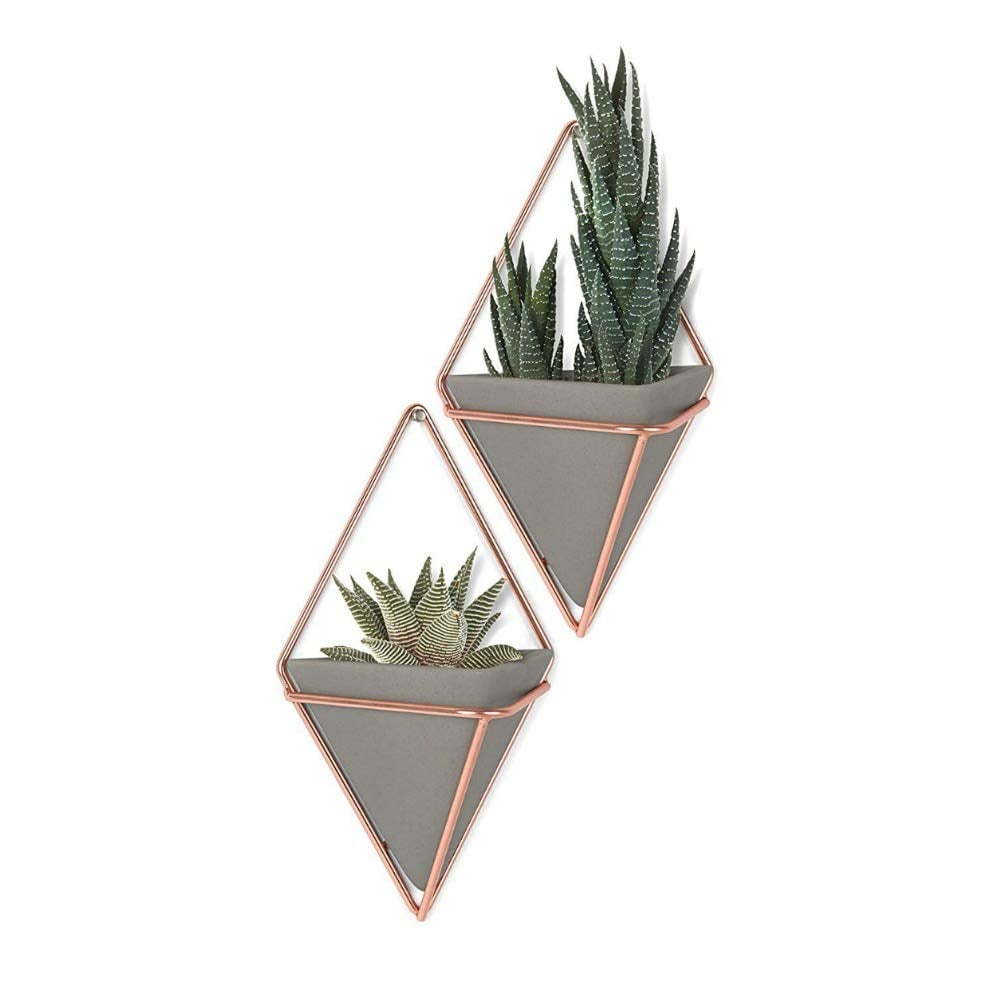 Modern Feminine Wall Clock
Keep the time…and the style theme we're going with…and mount this lovely white and rose gold clock on your home office's wall. It's easy to ready and non-ticking, so you won't be distracted when you're thinking of the best way to phrase an important email.
Marble Digital Clock
Of course, if wall clocks aren't your thing or you just don't have the wall space, there's also this beautiful digital clock that's made to look like white marble. It pairs very well with the tabletop dish mentioned above. It's powered by a USB cable. Worried about cords? It can also run on 3 AAA batteries.
White Marble Phone Cover
If you're digging the marble and rose gold look in this feminine home office, perhaps you'll want your phone to match. There are a few nice phone covers that have this same theme, including this white marble rubber silicone case that fits easily over an iPhone 7 Plus/iPhone 8 Plus…

…and this rose gold and white marble geometric design case that fits the iPhone 7/iPhone 8…
…or THESE gorgeous cases for Android phones.
Motivational #BossGirl Art
The final thing on our must-haves list for a feminine, modern home office is motivating desk and wall art, because – let's face it – some days are just awful, and it takes a lot of motivation to keep going. Surround yourself with daily reminders to keep your chin up and be epic. Of course, it was hard for us to narrow down this list, so here are a handful of our favorites.
"One Small Positive Thought in the Morning Can Change Your Whole Day"
"nevertheless, she persisted"
"Office Sweet Office"
What else would you add? Leave it in the comments!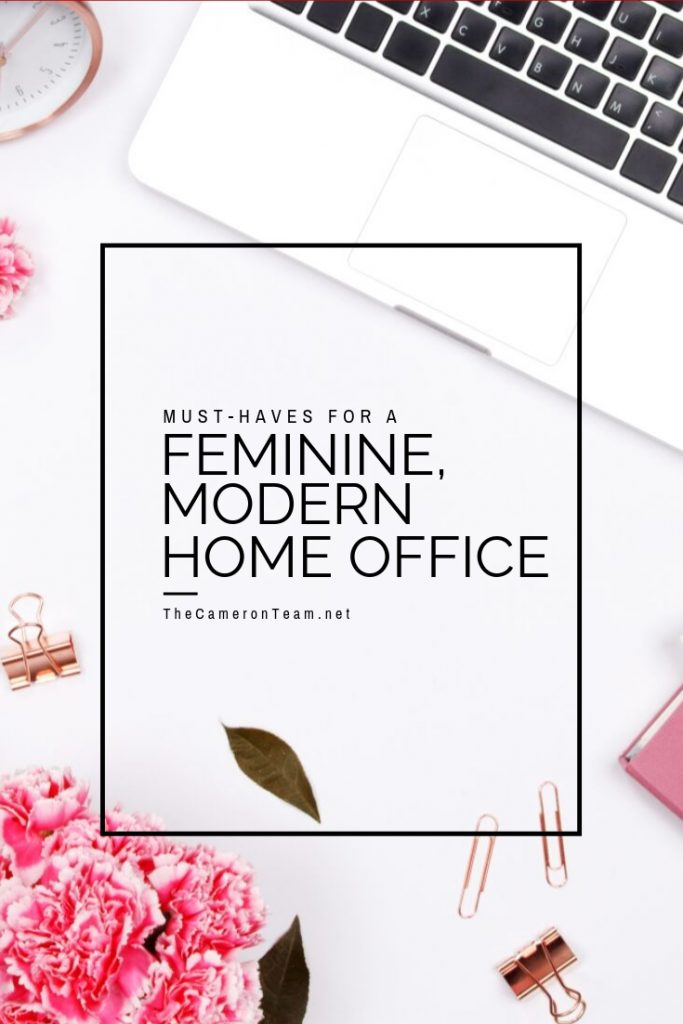 [the_grid name="Homeowner Tips"]