You've finally decided now is the time to build your custom home, and the next step is to find a lot. You probably have an idea of the size home you want and the price you want to pay to have it built. But how does the price of the lot coincide with the final value of the home when it's built? This is important to understand as you gauge different communities and how they align with your needs.
Types of Custom Home Communities
In Southeastern North Carolina, there are a few types of communities you can buy in, including:
Home-lot package communities. Developers of these communities usually require you to purchase a lot and use one of their builders. They're often suitable for buyers who aren't looking for anything too out of the ordinary for the area but want a say in designing the home to fit their lifestyle needs.
Flex communities. Developers of these communities will provide a recommended list of builders, but you also have the option to buy a lot and build when you're ready. You may even be able to use your own builder, as long as they stick to the community guidelines for exterior design, placement, and overall quality of home. It all depends on how flexible the developer is.
Established communities with private resales. While the first two communities listed above are managed by developers, the last option is for privately owned lots. These are usually found in established communities (or areas). You can purchase these lots and build whenever you're ready, and use whichever builder you want. Depending on the community, there may be Restrictive Covenants that lay out certain rules about the placement and design of homes built, in order to maintain the overall aesthetics of the community. If there's a homeowner's association, they may require you submit your plans for approval.
Lot Pricing Expectations
If you're starting the buying process with a land search, it's important you understand the expectations for lot pricing. Traditionally, when budgeting a purchase, a lot's price is 20-25% of the final home's value. So, a $100,000 lot is expected to play host to a $400,000 – $500,000 range home. As you create your search, you can scale the listing price range up or down according to what you expect the final home to be valued at.
Of course, there are exceptions to this guideline, because there are no hard rules for the definition of "lot". In our own MLS (at the time of this post), a lot can range anywhere from less than .10 acres to over 4,000 acres. So, technically, someone could buy 5 acres 15 miles outside of town for $100,000 and build a $250,000 house on it. It all depends on the property's location and market demand.
Therefore, the 20-25% guideline is best suited for organized communities where lot sizes are relatively consistent.
Importance of Aligning Value

As the buyer, you may only be thinking about location and the beautiful views you want to see outside your window, but there's more to choosing a lot than surface experiences. Just as we encourage homeowners to update according to community standards to avoid over-improving and losing money, we also feel it's important to build in line with these expectations. Attributes that don't match other properties in the community usually see the home's perceived value drop, which affects the market value.
It's also important to understand upfront what will be expected of a new construction home when you start off by purchasing the lot by itself (as opposed to a home and land package, which has clearly defined standards). Numerous communities can impose regulations on you that may cost you extra money that you haven't budgeted for – like a specific type of exterior finish or a different type of fencing. While dreaming up the perfect home is fun, underneath it all, it's a financial investment that needs to be protected, and unfortunately, the value isn't always determined by the people enjoying it.
If you have any questions about choosing a lot for a custom home in the greater Wilmington area, give us a call at (910) 202-2546 or reach out to us through our contact page. We can set up a custom Multiple Listing Service portal, guide you through the process of picking a lot, and even recommend some area builders.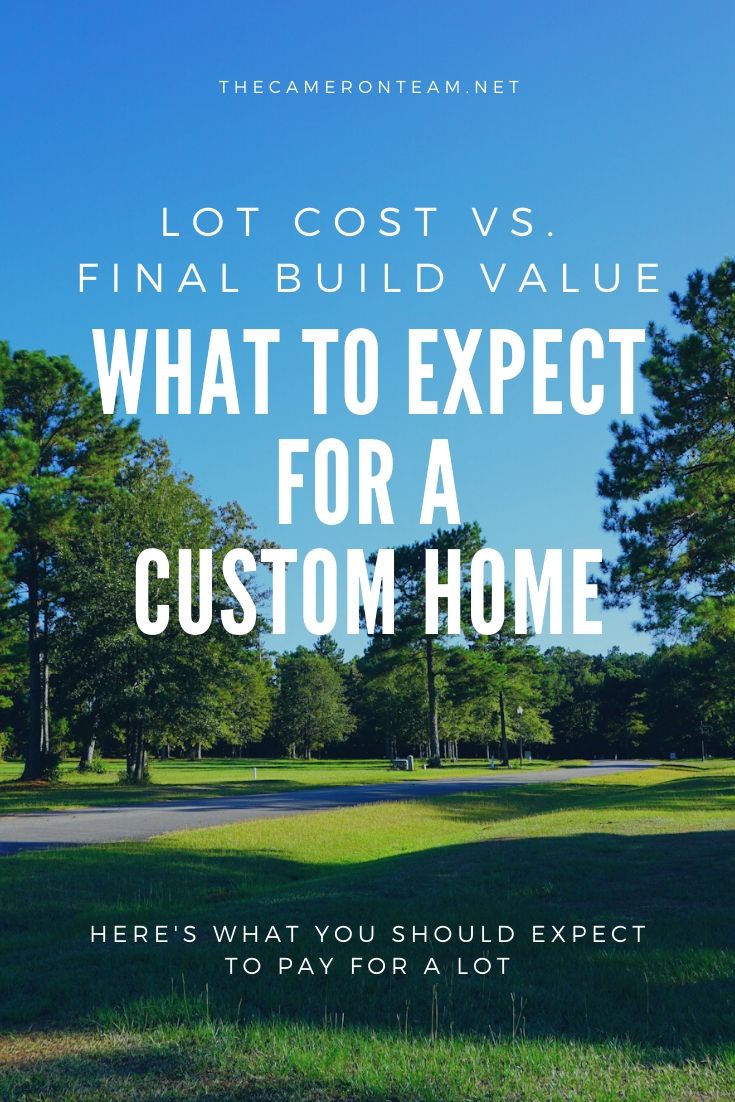 [the_grid name="Home Buyer Tips"]