When you pick up a box of food at the grocery store, do you read the ingredients? With health being a common concern, most people do. When you purchase a new gadget, do you check the packaging to see what's included and to verify it hasn't been tampered with? Likely. It's not fun when you get home and realize you're missing batteries or an important add-on accessory, or someone has removed a vital piece that allows it to function properly. So, why wouldn't you take the time and care to know what you are buying when you're shopping for a home? After all, this is one of the most important purchases you'll ever make.
Surprisingly, buyers can be resistant to completing certain tasks, primarily ones that cost additional money, even if it means confirming their purchase is sound. Here is what we always recommend buyers have completed prior to closing on a home and why each is important.
Home Inspection
The home inspection is one of the most important parts of the buying process, but there are plenty of buyers who still try to get by without one because it costs an average of $400 (depends on size of home). This is a visual inspection of the home. That means the inspector does not take apart anything or make any holes in the walls, but they do test systems and use special tools to make educated assessments of the home's condition. Their findings can also pinpoint issues that may need further investigation by other professionals, like potential structural or drainage issues. This is the best way to figure out if the home fits your expectation or is too much work to take on.
Termite Pest Inspection
Termites can cause serious damage if they've been left unchecked and oftentimes, that damage is hidden away in crawlspaces and attics. But these little buggers leave evidence and a professional termite pest inspection is the best way to find it. This is especially important in moderate to warm climates (like North Carolina) where an extended cold freeze doesn't help keep their populations in check. They usually run between $75 and $150.
Fireplace Inspection
On average, there are 125,000 chimney fires a year in the U.S. The most common cause is build-up of creosote on the interior surface of the chimney and ventilation system. People often assume that wood burning fireplaces are the only ones that need inspections. After all, gas fireplaces burn so cleanly that they don't have build-up, but that's actually misleading. Gas logs eventually do breakdown and can clog vents when they do. Additionally, moisture damage and wildlife can cause holes, clogs, and worn parts that could lead to a crumbling chimney or carbon monoxide poisoning. Frankly, if you haven't been maintaining the fireplace, how do you know it's been well-maintained? A fireplace inspection can cost $125 to $250, but can put your mind at ease and assure you know what you are buying.
Land Survey
If you aren't planning to install a fence, add on to the home, or put up an exterior building, you may be wondering why you should bother getting a land survey. After all, the lot is already on record with the county and your lender isn't requiring it. Land surveys reveal easements (electrical, phone, cable, water drainage, etc.) and encroachments that may be on the property (neighbor's fence, shed, driveway, etc.). Both of these can affect how you plan to use the property now and in the future. Land surveys cost on average between $400 and $500, but that's a fraction of potential legal fees.
Title Search
This search is practically mandatory if you're getting financing, but it's an important part of knowing what you're buying. This search, performed by a title company, basically ensures that the title being transferred to you is valid. It looks at the history of ownership and identifies anyone who may have a claim to the property (missing heirs, encumbrances, easements, etc.). The cost depends on the size of the loan, but you may be able to get a discount if a title search was completed on the property in the past year and you use the same company.
Restrictive Covenants Search
It's a common misconception that communities without homeowners' associations (HOAs) do not have restrictive covenants (i.e. clauses that restrict the use of a property to maintain the value and enjoyment of all neighboring properties). In fact, there are multiple neighborhoods in the Wilmington area that do not have HOAs, but still have restrictive covenants. These can include the raising of poultry, the parking of RVs and boats, and required fence heights or materials. Of course, not all fully enforce these restrictions, but they do exist and if they do, the neighborhood can start reinforcing them at any point. so best to know upfront what they are. Finding them usually just requires a free search of county public records. The sellers may also be able to supply them but don't assume if they don't have them that there aren't any. Not all owners are educated on these facts. While this task is free to you, the key point is to actually sit down and read the documents. They may include legal jargon, which is boring to most people, but you'll never know the restrictions if you don't read them.
Conclusion
We understand that becoming a homeowner is an expensive process, but what's even more expensive are the surprise repairs and adjustments you must make after you've already purchased the home. Structural damage? Leaky roof? Broken HVAC? A shed built on a utility easement? These can cost thousands of dollars to repair or replace. You can save so much money and disappointment by doing your due diligence before signing on the dotted line.
If you're considering buying a home in the Wilmington area, we'd love to put our years of experience to work for you. Send us a message or give us call to talk about what options are available for you.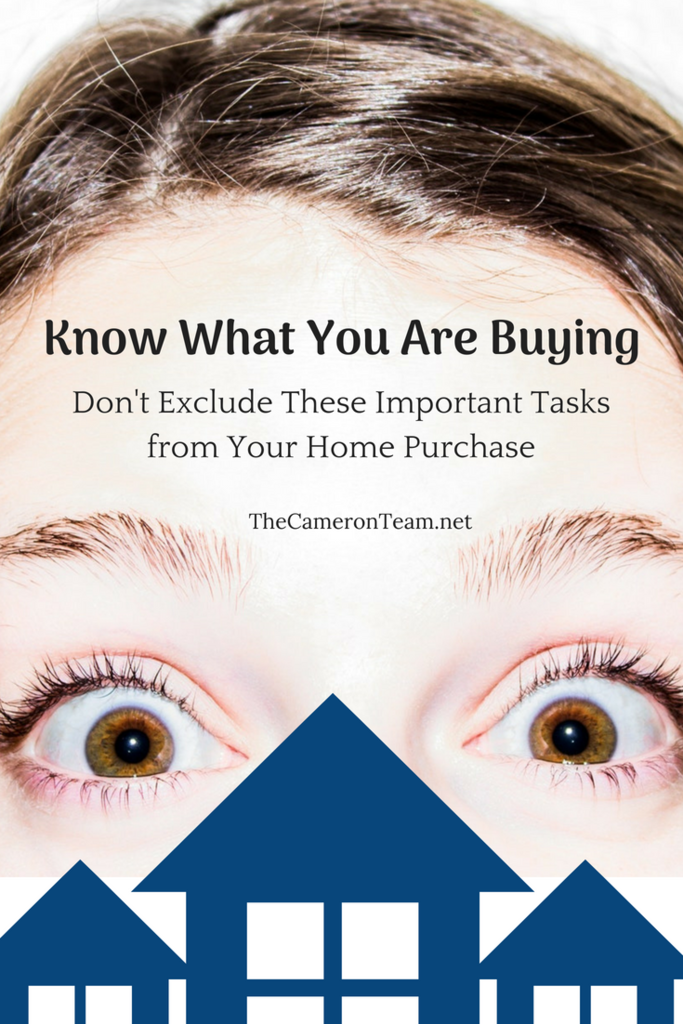 [the_grid name="Home Buyer Tips"]