Attics, basements, and oversized garages can offer homeowners much-needed storage space. However, if you're lucky enough to have one, you should be aware that not all possessions can or should be stored in these areas. For one, they are rarely climate controlled, which means they have additional exposure to heat, cold, and moist air, as well as bugs. In coastal areas and lower altitudes, basements also run the risk of flooding during bad storms, so prized possessions should never be stored there, even if they are resistant to other threats. Below are some guidelines on what shouldn't be stored in an attic, basement, or garage.
Paper Materials
Any possessions made of paper or other natural fibers should not be stored in the attic, basement, or garage. These include photographs, books, documents, newspapers, prints, etc. Heat and moisture can cause discoloration, and mildew is prone to grow on anything made of paper. Plus, cockroaches, silverfish, termites, and booklice love to eat paper, cardboard, etc. So, storing paper possessions inside will not only protect them, but keep your home from attracting these pests.
Artwork
All original artwork should be stored in a climate-controlled room. Humidity and heat can cause the paint to expand, contract, and crack. So, artwork should be stored in an area with 40-50% humidity and a temperature between 65 and 75 degrees Fahrenheit (70-72 degrees is ideal). Also, keep in mind that sunlight can fade colors and improper storage, even in a climate-controlled room, can lead to trapped moisture and mold growth (one reason you shouldn't wrap art in plastic).
Paint Cans
Again, paint is very sensitive to temperature changes. If you're saving leftover paint for touch-ups, don't leave it anywhere temperature fluctuates to an extreme. It can change the color of the paint, rendering it useless for future use.
Anything Made of Fabric and Leather
Many family heirlooms are made from fabric, including wedding dresses, quilts, baby clothes, linens, and toys. Ideally, these should be kept within the home in plastic tubs, because water can damage them and certain bugs (silverfish, moths, crickets, and carpet beetles) love to eat fabric. Leather can also be affected. Heat and humidity can cause it to crack and deteriorate. So, attics, basements, and garages are not the best place to store leather sofas, jackets, cases. etc.
Wooden Furniture
Just as you wouldn't store a leather sofa in the attic, basement, or garage, you really shouldn't store wooden furniture long-term either. Heat and moisture can cause the wood to expand, contract, warp, crack, and grow mold, mildew, etc. Even if nothing grows on the furniture, drawers may become hard to open and legs may not rest level anymore.
Electronics, Old VHS Tapes, Old DVDs/CDs, etc.
Electronics and anything having to do with them should not be stored in a place where heat and humidity are not controlled. Changes in temperature and moisture can cause electronics to stop working, data to be lost, and pieces to become warped beyond use. If you don't foresee yourself using them anytime soon and you don't have room inside your home, go ahead and recycle these things or have data transfer to cloud storage or an exterior hard drive. There are services that take old slides and VHS tapes, and convert them to digital.
Hazardous Chemicals and Anything Flammable
Do you ever read the labels on pest sprays, weed killers, oil bottles, etc. and notice they have a temperature in which they must be stored? Garages, attics, and basements can have greatly differing temperatures, especially at the height of summer when temperatures of enclosed spaces can skyrocket. Not only can chemicals expand and bust their containers, flammable liquids can catch fire in high temperatures. It's very important to keep this in mind when choosing where to store these items. Even fire extinguishers must be stored between -40 degrees Fahrenheit and 120 degrees Fahrenheit, both of which are easily reachable in enclosed spaces.
Food for Pets or Humans
While this may not fully pertain to the attic, food for pets and humans should not be stored in the garage or basement. Moisture and changes in temperature can cause food to spoil, even canned food. Food can also attract bugs, and I don't know about you, but the fewer, the better. The only exception to this may be if you have a deep freezer in the garage, because that would mean the food is temperature-controlled.
What You Can Store in the Attic, Basement, and Garage
After this long list of things not to store in any of these areas, you may be wondering what can be stored in the attic, basement, and garage. Below is a list. Keep in mind that we always recommend putting smaller items in plastic totes to keep them dust-free, bug-free, and partially protected from humidity.
Extra kitchen items (pans, plates, utensils)
Ceramics (pots, statues)
Metal items (bedframes, gardening tools)
Plastic items (non-electronic toys, storage boxes)
Holiday decorations (non-electronic, non-paper)
Camping and Seasonal Gear (items that don't fall into above categories)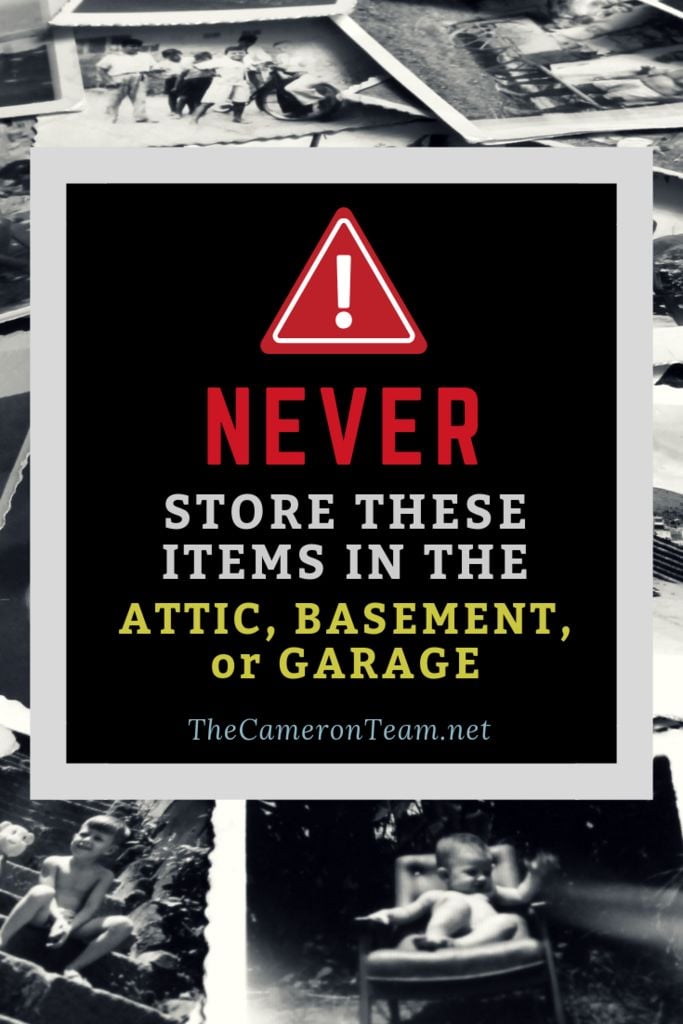 [the_grid name="Homeowner Tips"]