Are you looking to create an outdoor living room? Many times we see people grab some outdoor furniture and stick in on a deck and call it a day. That works on a basic level and is a great starting point, but there is so much more to think about to make an outdoor space something you'll use all summer long and yearn for over the winter months. We're going to breakdown all the elements you'll need to make your space cozy and functional, so you'll get tons of enjoyment out of it!
Note: This is a guest blog post by Julie and Erika at Pickle & Board. Read their bio below.

We did a post on basics for outdoor spaces including what type of space you'll use the most and you can find that here. If you already know you want to focus on an outdoor living room, then you're in the right spot.
Location, Location, Location
Did you think that only applied to buying your home? Haha, well location and layout are something you'll want to consider anytime you're doing a home update. When you pick a location for your outdoor living room, here are some things to consider…you might not be able to completely control all of them so prioritize and we'll give some additional solutions later in the post.
Distance from house – for convenience of food/bathroom/etc. vs. further from your house, which may offer more privacy/a retreat type feeling.
Natural Elements: Sun/Shade/Wind/Bugs – all of these things can be addressed, but it will affect what you'll need in the space.
Privacy – do you want a more open, "neighbors are welcome to come join" feel or a "this is my private zone" vibe.
Size – how many people do you want to use the space? Is it for you to read and get away or for family to hang?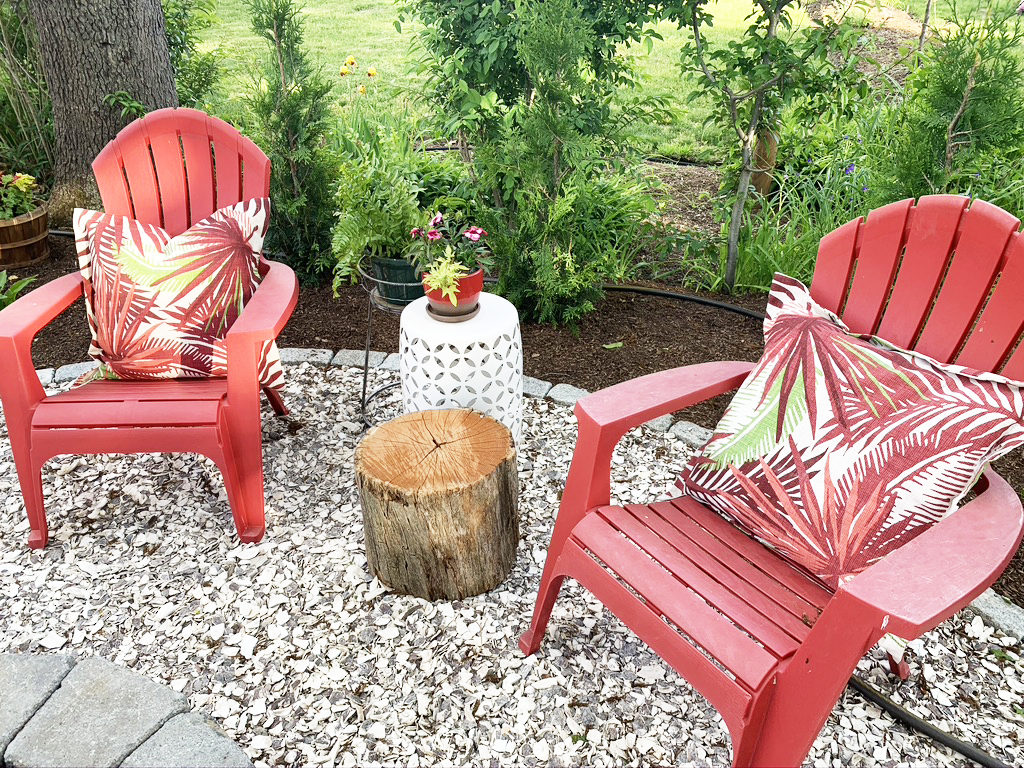 Depending on your yard size and the size of the space you want, you may have limited options on where to put your outdoor living room. That's OK. We just want to get you thinking about these things so you plan for the correct elements. If you want a relaxing retreat far from the house but it ends up being a buggy spot, you'll be fine if you planned for netting or another pest control option; however, the space won't get used if you didn't think about it!
Use
Before we jump into the elements that make up an amazing outdoor space, take a minute to think about your primary and secondary use for the space. This goes in conjunction with some of the elements we talked about for location. Some examples might be:
Primarily, I will use the space to read and have a glass of wine in the evening. Sometimes, we'll have a couple of friends over to hang out there as well.
I have a big family and I want a space where we can hang and watch movies outside, but I also want to be able to eat dinner there sometimes.
Whatever your goals are will drive the rest of your choices. In the first example, we'd prioritize a few really cozy seats, make sure there is a lighting option for reading, and for evening use, we'd want to consider something to keep the bugs away. For the second option, we'd be looking at maybe a large sectional or large cushions for the kids, trays or a coffee table for eating, a projector for movies, etc. Don't rush this step! Otherwise you may end up with cute furniture in a space that never gets used, because it doesn't work for the way you live.
You'll notice both of these examples also include the time of day you'll be using the space. It can have a big impact on other elements, like sunlight and bugs. If you want a space to enjoy a cup of coffee in the morning, you might need an umbrella but won't have to worry about mosquitoes, for example.
Seating
This is probably the biggest element of your new space. Think about your intended use and these other elements to limit your options and avoid getting overwhelmed. We talk about overcoming option paralysis here. Some other things to think about for seating:
Function – cozy or more structured?
Style – we like to change things up without redoing a whole space, so for larger pieces we recommend going kind of neutral then you can accessorize with color and a more specific style, then if you want a new look you just change out a few pieces!
Durability – how much exposure will the pieces get to sun, rain, kids & pets? Most outdoor pieces are pretty durable, but with my kids I went with plastic chairs around my dining area, because well, plastic is way easier to clean and my kids don't sit for that long at a table anyway 🙂
Size – measure and measure again! We even recommend taping out an area or using boxes to represent space to get the best configuration for your
Looking for some inspiration? We pulled together some cute outdoor furniture options, in a shop-able post here.
Accent Furniture
Accent pieces make a space more functional, but are also a great way to bring your style to a space. Start with the function based on your primary need. Where will you put food or drinks down for each of the seats? Do you want a pouf to put your feet up on? Would you want a bar cart or serving area?
Pillows & Accessories
Pillows are another great way to add a pop of color or pattern, texture and comfort! Add some outdoor throw pillows to your space to really bring it to the next level. Accessorize with plants, flowers, lanterns or other candles.
Area Rug
Area rugs add style and beauty, they also help ground and define a space to pull it all together. Outdoor rugs come in so many great styles now. Wondering what size rug to get? Check out our Rug Size Guide here.
Lighting
Lighting can change the whole feeling of an area. During the day you'll probably have plenty of natural light, but if you plan to use the space in the evening you may want to consider some additional lighting. If you have access to an outlet there are tons of options we love the soft glow of string lights for outdoor spaces.
Other Accessories
We mentioned some of these earlier, some other things you'll want to consider for outdoors depending on your space are: Umbrellas for shade and screen enclosures for bugs, you can also help control bugs by growing citronella plants or using candles or other repellents. It's also great to add music to a space with a Bluetooth speaker.
We suggest starting with the core elements and building from there to create your space. We hope this has given you some inspiration to create your perfect outdoor living room. Below is the "recipe" for all of these elements that you can use a checklist to create your space.
Basic Outdoor Retreat Recipe
Your outdoor retreat recipe will depend on the size of your space, the use and what you love. Modify this recipe as needed but this will provide you the basic ingredients you need to create the space you desire! We always recommend measuring your space and drawing it out on graph paper so that you can pencil in layout options to scale.
Basic Recipe
Outdoor Love Seat, Couch or Sectional
Outdoor Chairs (idea starters, 2 club like chairs, 1 egg chair or 1 fun hanging hammock chair)
1 Outdoor Rug 5 x7 or 7×9/8×10 (we love the larger sized rugs but sometimes a space does not allow for that size so again, measure, measure, measure)
1 Outdoor coffee table, ottoman or poufs
Outdoor side tables (these are so versatile! A place to rest your drink, put a plant or a candle)
Option Add-ins
1 Cantilever Umbrella and weight to hold that baby in place 1-3 sets of outdoor string lights
3-6 Outdoor Pillows – we love this for comfort and color 1-3 Citronella candles
Bluetooth Speaker
1-1,000 outdoor pots with flowers or plants – can you tell we love plants!?
Shopping Links
Here are some links for some of our favorite places to shop for outdoor furniture and accessories. These contain affiliate links which means we may earn a small commission for qualifying purchases at no cost to you .
Wayfair Outdoor – for furniture
Boutique Rugs Outdoor  – great outdoor rug options at great prices.
Amazon – for decor, speakers, candles
About the Authors
Pickle & Board is an interior design & home staging firm located in Barrington, RI. Driven by our passion for homes we work with clients on many scales, including renovations plans, finish selections and furniture/accessory selection. On our blog and social media we aim to inspire and educate by sharing our work and our own DIY projects & stories.
Erika Twohig & Julie Sanfilippo – Pickle & Board.
For more inspiration on home design, decor and DIY you can follow us on your favorite platform or check out our website for more of our posts:
Website: www.pickleandboard.com
Instagram: https://www.instagram.com/pickleandboard/
Pinterest: https://www.pinterest.com/pickleandboard/
Facebook: https://www.facebook.com/pickleandboard/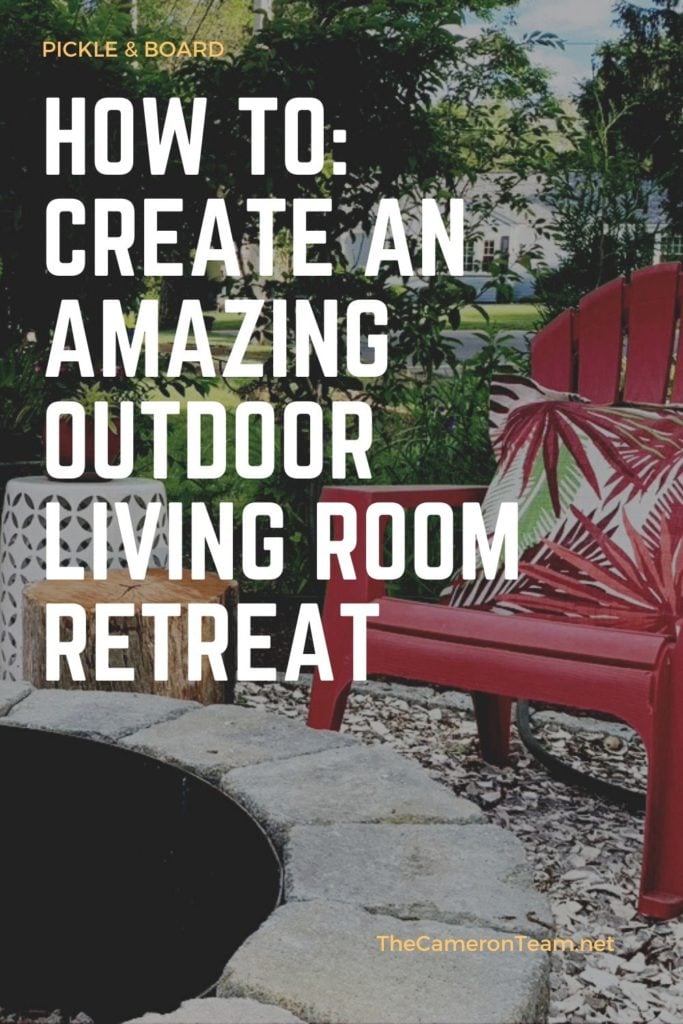 [the_grid name="Homeowner Tips"]