Obviously, the title of this article is a bit inflated. It would take multiple books to explain all the steps of building a home, from developing a budget to installing a roof. If you're planning on building your own home, you're likely ready to jump head-first into all the technical details and already have some degree of experience with construction, which makes you feel comfortable enough to act as your own general contractor…And if that is you, good chances are I've already lost you…
Oh, you're still here? Then, you're probably just wondering how you get started building a new construction custom home on your own lot. If that's the case, here are the steps you need to know.
1. Create a Plan
Get out your dot journal and answer this simple question: "Why do you want to build a new home?"'
Is the home that you want not currently on the market? Have you found a lot in a location you've always dreamed of living in? Were you gifted land to build on? Is there a specific style of home you've always wanted?
Now, jot down the features your home needs to fit the requirements for your lifestyle and write down some you'd really like but aren't necessary to have. There is a myriad of potential reasons for building a new home but knowing what you need and want will help you sculpt your budget.
Also, decide if you want a custom home or a semi-custom home. With a custom home, you hire an architect to design a floor plan and choose all the interior finishes from the bottom up. A semi-custom home is built from an existing floor plan tweaked to your needs. You choose finishes from a preexisting catalogue or supplier. The build time for a semi-custom home is usually shorter and may be less expensive than a custom home, but you may have to sacrifice some of your wants, like the atrium you wanted off the kitchen or the climate-controlled storage room in the garage.
Next, assess what you already know. It sounds overtly simple but will help you to outline a plan of attack. If you already have a favorite builder or general contractor, you can skip the part where you research who you want to hire and spend your time and resources elsewhere.
2. Figure Out Your Budget
You know what kind of home you want, but do you know what kind of home you can afford? The second step of building a home is figuring out your budget. You should sit down with multiple lenders and see what construction loans they offer. One lender may be able to offer you better terms than the other.
There are two type of construction loans: construction-to-permanent (C2P) and standalone construction loans. C2P loans convert to a standard mortgage when construction is finished. Standalone construction loans are short-term loans that you must pay off when construction is finished. If you don't have the cash, you apply for a mortgage. Learn more at How to Get a Home Construction Loan.
Lenders will tell you the amount they are willing to lend you based on their own formulas of risk and affordability. It is your job to decide if it's the amount you can truly afford. While you may have enough money coming in to pay the max mortgage payment, we don't recommend it. Leave yourself wiggle room when calculating what monthly expenses you can pay. Emergencies and unexpected expenses do arise, and we don't want you to be house poor. That will put a real damper on enjoying your new home.
Now, keep in mind that the loan approval process doesn't wrap up once you choose a lender. The builder will also have to go through their own approval process, because the lender will want to know that the builder won't leave the home half-built. This includes providing proof of their financial standing, professional licenses, and insurance.
3. Choose an Architect and Builder
Once you know how much you can afford, you must choose the professionals you want to work with. Going back to step 1, which route you take depends on your goals and if you want a custom or semi-custom home.
Custom Home
If you want a custom home, it's time to do your research and find a reputable architect who specializes in the style of homes you're most interested in. They will design a home that fits your budget, needs, and wants, and draw up all documents that the builder/general contractor will need to produce the home. Many construction loans allow you to include the architectural fees in your loan payout; however, that means less money will be going toward materials and the actual construction of the home.
As the architect works on the home plans, you can start your search for a builder. Your architect may be able to recommend a builder they've worked with in the past. You'll want to read online reviews and contact the builders most suitable to your needs to request past clients who can speak to the quality of their work and customer service. Don't hesitate to ask for this information. All established builders are accustomed to it. They realize you'll be spending a lot of money on their services and want to make a sound decision.
Semi-Custom Home
If you want a semi-custom home, now is the time to do some digging on the builder you want to use. Read reviews, ask friends, and confer with your favorite REALTOR®. Most of all, please, please, please don't ignore feedback because the builder creates pretty houses. If they have a history of producing defects, not communicating well, and not honoring warranties, there's a good chance the home will take longer to build or cost more than you've planned. It might not throw off your budget initially but could add expenses after you've already moved into the home.
4. Find Land
Step 4 can be interchanged with step 3 depending on the route you plan to take and the emphasis you put on location versus style. If you already have land to build on, you can, of course, skip this. If you don't have a lot, now is the time to search for the perfect piece of land for the home you want to build. Your local REALTOR® can set you up a Multiple Listing Service (MLS) search according to the acreage you need and area you want to live in, as well as extra details you feel are important (cleared lots, waterfront, private roads, etc.). You won't be able to purchase land until you have finalized financing and chosen a builder, but these things can be accomplished during the Due Diligence Period of the land purchase.
In the Wilmington area, there are custom and semi-custom communities where you can pick a lot, plan, and finishes in a design studio. All the homes in the community are required to fit a certain standard of architecture and construction, no matter which builder is used to complete the home. If this type of community appeals to you, make sure you use an independent REALTOR® for your purchase. Onsite sales agents are convenient, but they represent the builder, which means they put the builder's needs first. As the buyer, you need a real estate agent who will put YOUR needs first. Having two different people represent each side of the transaction only makes it fairer.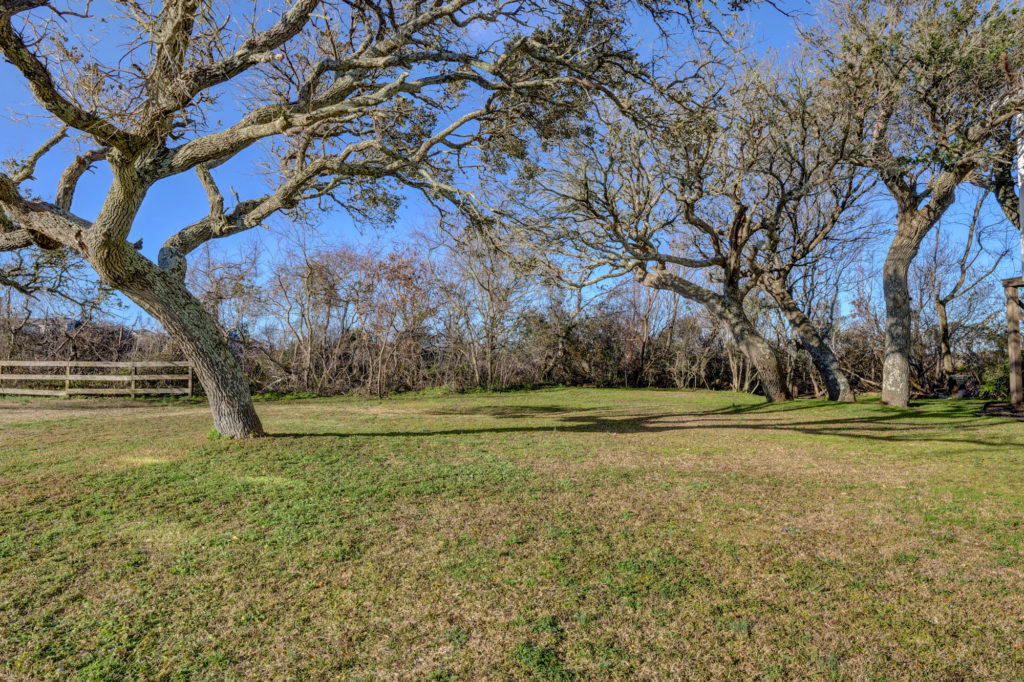 5717 18th Ave – Back of Lot
5. Tie up Loose Ends
By this step, you should be close to settling on a floor plan, builder, and lot, if you haven't already. That means it's time to advance the financing, sign contracts with the builder, and purchase the land. Depending on the builder, you may also need to choose your finishes prior to signing the final contract.
This stage can be a whirlwind, and it may feel like your whole life is suddenly absorbed by everything having to do with the new home, but we urge you to live in the moment and ask lots of questions. You don't want to be saying, "We should have done [this or that]," after the fact. Think things through but don't drag your feet, as there will be deadlines along the way. If deadlines are not met, building may be postponed.
6. Build Your Home
Once all the paperwork is signed, the process will slow down, as construction can take 3-6 months or more. The work now rests on the shoulders of the builder. But that doesn't mean you sit around and wait for them to complete the home. There will be walk-throughs and check-ins along the way – how many of which depend on the builder. As each step of the construction is completed, remember that there are a lot of moving parts and people involved. Hiccups will happen. There's no need to be concerned unless the foreman is no longer being diligent.
When it's time for you to do your walk-throughs, make sure you are there for every single one. Skipping one means you may miss something you aren't happy with and in turn will forfeit your right to ask for changes. In the past, we've seen builders install the wrong insulation (a grade above standard was paid for), an uneven cement floor, a countertop with a scratch, drywall with poorly completed mudding, appliances with dents…the list goes on. Believe us when we say you want to be a part of the walk-throughs.
Seeing your home come together from the ground up is a fun experience. The Spruce has a good general summary of the steps of building a home – The Steps to Build Your Own House.
7. Close On Your Home and Wrap Up Financing
Depending on your loan package, there will be a few details you'll need to finalize to wrap up the financing for your home. If you did a standalone construction loan, you'll have to complete the next phase of applying for a mortgage to pay off that loan and finalize your monthly payment. You'll also have to complete the closing and recording of the property's details with the county. Your attorney will be able to do this for you.
8. Enjoy Your New Home
Congratulations! The hard work is done. You can now enjoy the positive contributions it will make to your lifestyle.
If you're thinking of buying a new construction home in Southeastern North Carolina, we'd be happy to help you with the process. We can refer a reputable lender for construction loans, help you locate a lot to build on, and recommend some well-known builders in our area. Give us a call or send us a message through our Contact page.
Are you getting ready to build a home? Have any tips to share? Let us know in the comments below!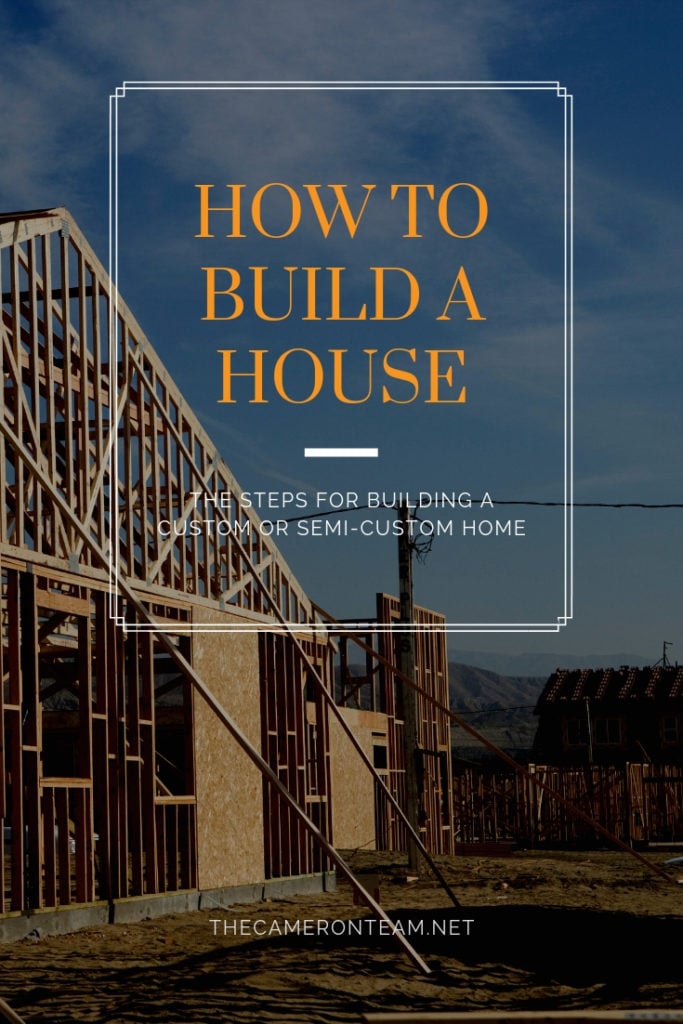 [the_grid name="Home Buyer Tips"]