Did you know that bacteria can double anywhere from every 4 to 20 minutes depending on the type of bacteria and conditions it's living in? They can survive on surfaces for day or weeks (even years, but that is not common in households). Treating them early is key to keeping their effects at bay, but our lives can be super busy between work, school, and extracurricular activities. Not everyone has time to clean their household surfaces daily, but there is a feature that's available for select products that can help prevent the reproduction of certain microorganisms. It's called Microban®.
Microban® is antimicrobial protection that is effective against most common bacteria that cause stains, odors, and product degradation. It also works on other microbes, like mold, fungi, and mildew. When a microorganism comes in contact with Microban®, it penetrates the cell wall and disrupts the cell, making the microorganism unable to grow and reproduce. While Microban® is available as a spray, there's an even better version of it built right into products when they're made.
Please note: The Cameron Team has not been paid or received any other compensation to include any of the products featured on this post, but the author has included affiliate links and content. If you click on a link, they may earn a commission with no added cost to you. It's a high-five for great content!
Companies that create household building materials and finishes have begun including Microban® in select products. Kwikset includes Microban® in some of their door handles and knobs, both exterior and interior. They claim door hardware sets with Microban® are 99.9% cleaner than unprotected surfaces. They also say it will not wash off or wear away and is guaranteed to work for the lifetime of the product.
For anyone concerned with two of the dirtiest rooms in the house, Moen offers bathroom and kitchen faucet sets with Microban® technology. They include sprayers and built-in soap dispensers; many of the options are also spot resistant. AquaDance offers a Microban® shower head line that protects against the growth of mold, mildew, and bacteria. They claim it helps prevent clogging and provides a cleaner option for showering.
Where water collects, microbes tend to grow. SlipX Solutions has a shower mat that includes Microban®. Most shower mats are quick to grow mold and mildew because water collects and sits in the grooves that prevent slipping, even after the shower drains. The Microban® helps prevent that.
Outside of the shower, water is trapped by the bathroom mat. This can lead to growth between the fibers. Bacova Guild has a non-slip Memory Foam bath mat made with Microban®. It too helps prevent the grow of mold, mildew, and bacteria that leads to stains and odor. It's also machine washable.
These are just a few examples of how Microban® can be used in households to prevent the reproduction of microbes. Microban® is being increasingly used in the basic building materials for homes due to its effectiveness against mold. In HVAC systems, it prevents odor. On countertops, it prevents stains. In insulation, it prevents fungal growth. On hardwood flooring, it can help overall cleanliness. See even more examples on the Microban® website.
Oh, and, just because we are a beach community and summer is coming, we wanted to share there are sandals made with Microban®, which helps eliminate the bacteria that cause odor. If you're prone to stinky feet, you may want to check them out.
Does Microban® mean you no longer have to clean? Unfortunately, no. Regular cleaning should continue. This is meant to be an added level of protection for you and your family that's extends the freshness of your home between cleanings. The makers of Microban® also can't guarantee that it will prevent the spread of diseases. However, they do guarantee that its use will keep your finishes looking newer for longer (no stains and wear from microbes) and will make it much easier to clean.
Seems like it's worth the try, right? Next time you're upgrading your hardware, countertops, faucets, etc., inquire if there's a Microban® or antibacterial option available. If you're browsing your local hardware store, Microban® will be printed right on the label. If you've already tried out a Microban® product, let us know what you thought in the comments below.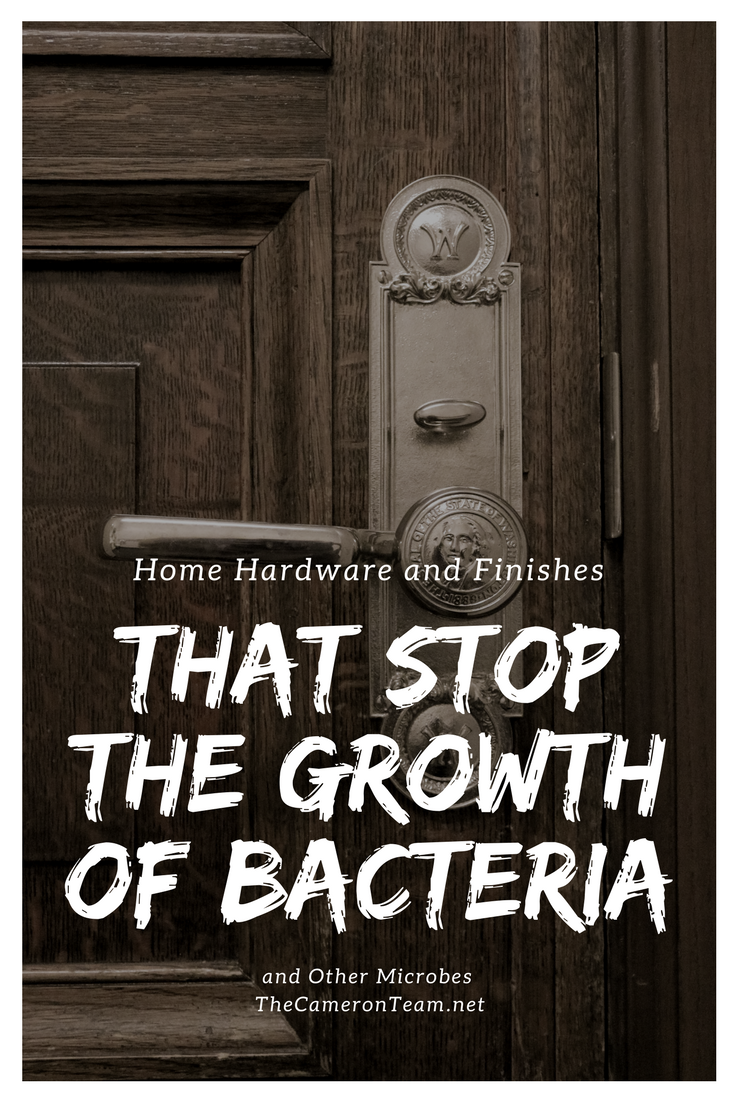 [the_grid name="Homeowner Tips"]