If you're considering installing a swimming pool on your property but are planning to move in a few years, you may be considering the return on investment (ROI). According to HomeAdvisor, the average cost in the United States to build a new swimming pool is $23,482 (the average cost in North Carolina is $35,092). Then, once it's built, you need to pay to maintain it (chemicals, cleaning, electricity, insurance, etc.) which can be over a thousand dollars depending on how much of the work you want to do, if the pool is heated, and what type of chemicals are required. That's a large investment, so most people want to know how much of it they're going to get back.
Let's be honest. A swimming pool's return is only as high as the next homeowner wants it. So, to make it more appealing to buyers and get the highest return possible, here are some factors to consider:
Climate
A swimming pool's ROI can in part be determined by the state it's in, because each state has a certain climate. Is the pool going to be installed in Florida, Georgia, The Carolinas, California, Arizona, or any other state that is prone to hot weather for long periods? Yes? Then, the ROI is going to be higher. If a home buyer feels like they're going to get good use out of the pool, then they're more likely to make the investment. In Northern states, where a pool may be used for 4-5 months, a buyer may not think it's worth all the cost and work of maintaining it.
Community
Once you decide if you live in the perfect state, you need to narrow your thinking down to the community level. Look around, ask your neighbors, research on the internet – are swimming pools common in your community (and are they allowed if you have a homeowners' association)? One mistake sellers make when updating their homes is over-improving the property and adding a pool can be one example of that. If other homes in the community do not have pools, chances are the home will not meet the expectations of buyers looking within the community. Anyone wanting to buy in the community but not necessarily needing a pool will probably make an offer lower than you're expecting. The fact the home has a pool may garner some showings from people looking for homes with this feature, but the rest of the neighborhood may not meet their expectations, leading them to pass on making an offer.
In other words, if a swimming pool is an over-improvement, the ROI will be lower.
Also, if the neighborhood has a community pool, the ROI on a private pool will not be as high, because the demand isn't as high. Buyers can purchase a similar home without a private pool and still have access to the community amenity, which they don't have to personally maintain. Now, if the community pool isn't well-maintained, this point may be null and void.
Lot
You live in the perfect state and the community fits the bill. Now, you must consider if the lot is suitable for a swimming pool. Not all homes with a back yard should have or can have a pool.
Let's get the nitty-gritty out of the way. If your community has a homeowner's association (HOA), they may have rules about which homes can have a pool and what features they require to have one (styles, sizes, safety features, etc.). This is especially true for homes on a golf course. The state and county may also have their own laws you need to follow. In North Carolina, a swimming pool must be surrounded by a fence to prevent children and pets from falling in. Local fence builders will know the required specs. If your community has an HOA, they too may have requirements to what height and materials the fence needs to be constructed out of.
Now that the details out of the way, let's look at the BIG picture – mainly, how large the pool is going to be. If a standard in-ground swimming pool will fill most of the back yard, eliminating all grass and sitting areas, you may want to consider a small lap pool or pass on installing one at all. Most buyers who want a swimming pool also desire a grassy area for pets or kids to run and play. So to prevent alienating buyers, try to keep the size of the pool in perspective.
Pool Type

When you're planning the style of pool you're going to install, know that above-ground pools will never have the ROI of in-ground. Most real estate agents will tell you to not even consider an above-ground pool as anything that will add value to your home. Can including an above-ground pool in your home sale be an incentive to buyers? About 75% of the time. Some buyers won't want it and will consider it a hassle to have to tear it down once they purchase the home. In other words, in-ground is the way to go.
There are multiple types of in-ground pools to choose from. In-ground pools with vinyl liners will give you the lowest ROI, because the liners must be replaced every 10 years. Concrete and fiberglass pools will provide a higher ROI, but concrete requires resurfacing every 10-15 years and fiberglass can warp causing cracks to form (see more about concrete vs. fiberglass). Both have their Pros and Cons, and you really just need to pick a pool type according to your needs.
Want an even higher return on investment? Skip the chlorine and install a saltwater pool. Saltwater pools still have chlorine in them, but it's a much lower level. The salt and chemicals cost about 1/3 of the cost of chemicals for traditional chlorine pools and the water is much easier on the skin. Increasing numbers of people are converting their pools to saltwater (see more about saltwater vs. chlorine). By providing a pool that's already saltwater, your home will appeal to more buyers.
Conclusion
Never make a return on investment your reason for installing a swimming pool, because there are much better home improvement projects that have a higher ROI. Will a pool raise your home's value? Yes. But only by about 7%, at the most, and it could alienate buyers who don't want the hassle of a pool. A swimming pool also only has about an average 39% return on investment. This can be higher in warmer climates. However, you'll never recoup all your money, so install a pool if it's YOUR dream to sip chardonnay poolside and float around in the privacy of your own home whenever you want. Just know there are some choices you can make to help you win the attention of buyers when it comes time to sell.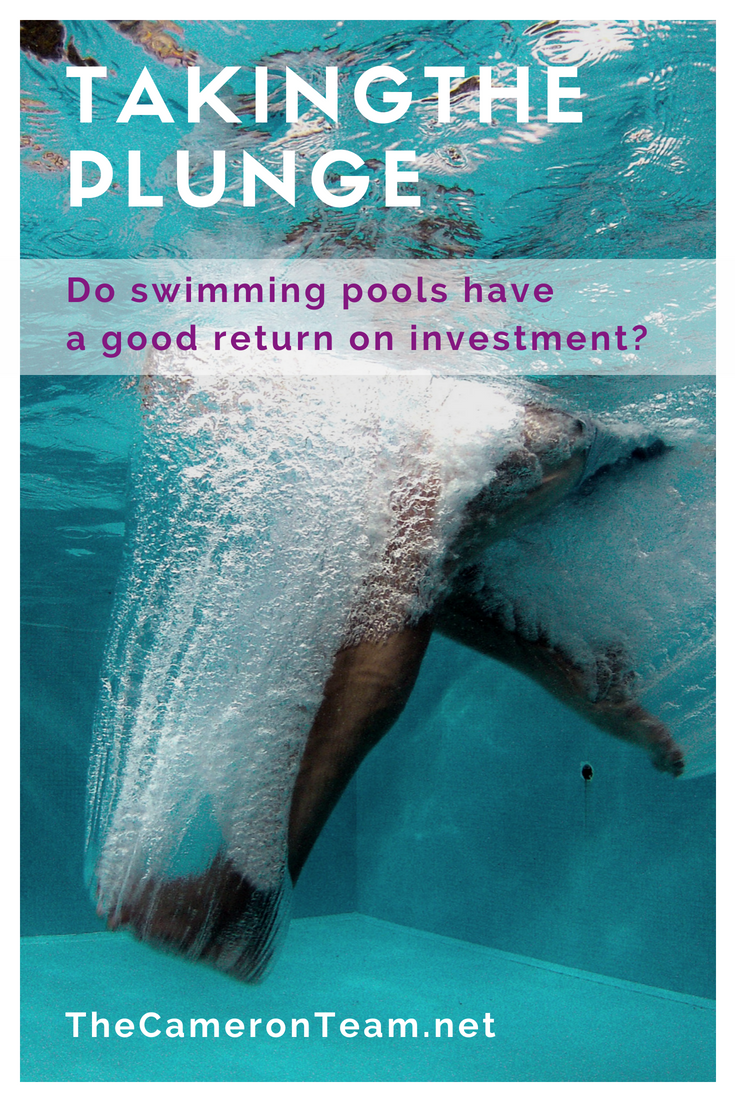 [the_grid name="Home Seller Tips"]