Whether you are building a new home or giving fresh life to an existing kitchen, hardware is an important element. It helps create your target style and can give the room character in a way plain cabinets can't. But to truly pull off a specific style, there are certain consistent elements you should look for when picking out hardware. Here are 3 popular styles and the details you should be looking at.
Note: All pictures are clickable and will take you to Amazon to view more information about the product. These are affiliate links. If you choose to purchase on Amazon, the author of this blog will earn a small fee. This costs you nothing. It's like a high-five for providing good content. 
Modern Kitchen
Simple and unadorned, the Modern Style eliminates everything "extra" while incorporating natural materials and earthy tones. There aren't any fancy curves or ridges, but that doesn't mean it's boring. The simplicity exudes strength and confidence.
When picking out hardware, think of clean, straight lines and matte finishes. Avoid materials that look too opulent. When pairing knobs and pulls, keep them in the same finish with similar shapes and lines (i.e. square knobs are best paired with rectangular pulls, rather than rounded pulls).
Examples of Modern Kitchen Hardware
Rounded Black Matte
Flat Black Notch
Satin Nickel
Brushed Brass
Traditional Kitchen
Unlike the Modern Style, the Traditional Style welcomes embellishments and glitz. However, the goal shouldn't be to go as fancy as possible. The Traditional Style aims to have timeless appeal.
Hardware should be created in classic metals, like nickel and brass. When pairing knobs and pulls, keep them in the same finish with similar details and lines (i.e. a three-tiered nickel knob paired with a nickel pull-bar with a similar tiered design). While recent trends have created traditional kitchens with two different colors of cabinets (upper and lower, wall and island), keeping the hardware the same finish helps bring the space together.
Examples of Traditional Kitchen Hardware
Ringed Pewter
Clear Glass
French Huit
Golden Champagne Frosted
Farmhouse Kitchen
Where Modern and Traditional Styles are a little bit rigid in design choices, the Farmhouse Style is more laid back. It includes a lot of natural and vintage elements, and more emphasis is put on function than form. A mix of textures, as well as old and new elements, is encouraged. It creates a sort of leniency that has kept the farmhouse style popular.
Farmhouse kitchens are usually designed to accommodate large meals. That means the kitchen is meant to be used often and the functionality of the hardware should match. Farmhouse hardware should have a vintage feel. That means nostalgic metals like brass and bronze, or even a black hammered die cast (often labeled "Colonial"). In traditional Farmhouse Kitchens, an aged finish is popular and hardware doesn't necessarily have to match as closely as the other styles we've discussed. There just needs to be some kind rhyme or reason to it (every piece shouldn't be different). Modern Farmhouses tend to have all matching hardware for a cleaner look.
Examples of Farmhouse Kitchen Hardware
Hammered
Antique Brass
Venetian Bronze
Did you know that Amazon lets your shop by style? It takes the guesswork out of picking home decor items. Many listing pages also have "instant recommendations". When you thumbs up or thumbs down a product, it will show you new products closer to what you're interested in.
What are some of your favorite kitchen hardware pieces? Share in the comments.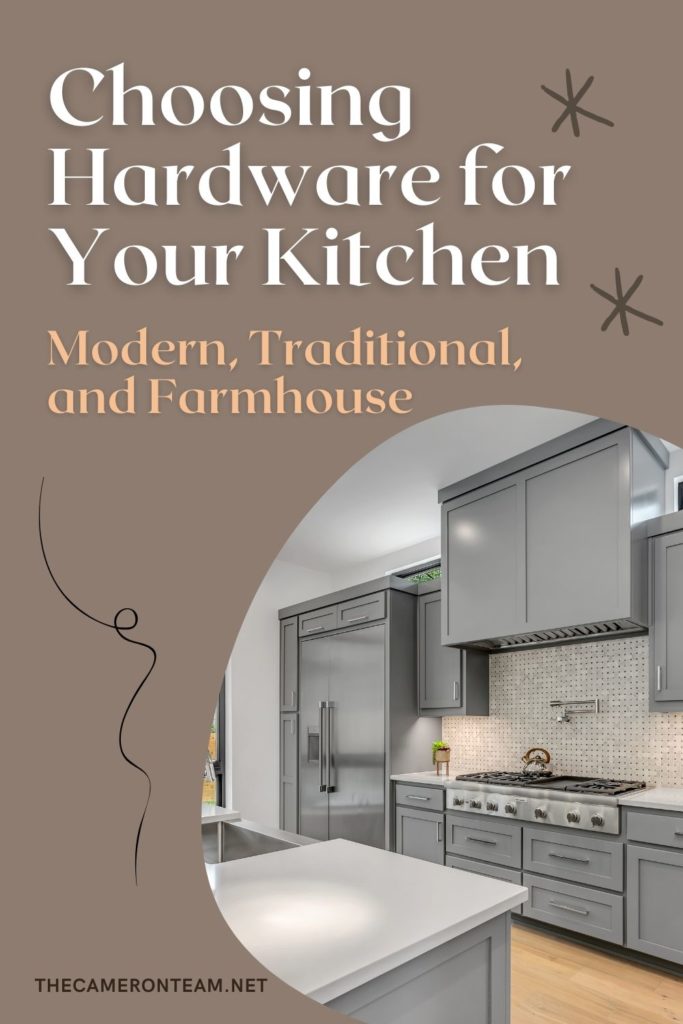 [the_grid name="Homeowner Tips"]