Craigslist is one of the many outlets for locating homes for rent. It's also a major source for rental scams. The demand for homes for rent in Wilmington has skyrocketed. If you are looking at rentals on Craigslist, make sure you protect yourself from scammers.
The Process of Rental Scams
Craigslist rental scammers copy and paste information and/or pictures from legitimate listings. These can be homes for rent or homes for sale. We've had instances in the past where scammers have stolen the pictures from homes for sale on Zillow and posted them as rentals on Craigslist.
When someone responds to the Craigslist ad, the scammer acts like they're unavailable (on vacation, working, etc.) for a showing, but invite the person to drive by the home. This is to avoid giving a tour of the interior, which they do not have access to.
If the person decides they want to rent the home or express interest in holding the home until they can see the interior, the scammer asks for an electronic deposit and/or first month's rent. This can be in the form of a wire, Western Union, PayPal, Venmo, iTunes, etc. – anything that will not require the interested party to meet them in person. Once the money is paid, it's highly unlikely the renter will get that money back.
They may also ask for personal info, like a social security number. This information can be used to steal an identity, and can be very valuable to a crook who wants to take advantage of someone for even worse endeavors.
The scammer disappears. They no longer respond to attempts at communication. The renter may even show up at the property to find that someone else is living in the home. There have been a few situations where the renter was able to gain access to the home and the legitimate owner arrives on the property to find the renter living there. That results in a complete mess.
Signs That It's a Scam
The rental price feels too good to be true. Usually, the monthly rent on scam rental listings beat out other comparable properties. That's how they lure people in.
The listing info is vague. There isn't much to say about the home, because they haven't been in it.
The details don't match the surrounding community. If you are familiar with the area, you may instantly see things that don't "fit", like amenities or nearby schools and businesses you didn't think were there. If you aren't familiar, consider if the amenities seem too good to be true for the type of home.
The pictures are watermarked. Most Multiple Listing Sites (MLSs) and real estate companies watermark their pictures, so if the pictures have watermarks that don't match the original poster, chances are they are stolen.
They're unavailable to show the home. No homeowner will put a property up for rent on a website if they are unavailable to show it, because they know if they can't show it, it won't get rented.
They're asking for money before the interior has been seen. Who buys/rents something before they see it? No right-minded business person would ever expect that of a customer.
Avoid Being Scammed
To avoid being scammed on Craigslist and similar sites, here are a few things that you can do:
Conduct a simple search of the property address on Google. If the information was taken from a home already listed for sale or rent, it will likely pop up in the search. Chances are the home will be listed under a different name with different details, price, etc.
Research the community. This may reveal inaccurate information included in the home's details, like amenities and nearby schools. Sometimes scammers try to make themselves look legitimate by overwhelming people with lots of perks that don't exist.
Look up the address in public records. The owner's name will be listed. If it doesn't match the poster, it's likely to be a scam. If they claim to be a property manager for the property, ask for proof. The more questions and documents you request from a scammer, the more likely they'll reveal the truth or give up on trying to scam you (you're too much work).
Never send money before seeing the interior of the home. A legitimate landlord won't expect you to. On that same note, they won't require you to wire money. They will accept money orders, certified checks, cashier's check, etc. even if they don't accept personal checks (some people worry they will bounce).
The Cameron Team does not handle rentals. However, our company has a wonderful rental department – Sea Coast Rentals. You can reach them toll-free at 800-334-5806 or search their website. Make sure you let them know we sent you their way.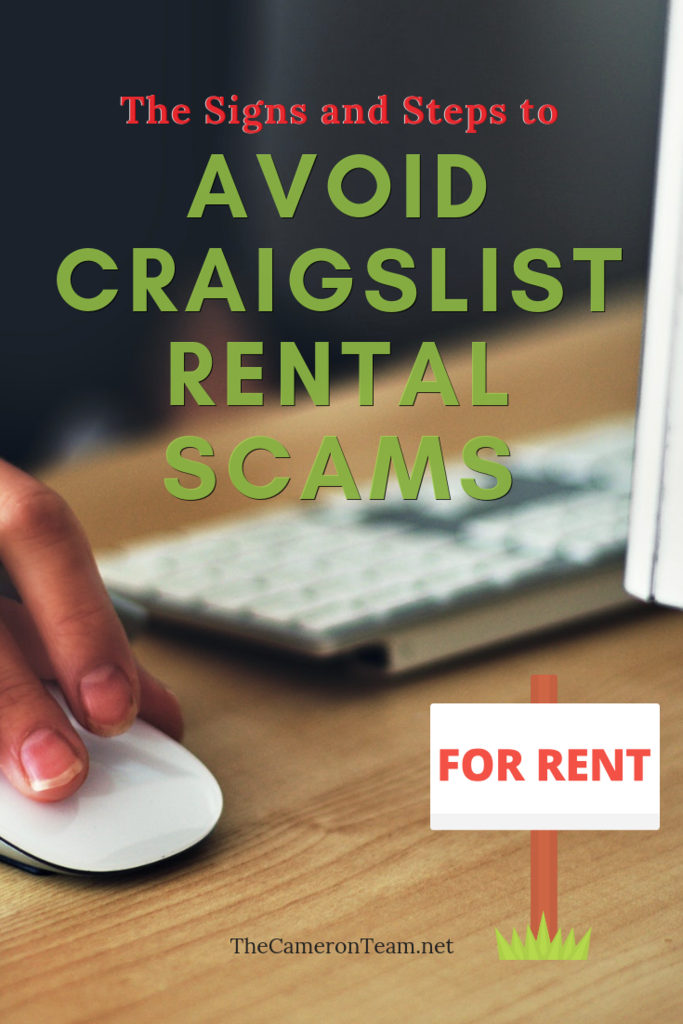 [the_grid name="Homeowner Tips"]