Do you have an Amazon Alexa enabled device? Alexa has thousands of skills that can help you with everything from sending money to converting measurements to learning about music theory. It even has skills that can help you sell your home. You just need to install the appropriate skill and say the right command. Here are just a few of the Alexa skills that can aid you in getting your home sold.
Please note: The Cameron Team has not been paid or received any other compensation to include any of the products featured on this post, but the author has included affiliate links and content. If you click on a link, they may earn a commission with no added cost to you. It's a high-five for great content!
Alexa Can Help You Stay on Top of Home Maintenance
A home's curb appeal is its first impression. If you aren't great at remembering to water or don't want to waste water, there are Alexa skills that can aid you. Watered the Plants can help you keep track of the last time you or one of your family members watered the plants. Just say
Alexa, open Watered the Plants.
Or
Alexa, ask Watered the Plants did someone water the plants?
Or
Alexa, tell Watered the Plants I just put water.
Alexa can also control your smart landscape sprinkler system. Don't have one? The Blossom 7 Smart Watering Controller is a low-cost device that can replace your current controller and be operated by Alexa.
Alexa, ask Blossom to start watering.
Or
Alexa, ask Blossom to water zone 5 for 6 minutes.
Don't have a landscape sprinkler system? Use the Should I Water the Grass skill (built on predicted rainfall and temperature stats) to ask
Alexa, should I water the grass?
There's a lot to remember when you're preparing your home for the market, as well as when it's finally listed. It can be hard to keep up with a to-do list, but Alexa can remind you of things that need to be done, like calling a plumber to repair the leaky faucet or stopping by the attorney's office to sign the deed. Just say
Alexa, set a new reminder.
Or
Alexa, remind me to call the plumber tomorrow at 8:00 am.
Or
Alexa, remind me to call the attorney in 3 days.
Or
Alexa, what are my reminders this weekend?
Or
Alexa, what reminders do I have tomorrow?
This is part of the basic skills that come installed on Alexa, so no need for extra work.
Alexa Can Help Highlight the Home's Lifestyle
Show buyers what they can look forward to if they decide to purchase your home. Highlight its unique features – like the built-in surround sound system! Plug the speaker cord into Alexa (or pair with Bluetooth) and then put on some music (just make sure the language is clean and the tone is calm or happy). Try it out by saying
Alexa, play [list name] playlist on Amazon Music. (choose a community list or make your own)
Or
 Alexa, play [radio station] on iHeart Radio.
Or
Alexa, play [artist name].
Or
Alexa, play [album name] by [artist name].
You could even try out some ambient sounds.
Alexa, open Ocean Sounds.
Or
Alexa, open Bird Sounds.
Or
Alexa, open Shootin Pool Sounds. (especially good for homes with game rooms/man caves and pool tables)
Have a home library? Put your Alexa in it and have her read a book from Audible during the showing. Try
Alexa, read [book title].
This will certainly help the buyers imagine themselves living in the home and using it to its full potential.
Alexa Can Prepare Your Home for Showings
If you work all day outside of your home, showings may not be very accommodating for your schedule and you may be concerned someone will accidentally leave the lights on all day. Instead of stopping what you're doing to run home, use Alexa to turn the lights on/off. You can purchase Philips Hue smart bulbs and use the Amazon Alexa app to control them. Just say
Alexa, turn on [room] lights.
Or
Alexa, turn off [room] lights.
Sunlight can make a big difference in the presentation of a home, so opening and raising all the blinds/shades before a showing can be beneficial. If the home is vacant, window coverings may also be closed for security reasons. This is when smart shades come in handy. Companies like SOMA create devices you can install on your existing blinds/shades allowing them to be controlled by the Alexa app. After installing the SOMA skill, say
Alexa, ask SOMA to open the blinds.
OR
Alexa, ask SOMA to open the shades.
Last minute showings can also be stressful. Did you forget to mop or sweep? Control your Roomba or Braava Jet robot(s) with the Alexa app.
Alexa, ask Roomba to start vacuuming.
Or
Alexa, ask Roomba to stop cleaning.
Many home security systems also work with Alexa, so if you're concerned about giving out your disarm code, you can turn the system on/off with the Alexa App before and after showings. Here are some command examples from the ADT skill.
Alexa, disarm ADT.
Or
Alexa, is ADT armed?
Or
Alexa, lock the front door.
A Note on Alexa Controlled Cameras
We know there are a myriad of home security systems with cameras that can be controlled by Alexa and other phone apps. While we fully support every homeowner who wants to install these systems for their own safety and that of their family, we do not recommend homeowners use them for live viewing of private showings. Every buyer should have the comfort of knowing that they can freely walk through the property (that they could very well be living in soon) while openly discussing their needs and concerns with their agent. It's respectful and we believe most homeowners would want to be treated the same way.
Alexa Can Help You Save Money While Your Home is on the Market
Is the home unoccupied? Save money but accommodate potential buyers with a smart thermostat from Google, Honeywell, or Emerson. Not only are the money-saving features of these thermostats appealing to buyers, but you can also control them through Alexa. Easily turn the temperature down when no one is in the home and raise it back up when you know there will be a showing or inspection. Full disclosure: you'll need a WiFi connection to make it work and that extra fee may outweigh the convenience. Do your research before installing. Here are some sample commands for Google Nest:
Alexa, set the dining room to 68 degrees.
Or
Alexa, increase the bedroom by 4 degrees.
Conclusion
Many companies have created Alexa skills, so if your security system, smart thermostat, smart bulbs, etc. were not mentioned here, check out the Skills database. There's probably a skill that you can enable. We're just giving you an idea of what you can do with Alexa.
Do you know of an Alexa Skill that could help homeowners sell their properties? Share it in the comments!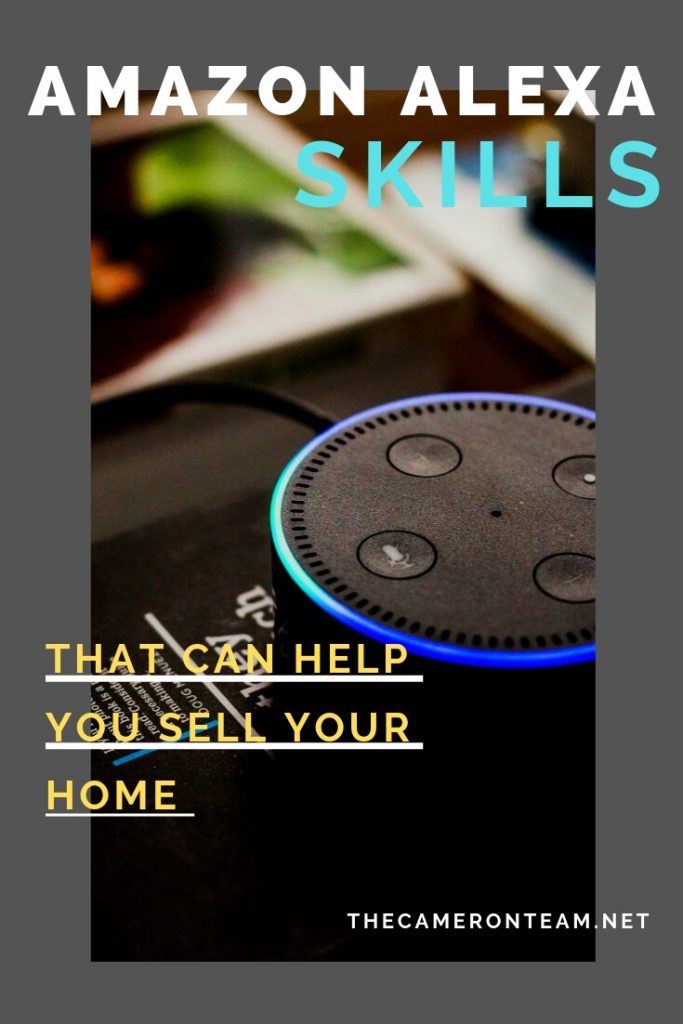 [the_grid name="Home Seller Tips"]