Have piles of sheets dotting the laundry room floor…dirty clothes littering bedrooms…sports attire shoved in the corner? Then, you're in need of a good laundry sorter. There are many temporary options available for purchase, but a good DIY project can help you to maximize space and keep your home looking nice. Here are 6 of our favorites (plus, check out the bonus at the end):
1. Built-In Laundry Organizer
If you have a tall, skinny space, this built-in laundry organizer from Ashley at Make It & Love It is the perfect DIY project for you. There are complete step-by-step instructions with pictures and a supply list on the blog, so you or your handyman can see exactly what needs to be done.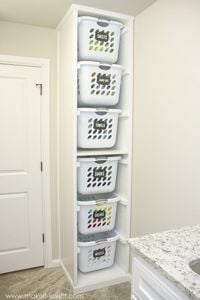 2. Simple Laundry Basket Shelf
Sometimes all you need is something simple and that's the case with this DIY laundry basket shelf from Emma Chapman on A Beautiful Mess. It's made from plywood and there's a full step-by-step tutorial on the blog to show you how it was done. Plus, it can be painted to match your laundry room's current décor.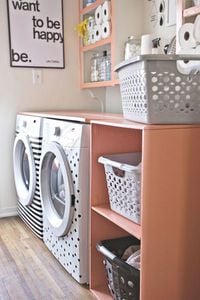 3. Pull Out Hampers
Adding new cabinets to your laundry room? Consider installing some pull-out hampers, like these shared on The Sunny Side Up Blog. They stay concealed throughout the day to keep your laundry room looking neat.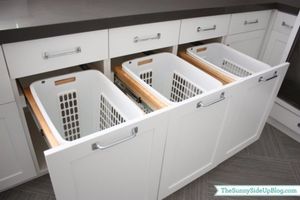 4. Laundry Basket Dresser
Creating a central laundry drop-off that's neat and classy looking can be difficult, especially if you have kids. This DIY project shared by Shanty2Chic is the perfect option for a bedroom hallway or second floor landing. Whitney provides lots of pictures from the project on the blog and you can download free plans.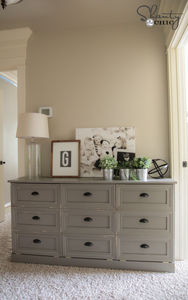 5. Bag Laundry Sorters
Looking for an alternative to laundry baskets? The Pin Junkie shared this laundry bag station in her laundry room reveal. They're reinforced so they stay open when hung making it easy to drop clothing inside. Plus, they can be easily removed and transported to the washer. See where she got the bags on her blog.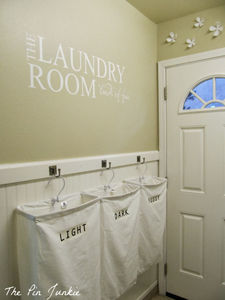 6. Laundry Pedestal
Don't have much side room, but still want a place to put your laundry baskets? Consider going up! That is raising your washer and dryer. The folks over at Addicted 2 DIY built this laundry pedestal for just $125 (much cheaper than store-bought pedestals) and they've provided step-by-step instructions on how to do it yourself.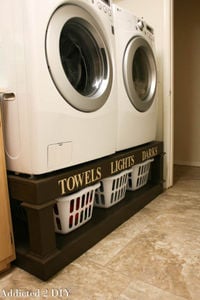 As a bonus, here are 15 Free Printables for Your Laundry Room from Little Gold Pixel. For more inspiration, check out our Pinterest board Lasting Laundry Rooms.
Have a great DIY laundry sorter to share? Leave a comment!