This is Post #5 of the 2018 Home Trend to Watch Series. View the fourth one: Fringe.
Home trends sometimes take a couple of years to truly amp up and gain traction. One of those is on Pantone's list of predicted home trends of 2018 – metallics. You may have noticed metal finishes and paint popping up in home décor in 2017, but Pantone expects it to really, err, shine in 2018. Below are some fun ideas for incorporating it into your own home décor. Make sure to let us know in the comments where you like to use metallics.
Metallic Accent Pieces
The easiest way to add a little bit of shine to your home is through metallic accent pieces. This can be anything that you can place on a shelf or tabletop, or hang on a wall. Sculptures are especially popular choices. For instance, if you have a beach theme in your home, this metallic gold sculpture from Seashells By Seashore is made with real barnacles.
Please note: The Cameron Team has not been paid or received any other compensation to include any of the products featured on this post, but the author has included affiliate links and content. If you click on a link, they may earn a commission with no added cost to you. It's a high-five for great content!
Metallic food is often easy to find, especially during autumn when many stores seem to have metallic pumpkins. These silver and orange ceramic pumpkins from The Holiday Shop are charming pieces for a mantel or buffet table. They're coated with a crackle finish to make them look antique and go well with a farmhouse theme.
Thinking about something a bit more refined? This silver horse sculpture from Samikshas would look lovely on a bookshelf. The textured detail of its coat is truly eye-catching and beautiful, and feels like a sophisticated nod to childhood.
Remember, not all metallic pieces need to be super reflective. Take for instance this round galvanized mirror from Latitude Run. It has a bit of a sheen, but the distressed metallic finish dulls the shine so there's variation in the amount of light it reflects.
Metallic Furniture
Furniture is a large purchase for most folks and can require a pretty big commitment. It's best to get it right the first time around and that means being sure you aren't investing in something so gaudy that you'll regret it in a month. Incorporating metallic furniture into your home's décor requires a bit of finesse.
If you're a DIYer or know of a good furniture refinisher, you should look into metallic glazes. They are awesome for adding a subtle metallic look to your furniture. One of our favorite furniture refinishers, Kandice at Just the Woods, shared a tutorial on how to apply a metallic glaze.  She refinished this vintage solid wood mahogany dresser and used a bronze glaze. Isn't it beautiful?
There's nothing wrong with traditional metal furniture when used in combination with other more subdued pieces. Take for example this gold coffee table from Willa Arlo Interiors. It looks marvelous paired with dark blue fabric.
Looking for something a tad smaller? This champagne polyester storage ottoman adds just the right amount of glam to a room and doubles as extra seating. Plus, it's small enough to fit under tables for tucked-away storage.
Of course, you can always update an existing piece of furniture with metallic knobs and handles. For someone with a sense of humor, check out these hand painted handlebar mustache drawer pulls – a fun idea for a bar cabinet or a boy's nursery!
Metallic Walls & Ceilings
For those with a bold design taste, adding a metallic finish to a wall is an option. There are some fun opportunities in tile, wallpaper, and paint. Just be careful – it's easy to go overboard. Metallics work best sparingly.
Adding glam to a bathroom is easy with metallic tiles. You just need to be thoughtful when choosing where you use them. If the tile is highly reflective, you want to avoid placing it around a mirror. Not only could it be harsh on eyes, but if you use the bathroom for applying makeup, it could mess with colors and shadows. Check out this bathroom from Jigsaw Design Group. They used the metallic tile over the tub in a minimalist bathroom.
Wallpaper is not only a bold way to add metallic to a room, it's also great for adding texture. Wendy Labrum interiors took metallics to a whole new level in this living room. She ties the textured silver wallpaper into the coffee tables, rugs, and accent pieces. The fabric of the couch, chairs, and curtains, as well as the wall art help to keep it from being too much.
Metallics also work well on ceilings. The reflective surface makes the space look larger by helping light to reflect around the room. This dining room designed by Mary McDonald is one example of that.
If you want just a touch of metallic sheen, consider stenciling a pretty pattern on a wall. Lisa at A Dash of Lisa used the Marrakech Trellis stencil and metallic silver paint to create this beautiful accent wall in her master bedroom. It looks white in the photo but is reflective in person.
Conclusion
These are just a few examples of how metallics can be included in your home décor. Like most things, the key is to use them sparingly and place them beside finishes that don't have as much of a sheen. Too much reflected light will detract from their beauty and instead make your home decor look garish.
Do you have a favorite metallic product or design idea? Share it in the comments!
See post #6 of the 2018 Home Trend to Watch Series: Iridescents and Intense Colors.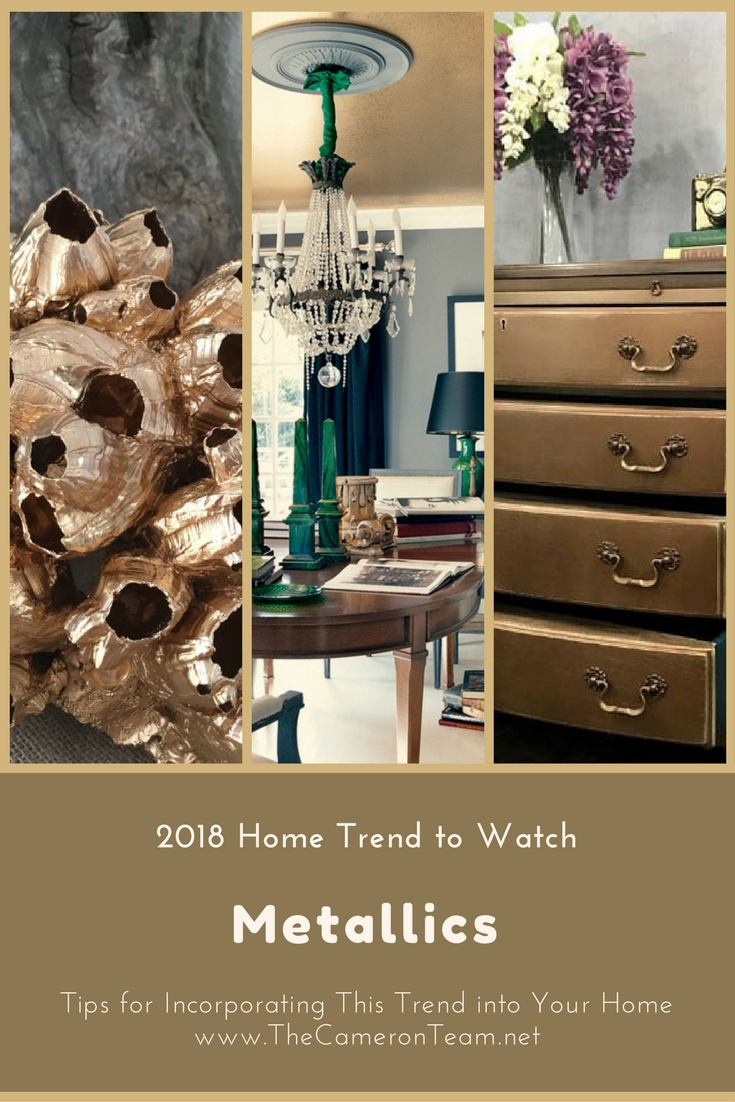 Related Posts
[the_grid name="Homeowner Tips"]
Save
Save