Fond summer memories. Who doesn't have them? Looking for inspiration for a room makeover, refinishing project, or art DIY? Why not choose a color palette that reminds you of something that makes you happy? We reached back into our memories, retrieved some of our favorite summer pastimes, and made them into color palettes. Use, share, and let us know what you think in the comments.
Boating

The Wilmington area is a popular boating destination. We have the Atlantic Ocean, Intracoastal Waterway, and Cape Fear River bordering New Hanover County, Brunswick County, and Pender County. So, it's no surprise that this is one of our favorite summer activities. It doesn't matter if it's taking out the sailboat or motoring out to Masonboro Island, we're always game for some fun on the water. We've got our coolers and bathing suits ready!
Boating Color Palette

Going to the Lake

We haven't always been Wilmington residents. Who else grew up knowing the feeling of elation hearing that you're "going to the lake"? Boating, fishing, swimming, and listening to the peepers…the lake was days of amusement. Even now, we like to hitch up the boat and head to the lake, even though we live next to the ICWW.

Admiring Calm Waters

Sitting next to the water on a calm evening or early morning is incredibly soothing. To see something that's constantly moving looking so peaceful, it's a reminder that everyone needs a break.So, sit down and breathe in some fresh air. Are you smelling the lake or the salty sea? Either way, it's good for the soul.

Spending the Day at the Beach

We have multiple beach communities in our area, which means we can go to the beach any time of the year. Going in February may not be ideal for swimming, but can be just a soothing with the sound of the crashing waves and smell of the salty sea air. However, summer ensures warm weather, fun events, and a whole array of beach eats. Depending on where you go, there are boardwalks with businesses and activities that aren't open in the cooler months, so summer really brings the area alive.

Laying Out by the Pool

It's the classic summer pastime – sunbathing next to the pool. Reading a book, getting toasty warm, and cooling off with a quick splash in the water. Who doesn't love some time at the pool?

Exploring New Paths

Warm weather means more chances to get out and enjoy nature. What better time than to find some unexplored paths, just like when we were kids. All across our area are hiking and walking trails. Some of our favorite communities even install them as amenities. So, why not get out there and find one you've never been down.

Staying Out 'Til Dusk

Speaking of being kids, remember when we used to play all day. We wouldn't ride home on our bikes until dusk. While building forts, playing "Kick-the-Can", swimming, and exploring the woods, everything felt possible. Wouldn't it be great to feel that way again?

Having a Bonfire

Bonfires. If you don't go home smelling like smoke, you're missing out. That smell of burnt wood means music, friendships, good conversation, and S'mores. Yum!

Picking Summer Fruit

Fruit tastes the best right off the plant. If you're really lucky, you can find some raspberries or blueberries growing in the wild. If not, there's always Lewis farms.

Eating Ice Cream

Enjoying ice cream on a hot summer day is one of the best things ever. Need we say more?

Picking Flowers

Anyone who has a child knows the pure joy and pride they feel when they walk up to you with a fistful of picked flowers. Sometimes they're wildflowers, other times they're your prized Gladiolus fresh from your garden, but who can be mad at that face. Picking flowers for a homemade display is a highlight of the summer season.

Playing with Critters

Did you ever catch lady bugs when you were little? They're basically harmless and will easily crawl across your hands, so it was always fun to find one. Summer brings out all kinds of critters to observe and play with (we won't speak of the troublesome ones), like anoles, caterpillars, butterflies, luna moths, fireflies, etc. What visitors do you enjoy seeing around your home?

Visiting Carnivals and Fairs

Summer is the season for fairs and carnivals. If you like the rides, fun games, quirky shows, or really-bad-for-you food, this color palette is one way you can add a little whimsy to your daily life.

Enjoying a Summer Storm

Are we the only ones who enjoy an exciting summer storm? Lightning, cracks of thunder, and warm rain. It's Nature's fireworks display and at the end of the show, everything feels sort of renewed.

Eating Dinner Under the Stars

Dinner parties under the stars are magical. The fresh air makes the food taste even better and the low light creates a very intimate atmosphere. Yet, you're still reminded how big the world is every time you look up.
Have your own favorite summer-inspired color palette? Share it in the comments!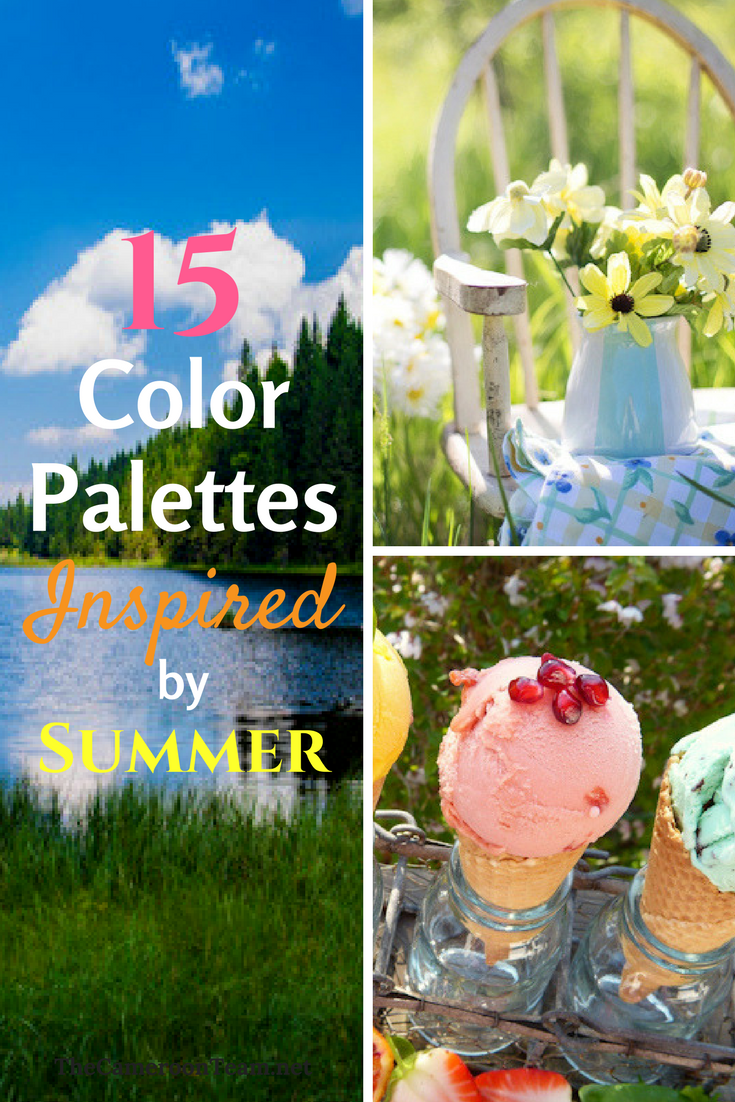 Related Posts
[the_grid name="Homeowner Tips"]
Save
Save
Save
Save
Save
Save