Are you looking for a nice upscale restaurant in Wilmington, NC, to celebrate a birthday, anniversary, promotion, or other special occasion? We've got you covered! Below are some of the very best.
1. Port City Chop House
Chop House is one of the most well-known and established upscale restaurants in Wilmington. It's located on Eastwood Road near Landfall on the way to Wrightsville Beach. They have a nice selection of steaks and seafood, as well as a few poultry, salad, and pasta dishes. While their main dishes are very enjoyable, you must try their Chocolate Chip Skillet Cookie.
2. Circa 1922
Circa 1922 is a tapas bar and restaurant with a full selection of sushi, cheese, and charcuterie. It's located on North Front Street and the setting is ideal for historic downtown Wilmington. The dinner menu includes duck, lamb, chicken, and beef options, as well as vegetarian tapas that include grilled peaches and mushroom bruschetta. The seared sea scallops, and shrimp and grits are favorites among members of our team. Also, if you get dessert, try the chocolate sushi. It's to die for!
3. Rx Restaurant
Rx Restaurant is located on Castle Street in Wilmington and features Southern cuisine made from ingredients grown by local farmers. Their menu is seasonal and each meal (brunch and supper) is limited to less than 10 main dishes (plus sides, snack items, desserts, and what they call "firsts"), but the food is flavorful and well-made. Plus, every time you dine there, you know you're spending money that will have a strong impact on the local economy.
4. Port Land Grille
Port Land Grille is a progressive American cuisine restaurant located on Eastwood Road. All their meats and seafoods come from humanely operated and sustainable U.S. farms, ranches, and fisheries. They also try to support local farms and farmers markets. Many of their dishes are cooked over natural hard wood charcoal, which create a flavorful fine-dining experience. Their seafood menu allows diners to choose a protein (tilefish, salmon, grouper, swordfish, seabass, etc.) and a preparation, so a variety of combinations are available. The menu changes in accordance with the season and seafood available that day.
5. Caprice Bistro
Caprice Bistro is a French cuisine restaurant located on Market Street, steps from the riverfront, at the heart of historic downtown Wilmington. Their dinner menu consists of crepes, mussels, soups and salads, and a variety of entrees from traditional steak and frites (fries) to duck confit. Diners can enjoy some international flair and then enjoy a nice walk and beautiful views beside the river.
6. Manna
Manna offers pure American cuisine and artisan cocktails in a cozy location on Princess Street. The menu includes a variety of options that changes frequently to accommodate only the freshest ingredients. The chefs truly believe in the art of their work and it shows. The restaurant has been a AAA Travel Four Diamond Recipient for 5 years straight.
7. Brasserie Du Soleil
Brasserie Du Soleil serves authentic French cuisine just minutes from Wrightsville Beach in Lumina Station on Eastwood Road. The restaurant's dinner menu has daily recommended plates, steaks, principal entrees with a range of proteins, a raw bar, and shareable sides that include Pommes Frites, which are some of the best French fries in Wilmington. It's also a popular spot for lunch, because it offers made-to-order custom salads.
8. Steam Restaurant and Bar
Steam Restaurant and Bar offers tasty American cuisine with one of the best views in Wilmington. Overlooking the Cape Fear River at the Embassy Suites by Hilton, this restaurant offers fresh seafood and what one could only describe as comfort food. From short ribs to house made gnocchi to a peaches and cream salad…you'll want to try everything!
9. Tarantelli's
Tarantelli's Ristorante Italiano is a traditional Italian restaurant built on family recipes. It's located on South Second Street and has everything you would expect of an Italian restaurant, plus a solid selection of seafood dishes to honor our coastal location. If you love cannolis, you must give Tarantelli's a try, especially when they get creative with the filling (can we say Lemon Lavender Cannolis – yum!).
10. Smoke on the Water
Smoke on the Water features American cuisine and seafood entrees, and one of the best locations to take in a sunset. Situated in RiverLights off River Road in Wilmington, it has some of the most popular entrée choices for when you want to enjoy a special night out, including king grab legs, steamer pots, oysters, and peel 'n' eat shrimp. They also have a large selection of wine. Diners love to take in the view of the Cape Fear River from the deck and stroll down the large pier in front of the restaurant at sunset.
Have you tried any of these restaurants? Did we miss a gem? Share it in the comments!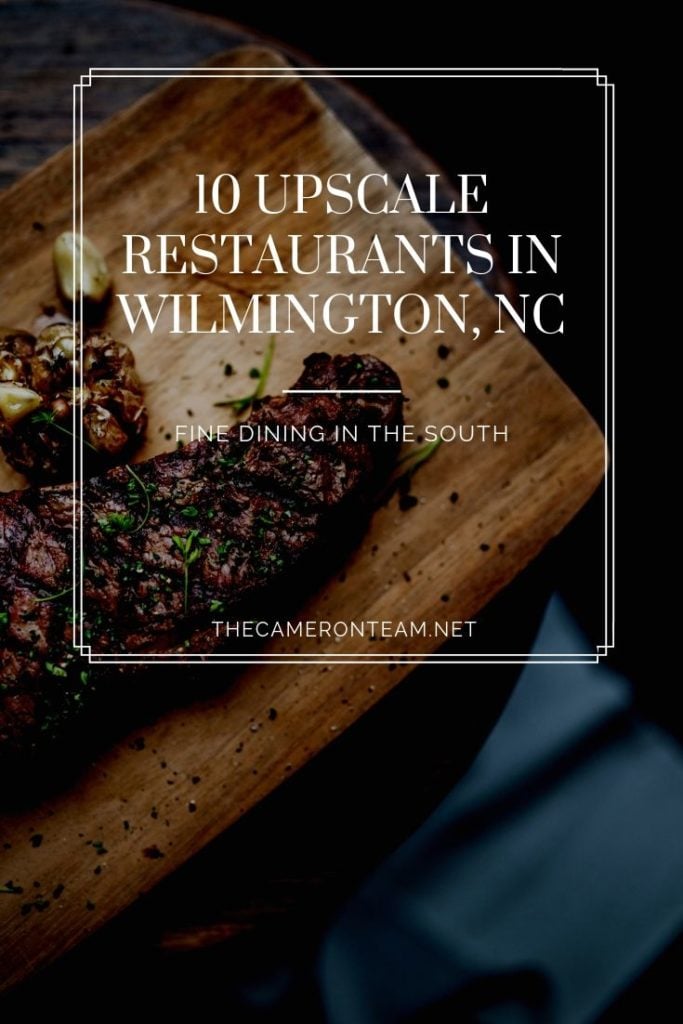 [the_grid name="Area Info"]