Need to move quickly due to a job change? Or maybe you're just itching to be in a new home. Either way, you need to sell your current home fast and we have some tips on how to do just that.
1. Pack NOW.
Put all of your unnecessary personal belongings and furniture into boxes, and put them into storage. A portable container like one from PODS, 1-800-Pack-Rat, U-Box, etc. is handy because you can load it up at your house and have it taken to storage until you're ready to move. Now, we're not saying to leave your home bare. You just need to remove the extra clutter and personal items that may prevent buyers from visualizing it as their home, as well as extra furniture that may make rooms look smaller than they are.
If your home is in the Wilmington area, please note that we provide a complimentary staging consultation when you list with us. The stager will point out exactly what to keep and what to pack, taking the guess work out of preparing the home for listing.
2. Hire a Realtor with a Proven Track Record.
We admit it – there are a lot of great real estate agents out there and not all of them have been in the business for years. Some people have the gift of sales and negotiating, and just haven't been around long enough to show it in the numbers. However, if you need to sell quickly, your chances of success go up with an agent that has been around for a while. Why? They know the area, and the ebb and flow of the market. It's just something that comes with time and experience.
Of course, just because someone has been an agent for a while doesn't mean they're good at their job. Don't hesitate to ask about sales history when interviewing agents and make sure you ask specifically about listings. A good buyer's agent doesn't always make a good listing agent.
After you interview the agent, verify their information. Call their broker-in-charge, the local Realtor association, or even just do an online search for them. Oftentimes, you'll find their listing and sales online. Researching an agent is important – it could be the difference between your home selling in a timely manner and sitting on the market for months.
3. Choose a Competitive List Price.
Your agent will pull a list of comparable homes that have sold in the area in the past 6 months. From this info, they will recommend a listing price for your home. This price is not determined by how much you need to get out of the home. It's determined by the condition of your home and the features it has in common with other homes that have sold recently.
Let's be honest. The list price may not be what you were hoping for. The new deck you put on the back of the home may not bring as big of a return as you thought it would and other homes that have sold may be better updated than yours. However, you need to sell, so it's best to be realistic.
Some sellers try to force a higher sale price by listing the home higher than the comparables reflect, but choosing a high list price doesn't mean there's more room to negotiate. It just means your home will be losing out on offers and showings from agents and buyers who see it as overpriced.
Remember, even if you receive an offer that appears to be above fair market value, the home needs to appraise for that value in order for the buyers to get financing through a lender, and that appraisal is done by a third-party. That person has to be convinced that the home is worth the offer amount. How do they come up with their number? Through homes recently sold in the area.
4. Make Small Improvements.
You may be surprised how much of an effect a fresh coat of paint, updated cabinet hardware, new faucets, or new stainless steel appliances can have on your home's appeal. Buyers can be very superficial when they first see a home. They want the popular finishes and hardware, but many lack the ability to do it themselves and the thought of paying someone else to do it can be unappealing when it means more money for them to dish out on top of buying a home. So you can win a lot of points by making these small improvements prior to listing and that equates to a high return on investment.
5. Stage Your Home.
When you live in your home, you adapt the rooms to your needs. Sometimes the formal dining room becomes the playroom. Sometimes a bedroom becomes a family room or office. While certain changes have to be left alone (that may be your primary office), rooms should be staged to show their intended use. This is especially important if the home has any strange spaces – like an alcove or loft area. Buyers may find it hard to imagine a use for them.
6. Amp Up the Curb Appeal.
When we work with buyers, do you know one thing we often tell them? "Drive by the house and see if it's in an area that you like. Then, we'll schedule a showing." What will buyers think when they drive by your house? You can't change the location or your neighbors, but you still have a chance to leave a good impression with the exterior of your home. Trimmed bushes, a weeded garden, fresh flowers, a mowed lawn, and swept walkway give the impression that the home has been well cared for – inside and out.
7. Brighten Up the Home.
Some people prefer soft yellow light, black-out curtains, and desktop lamps versus overhead fixtures, but when you're selling a home nowadays, more buyers want to see brightly lit rooms. So change out your bulbs for a higher wattage. Before each showing, open your curtains and turn on all the lights. It'll make all the difference.
8. Have Professional Photos Taken.
Nowadays, it's rare for a buyer to not use the internet for their home search. Your home's first showing is truly the online listing. That's why it's so important to present it well through pictures and virtual tours. If your pictures are dark and not framed well, you could leave buyers with a negative feeling. If your Realtor starts to pull out their phone or a one-shot camera for the listing photos, you may want to suggest an alternative route. The better your house looks, the more value a buyer will attribute to it.
9. Participate in the Marketing.
Oftentimes, sellers become very hands off once it comes time to market their home. They feel they are hiring the real estate agent to do that. To be clear, they are, but there's no reason they can't provide some support. In what way, you wonder? A lot of real estate marketing has shifted to online. What do a lot of websites, especially social media, use to determine what to show users? Activity! So hop on your agent's profiles (the brokerage's too!) and get to liking/retweeting/hearting/sharing posts about your home. It will encourage the site's algorithm to show it to other users.
Also, if your neighborhood has an HOA or community website, consider advertising the home there. Such sites are usually only available to verified homeowners. It's possible that other owners in the neighborhood know someone who want to purchase nearby.
10. Make the Home Easy to Show.
You need the home to sell quickly but only want to allow showings between 8:00 a.m. and 4:00 p.m.? You're cutting out the segment of buyers that work 9-to-5 jobs. If you want the home to sell quickly, you need to be flexible with showings. It doesn't mean that you have to deny the needs of your family, but be willing to communicate with the showing service and compromise – like a 2 hour advanced notice and countering with times that work better for you. Blocking out whole sections of a day or even whole days in the week can be counterproductive, especially when buyers come into town for only a day or two. If you aren't getting showings, you aren't getting an offer.
Conclusion
The key to getting your home sold quickly is a strong start. Make it look polished, list it at a competitive price from the get-go, and try to squeeze as much marketing juice as possible out of that momentum it gains during its first two weeks live in the Multiple Listing Service. You won't regain that exposure ever again while it's listed. A price reduction down the road can reignite interest but not to the extent of a brand new listing.
If you're preparing to list your Wilmington area home on the market, we'd love the chance to be interviewed for the position of your listing agent. Give us a call at (910)202-2546! You can also fill out our form for an in-person home valuation.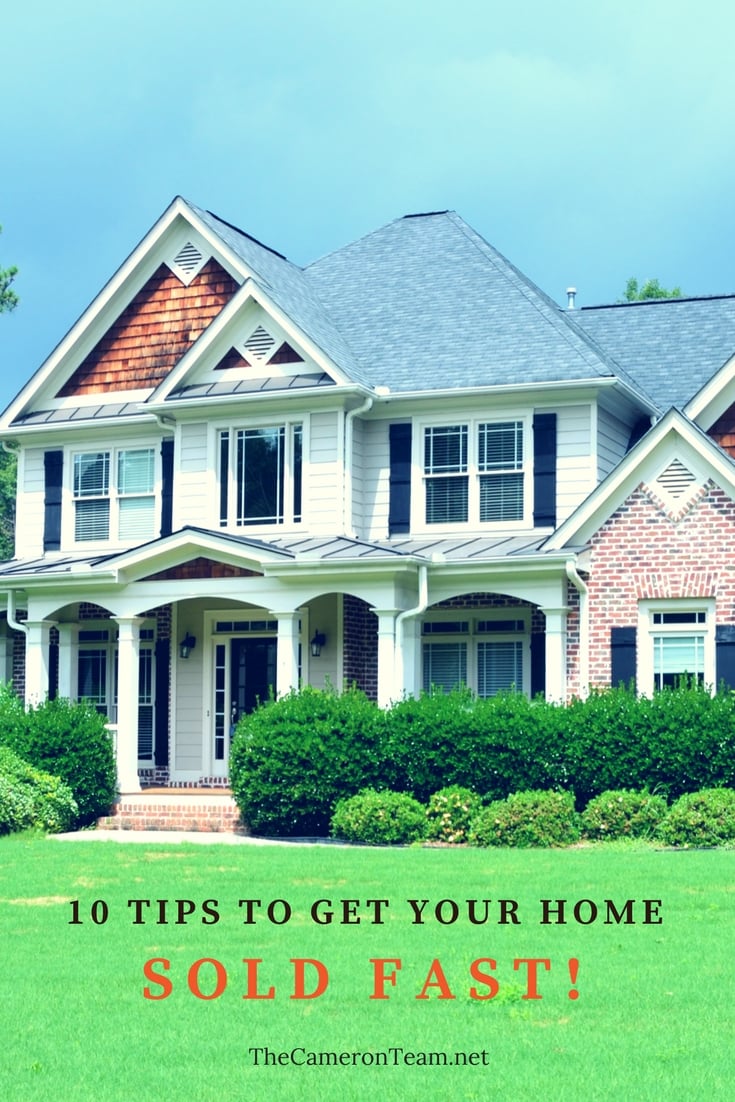 Related Posts
[the_grid name="Home Seller Tips"]