Do you love the aged look of shabby chic style furniture? You may be wondering where you can purchase it in Wilmington, NC. Below are 15 retail locations, plus a bonus if you can't find what you are looking for. All of these are local businesses and sorted by zip code. Please show your love and support.
Please note: All pictures are representative of what you may find in the store. We can't guarantee anything is still in stock.
Debruhl's of Wilmington
225 Pine Grove Drive
Wilmington, NC 28403
Debruhl's focuses a lot on shabby chic furniture and home décor, so if you're looking for a piece that shows a bit of age and wear, look no further. They have everything from side tables to dressers to sideboards, plus accent pieces to tie the whole look together.
Flea Body's Antique Mall
3405 Market Street, Unit 1
Wilmington, NC 28403
Not only does Flea Body's have over 7,000 square-feet of retail space with a myriad of shabby chic options, but they also provide furniture makeover services so you can have your favorite piece customized just the way you want it. Desire to learn how to do it yourself? They also have classes!
The Ivy Cottage
3020-3030-3100 Market Street
Wilmington, NC 28403
Voted Wilmington's favorite Consignment Shop and favorite Antique Shop for 16 years in a row, The Ivy Cottage has three buildings of furniture, art, home décor, and other items. With over 25,000 square-feet of space, they have a lot to browse. They don't have as high a concentration of shabby chic as some other business, but we doubt you won't find something to fall in love with. If you are only interested in shabby chic, you'll find it in Cottage 3.
Thrill of the Hunt
4713 Oleander Drive
Wilmington, NC 28403
With its bright green exterior, it's hard not to miss this place. The pieces inside are just as colorful and there are a ton of shabby chic options. It's definitely worth browsing if you want to add some character to your home décor.
Vintage Marketplace
5827 Oleander Drive
Wilmington, NC 28403
If you're looking for high-end shabby chic, check out Vintage Marketplace. The interior is visually stunning. In addition to beautifully done shabby chic furniture, there is a variety of home décor and antique pieces. You'll find both new and old favorites.
High Tide Home
6721 Market Street
Wilmington, NC 28405
High Tide is a distinctive coastal furnishings and home decor shop featuring painted furniture and custom wood wall decor. They sell dressers, end tables, headboards, buffets, shelves, dining room tables, etc., as well as hardware for customizing furniture. Two floors of great finds!
Home Again
The Forum
1115-D Military Cutoff Road
Wilmington, NC 28405
Home Again has high-quality, on-trend home furnishings and decor, whether consigned or brand new, for less than you would normally pay. A lot of upscale items. They accept all styles of furniture, so you'll find more than just shabby chic.
Baker Street Curiosity Shop
6780 Market Street
Wilmington, NC 28405
Shabby chic isn't Baker Street's forte, but they do have some pieces and their prices are very reasonable. Their store is a crazy mix of antiques, collectibles, and odd finds. If you haven't found it elsewhere, it's likely here.
Pineapple Rustic
7890 Market Street, Suite B
Wilmington, NC 28411
This is one of Wilmington's newest home boutiques offering a variety of upcycled furnishings and decor, among other things. They offer many styles, including shabby chic and farmhouse. They sell dining tables, chairs, benches, stools, desks, dressers, armoires, wardrobes, accent tables, sideboards, hutches, bed frames, headboards, and more on a rotation. They also offer custom painting services, so you can have your favorite piece of furniture painted just the way you want it.
Uptown Market Consign & Design
8006 & 8086 Market Street
Wilmington, NC 28411
Uptown Market has 12,000 square-feet of retail space and two locations on Market Street in the Porters Neck Area. 8086 Market Street is primarily home décor, jewelry, and gifts. 8006 Market Street has an amazing selection of furniture, lighting, art, and other unique home decor items. They have a LOT to look at and multiple shabby chic items.
Scotts Hill Market
11135 US Highway 17
Wilmington, NC 28411
Scotts Hill Market has multiple vendors offering furniture and home décor, but if you're looking for shabby chic, you should aim for the back of the store. There you will find Lori A. Burnett, who specializes in chalk paint. She'll even paint your pre-owned furniture.
Primrose Cottage
5226 S. College Road #6
Wilmington, NC 28412
This is a fun shop full of color and humor. There's a lot of home décor items for sale and mixed in amongst them are shabby chic furniture pieces (as well as farmhouse, modern, etc.). You'll need to make a few passes to fully take in all they have for sale. It's fun to browse!
Recollections Vintage Village
5935 Carolina Beach Road
Wilmington, NC 28412
Yes, Recollections IS a village. They have multiple buildings featuring some of the most unique furniture pieces and artwork. You walk through the front building to get to the others at the back of the property. Buildings often have more than one vendor, each constantly adding to their displays, so you never know what you'll get.
NC Furniture Wholesalers
15916 Highway 17
Hampstead, NC 28443
This 6,000 square-foot warehouse in Hampstead is also worth the drive. They have shabby chic pieces, cottage furniture, antiques, antique reproductions, fireplace mantels, designer items, and paint-it-yourself furniture. You'll find everything from buffets to cabinets to accent tables. Whether you're looking for one piece or to fill a whole house, you're likely to find something you love.
The Orange Blossom
15201 US Highway 17 N
Hampstead, NC 28443
If you're willing to drive 15 minutes outside Wilmington, The Orange Blossom in Hampstead, NC, has a variety of furniture and home décor. You'll find unique upcycled items, coastal decor, and shabby chic furniture.
BONUS
Brushin Up
203 Racine Dr – Unit 207
Wilmington, NC 28403
(above Blue Moon Gift Shop)
This business is a little different than the others listed here. It's a paint studio and artisan store. They specialize in custom painting and workshops. So, if you don't find what you're looking for in stores, they can help you create it.
Did we miss one? Leave it in the comments!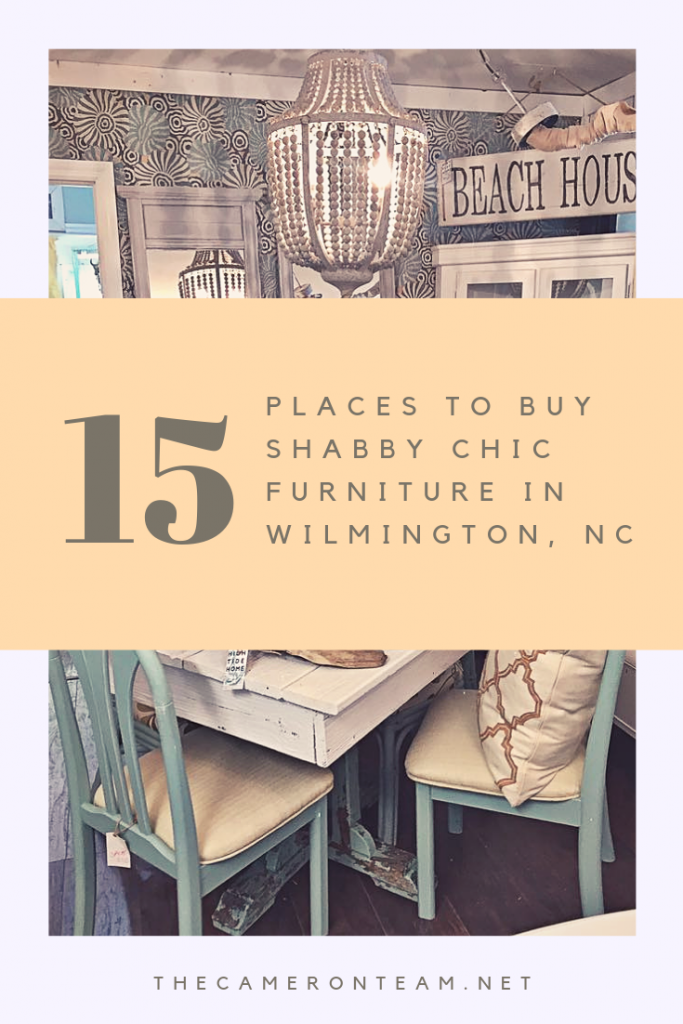 [the_grid name="Homeowner Tips"]