During the 1980s, the average size of new American homes grew, eventually leading to the rise of the McMansion. This continued until the recession and housing crisis of the mid-2000s when the square-footage of new homes plummeted toward much smaller, more-affordable floor plans with open layouts. As the country dug itself out of those dark times, floor plans of new homes began growing with an emphasis on energy-saving features that also help owners save money on their utility bills. Now, with the onset of the pandemic, homes are posed to change once again. Here are what professionals in the real estate industry are predicting.
Home Sizes Will Grow Again
Eventually, pharmaceutical companies will develop a vaccine to slow down the spread of COVID-19, and we'll be able to return to our normal lives. Until then, we are doing a lot more at home. More play time, more schooling, more cooking, more exploring special interests. Many homeowners are realizing they need more space to accommodate these activities. With inventory at record lows, buyers will be relying on new construction to fulfill their needs, which will lead to a rise in the average home size.
Traditional Floor Plans Will Be Sought After

Characterized by lots of walls and closed-off rooms, traditional homes were once the leaders in design. During the 1970s, open-concept floor plans became popular. Builders removed walls and left the main living areas exposed to each other, arguing that it made the house feel bigger and brighter, and allowed for better entertaining and family time. Fast-forward to the 2000s and it's all you hear about on home television shows – "We'll just rip down this wall and open up the kitchen to the living room."
However, 2018 saw a change in attitudes. Traditional homes were growing in popularity. Homeowners found that open floor plans felt less intimate, less private, and messy. There was also less wall space for decorating, fewer buffers against noise, and it was harder to regulate room temperatures. Professionals expect this trend to continue as families dedicate space to schooling, working from home, and hobbies, as well as the general need for a break from other family members.
Home Offices will Gain Importance
One room that is likely to be at the top of many buyers' wish lists is a home office. A select portion of the population has been forced to become part of the remote workforce. For some, this is a permanent or semi-permanent change that not everyone can comfortably accommodate with their current floor plan. Having a home office is not only important for efficiency (and your state of mind), but also the IRS requires a dedicated room for its home office tax deduction. This is a feature we are already seeing buyers request in the Wilmington area since the onset of COVID-19.
Outdoor Living Areas will be On Trend
With many entertainment spaces closed or limiting the number of visitors, the need to gather at homes is growing. The best place to do this safely is outside, making outdoor living spaces a must. Covered porches, back yard kitchens, fire pits or fireplaces, grill areas, smokers, outdoor pizza ovens, built-in seating, and the like will be on upgrade lists for a while. Swimming pools, hot tubs, and play areas are also likely to be more popular as access to community and public amenities are restricted.
Hygienic and Health-Promoting Features Will Become Popular
Like the flu, COVID-19 will likely be with us for a long time. For this reason, we expect homes to take on more features that promote good health and hygiene. These include:
Foyers and mudrooms where residents can remove their shoes and/or potentially contaminated clothes and wash up or apply sanitizer before moving into the rest of the house.
Touchless faucets and soap dispensers to prevent hand contact with these often-used fixtures.
Voice-activated or phone-controlled lights, heating and air, and entertainment systems to minimize the passing of germs on surfaces. Controllers and light switches are some of the dirtiest surfaces in a home because of how often they're touched.
Solid surface, non-porous countertops (Corian® and quartz) that don't have the places where bacteria like to hide. They're easy to clean making them less likely to harbor germs that will make you sick.
Luxury Vinyl Plank flooring and other non-porous flooring throughout the home. Like non-porous countertops, this type of flooring is durable and easy to clean. At the same time, this means less carpet, which loves to hold on to dirt, bacteria, and everything else you may track through your home.
Smart thermostats that monitor air quality and trigger a whole house filtration system to run when quality worsens. It sounds like the future, but they already exist.
Home buyers and homeowners have already become more aware of how home features affect their ability to keep their families healthy. Unfortunately, they've also had to consider how they may quarantine a family member who tests positive. This experience is sure to influence homes for a long time to come.
How do you think the pandemic will affect homes? Has it changed what you're looking for in a house?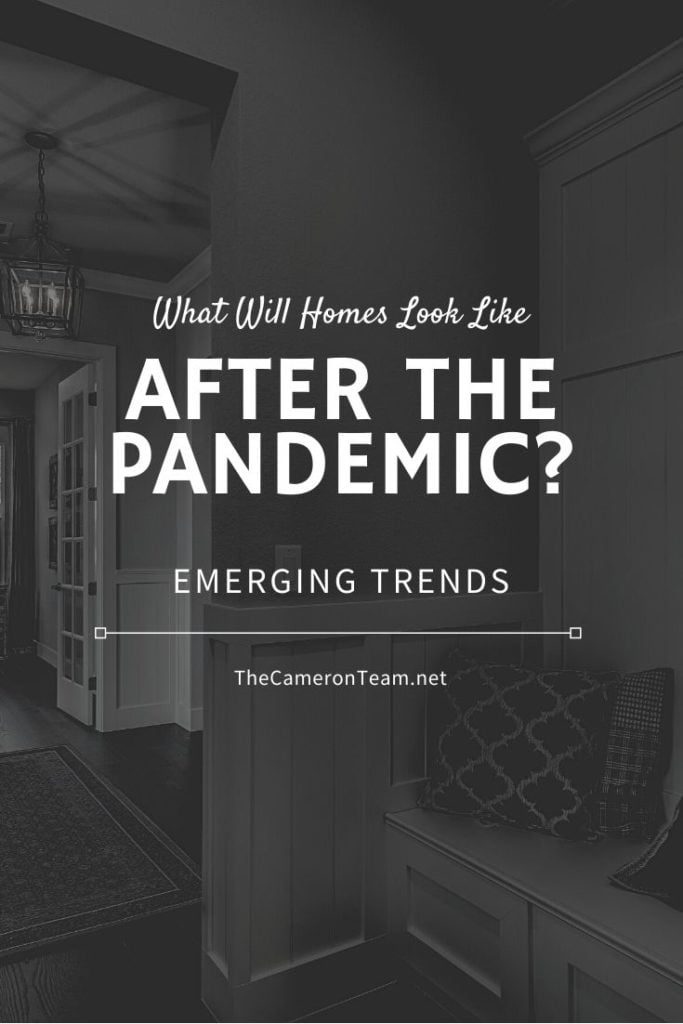 [the_grid name="Home Buyer Tips"]