It feels like Farmhouse Décor has been the most popular design style for the past 10 years. It dominates Pinterest searches and frequently appears in home décor blogs. But recently, other design styles have begun to float to the top of the décor pond. Here are 4 that are currently trending.
Note: Ads on this page will take you to Amazon to view more information about the product. These are affiliate links. If you choose to purchase on Amazon, the author of this blog will earn a small fee. This costs you nothing. It's like a high-five for providing good content. 
Cottagecore
If you have already decorated with farmhouse décor and do not want to drastically change up your current pieces, Cottagecore may be a good update for you. Like fans of the farmhouse lifestyle, Cottagecore is for those who long for a simpler time. It is a romanticized take on living in a country cottage (think Jane Austen + your grandma). It is a fantastical escape that incorporates floral patterns, lace, greenery, and the old vintage look you often see in farmhouse décor. So, if you are considering decorating your home in Cottagecore, you may be able recycle some of the things you already have.
When designing a room, the goal is to make it feel cozy and grounded. Bring in a lot of natural elements, like unpainted wood, flowers, and houseplants. Aged shiplap and lowkey floral print wallpaper are common for this style, and if you paint furniture or the walls, keep the colors muted or neutral. Ivy green, sage green, dusty rose, and vintage cream are commonly used in Cottagecore color palettes.
Cottagecore accent pieces have a certain element of nostalgia, like teacups, old letters, and aged newspapers. They can also be whimsical (mushrooms, toadstools, and snails). If you go even more fantastical, you may be heading into a similar décor style called Faeriecore. Either way, do what makes you feel happy.
Visit our Cottagecore Pinterest Board for more design inspiration.
Rustic Vogue
Is Cottagecore too whimsical for you? Consider the Rustic Vogue interior design style (also known as Modern Rustic). It is similar to Cottagecore in that it incorporates natural materials, like wood, rattan, clay, and stone. It differs because it has more modern elements and neutral colors.
Major features of Rustic Vogue include exposed beams, original wood floors, stone fireplaces, and paneled walls. Furniture is usually made of natural wood, rattan, or wicker. These same materials, along with brass, are used in this style's light fixtures.
When designing a room, mix both old and new elements, and incorporate textures. For example, in a kitchen, you could do exposed ceiling beams, a stone accent wall, and modern flat panel natural wood cabinets. In a bedroom, you could have refinished or original wood floors, a rattan headboard, natural wood side table, and brass lamp.
Visit our Rustic Vogue Pinterest Board for more design inspiration.
French Country
There appears to be a rural theme among some of the most popular design trends right now, because the next style is French Country. Cottagecore and French Country are similar to each other because they both are inspired by countryfolk and feature vintage and natural wood elements. However, the décor of the latter is much more refined.
French Country is characterized by its feminine details and weathered finishes. Blue gingham is an iconic fabric used in this style's décor but is not the only pattern you will see. The people who inspired French Country lived a pastoral lifestyle and it is reflected in the wallpaper and fabric patterns. Elegant florals and toile prints are very common, as well as fresh flowers.
White and cream are often the backdrops to the French Country style. Warm versions, including white washing, are used on walls, furniture, and trim. Hardware and light fixtures are usually wrought iron, but brass and bronze are used as substitutes. Hints of gold may appear here and there, and chandeliers are practically required, which is why this style is known for its romantic appeal.
Visit our French Country Pinterest Board for more design inspiration.
Kindercore
Are you ready to reject the stuffiness of traditional home décor and tap into your inner child? Kindercore may be just what you are looking for. This style is becoming increasingly popular, possibly due to the negativity that much of the world has been facing, because it requires you not to take life so seriously.
Kindercore is easily identified by its bright primary color palette, chubby furniture, and simple geometric shapes. It is inspired by the work of Holland architect Gerrit Rietveld and artist Piet Mondrian, who is known for his Dutch abstract works in red, blue, and yellow (you have likely seen them in an art textbook). In a way, the décor looks childlike.
When designing a room, the key to keeping the bright colors from feeling overwhelming is to space them out. White and cream walls commonly set the backdrop for this décor style. Black, white, and natural wood furniture, trim, and accent pieces help break up the color scheme. When choosing furniture, think in curves. While chubby furniture is a component of this style, it is not always easy to find in a furniture store. Curvy and round furniture provides a similar feel.
Visit our Kindercore Pinterest Board for more design inspiration.
Which of these interior design styles is your favorite? Tell us in the comments.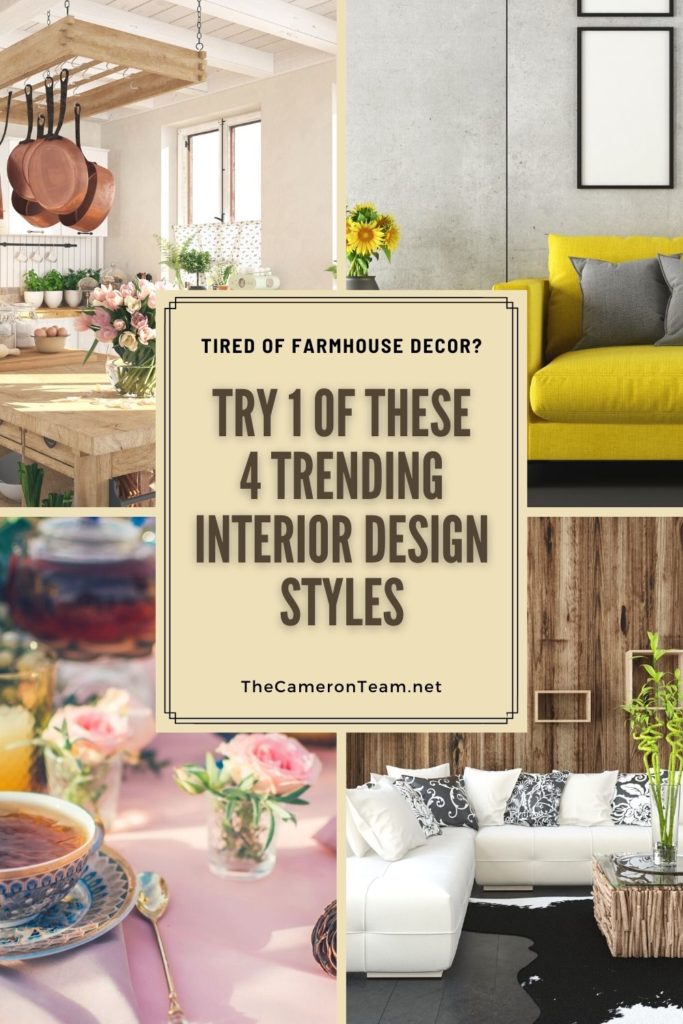 [the_grid name="Homeowner Tips"]