I'm a huge fan of patterns and prints. I love geometric, Islamic-art inspired patterns – their complexity is beautiful when you consider they are borne simply of basic shapes calculated to fit into and around each other for a breathtaking final look. I also love the quatrefoil or Moroccan tile pattern that keeps popping up in my Pinterest feed – most recently in beautiful kitchens. As far as modern prints go, the fabulous Martinique palm print, created by Don Loper for the Beverly Hills Hotel in 1952, is a constant source of inspiration and joy for me. If I had to choose just one favorite pattern thought, it would be the iconic herringbone. Personally, I consider it the grande dame of patterns- timeless, quietly elegant and extremely sophisticated- the classic bigger sister to the popular chevron. The key difference between the two being that while the herringbone pattern interlocks, chevrons are laid out vertically, like uniform tree branches extending evenly on either side of a single trunk.
A Brief History of the Herringbone Pattern
Did you know the herringbone pattern dates back to the Egyptian empire where it is found in textiles and jewellery, and then after that, to the Romans who used it to create roads? It's remarkable how much history is encompassed in a simple design! The Romans called it Opus spicatum or "spiked word"; in English, we refer to it as the herringbone pattern because it resembles the skeleton of the Atlantic herring. So fascinating! (Source: Will Belcher of The Olin Studio.) These days, you can see the herringbone pattern everywhere. From simple tiled walkways and patios to grand hardwood floors, textiles and decorative accessories. It's classic and contemporary all at once. Today, I wanted to show you some ways you can incorporate this classic geometric pattern into your own home. Let's get started!
Floors
For starters, I love the look of herringbone floors. My Inspiring Interiors board on Pinterest is full of chic rooms showing off the look. Generally, short planks will create more of a focal point around the floor whereas longer, wider planks will make it look more open, airy and modern. It's a great way to add interest to a room from the ground up. The best part is, it doesn't matter if you live in a gorgeous Parisian apartment (#goals, right?) or a simple townhouse in LA, or which room you've got your eye on- a herringbone floor will instantly elevate any space.
Beautiful herringbone hardwood floors in this gorgeous kitchen. And note the Islamic art-inspired geometric tiled backsplash too! Such a beautiful space. Via My Domaine
A sophisticated, Scandinavian living room with herringbone hardwood floors, natural accents and an all-white palette with black accents. Via Daniella Witte
I adore the charcoal grey walls in this modern bedroom. The herringbone hardwood floors are the perfect design feature! Via Plastolux
Walls
If an entire floor is too much for you, how about bringing herringbone up on to the walls- halfway for a real statement or all the way as a perfectly chic back splash for the bathroom? A fireplace surround is also a wonderful way of adding the herringbone pattern to an interior for just the right touch of quiet sophistication.
There is so much pretty here! An absolutely gorgeous marble tiled half wall in a sideways herringbone pattern is a fabulous way of making an impact. The dark teal walls and cupboards are muted enough to ensure the marble tiles and jagged edge of the pattern are the real star of the show. Via Frenchy Fancy
An entire wall of white herringbone subway tiles makes a contemporary statement in this high contrast black and white bathroom. I particularly love how the herringbone in all white pairs wonderfully with the black honeycomb floor tiles. Though they are two very different patterns, they complement each other very well. Via Sarah Sherman Samuel
A beautiful navy blue herringbone fireplace surround is just the right touch of modern chic for an otherwise traditional room. Via Anvil Fireside
Make a statement- instead of tiling an entire bathroom, consider creating a focal point with high contrast tiles in a herringbone pattern in a small part of the shower enclosure. Via Home Adore
Décor & Accessories Everywhere
If neither floors nor walls are within budget, think small: home décor and accessories can cost significantly less and can be swapped out seasonally. You can even create a faux herringbone "rug" by swapping out tiles for hardwood floor, for example. Or how about bringing the herringbone pattern into your kid's rooms? Herringbone quilts are cozy and stylish, and temporary herringbone wallpaper is the perfect low-commitment solution for renters!
Create a faux herringbone rug using tiles in a foyer amidst luxuriously rich hardwood floors. Via Interiors by Studio M
Or lay an actual herringbone pattern cow hide rug over your floors for quiet impact. Via The Citizenry
This modern superhero kid's room is adorable, colorful and those herringbone quilts are perfectly at home amidst all the fun accessories and artwork! Via Classy Clutter
Lastly, temporary wallpaper is a great solution for owners and renters alike. Low cost, low commitment and you get the perfect dose of herringbone pattern without it being too overwhelming! Ombré Herringbone Wallpaper by Via Livettes Kids
And there you have it! So many gorgeous design ideas showing you how to bring the iconic herringbone pattern into your home. Are you as inspired as I am? Leave me a comment below and let me know. I would love to hear your ideas! Thank you so much to Meghan for inviting me to write for you, and hopefully inspire you to try something new. Until next time, Naushin
ABOUT NAUSHIN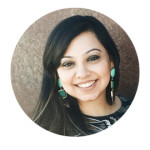 So Fresh & So Chic is a curated lifestyle, fashion + design blog for those aspiring to live stylishly and be a total girl boss. My goal is to show you how to adopt current trends, update classic pieces, and embrace great design. Follow me on: Instagram | Pinterest | Facebook | Subscribe to my mailing list
Related Posts
[the_grid name="Homeowner Tips"]