In our last installment of our organization series, we focused on the bathroom. Today, we tackle the kitchen, where even a small change can make organization a little easier. So, here are some of our favorite kitchen organization tips.
1. Chalkboard Paint
Buy a can of chalkboard paint. It has lots of potential! Use it on an accent wall, a set of cupboards, or your backsplash. You can even use it on your refrigerator if you have an older model. We wouldn't suggest painting over stainless steel. Instead, you could frame a thin board, paint it, and attach magnets to the back of the frame. Once you have your chalkboard of choice, write your measurements, grocery list, and important reminders on it. You'll save paper and it will be right where you need it.
2. Conversion & Measuring Center
Create a conversion and measuring center. Attach small hooks to two thin pieces of board. Then, screw the boards to the frame. Finish it off with labels and a conversion chart you can always keep on hand. Then hang up all your measuring spoons and cups. It helps to paint the surfaces being used, but if you have a solid color cabinet, you probably don't need to paint it. You can also do a less permanent version of this project with 3M hooks and sticky labels, but choose a cupboard away from the stove and dishwasher, because the temperature changes and humidity might cause the stickers to peel.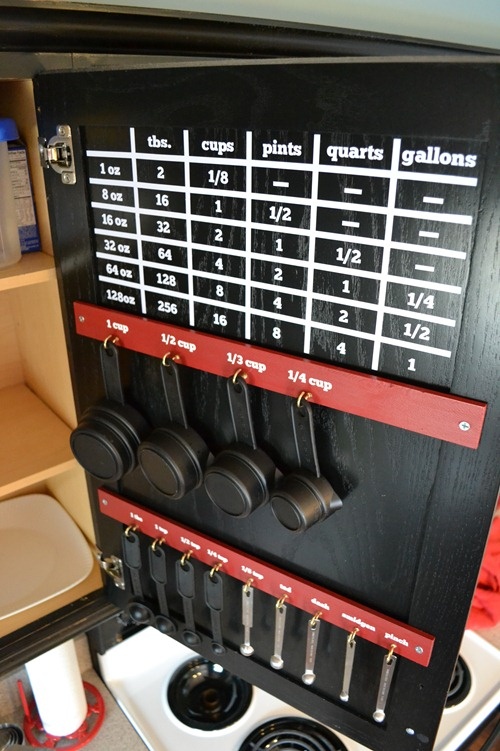 3. Stack Smart
Make the most of the cupboard space you have. Place smaller bowls inside larger ones. Stack large plates under smaller ones. Alternate wine glasses so the first is right side up and the next is base up, so they fit snugly together. And when you have unstackable items, like short glasses, use a tray to create a sturdy extra shelf that will help you use more vertical space.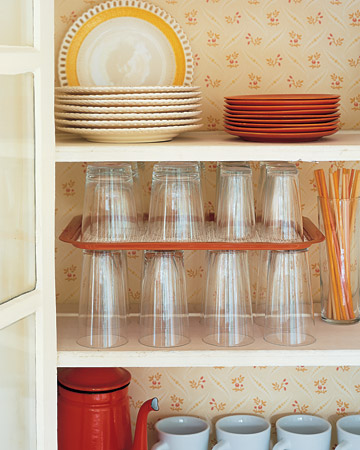 4. DIY Cabinet Organizers
Buy cheap cabinet organizers or create your own. If you have an old magazine holder, it can double as a soup can holder or you can create your own by recycling a soda fridge pack. Just trim it to fit the depth of your cupboard and cover the outside with your favorite paper.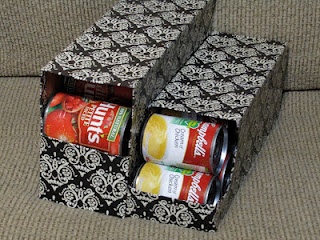 5. Upcycled Products
Repurpose kitchen products you already have. If you have a cake stand, there's a good chance you only use it a few times a year. When you aren't baking for that special occasion, use it to free up some counter spice. Put your oil, salt, pepper, and butter on it, or anything else you may leave on your counter.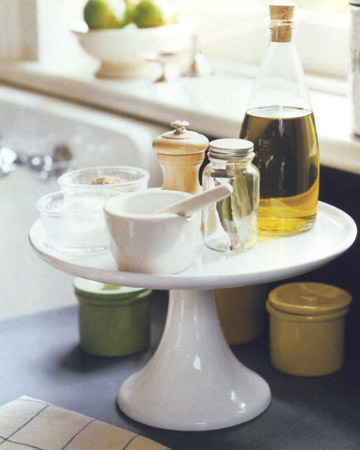 6. Built-in Organizers
If you have some money to work with, you could make your life easier by installing some built-in organizers, like these pan drawers.  There are many options available, including corner drawers that replace Lazy Susans.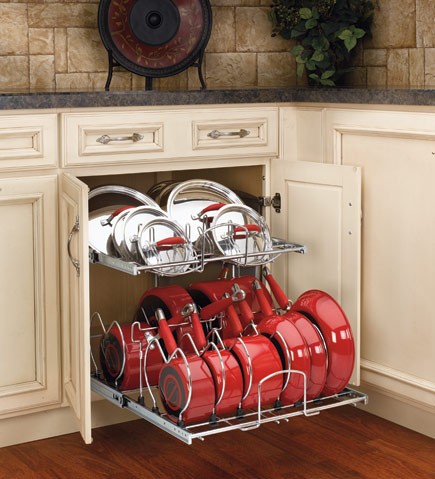 If you have a favorite kitchen organization trick, we welcome you to share it in the comments below! See more on our Organization Pinterest Board.
[the_grid name="Homeowner Tips"]