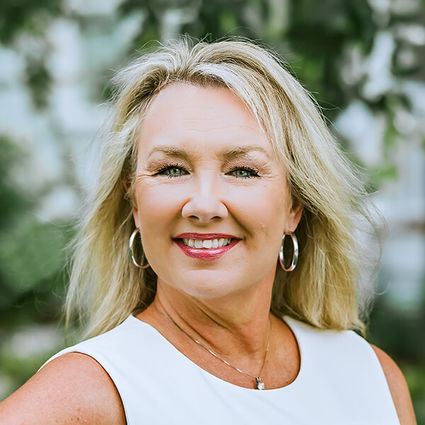 Tammy Suggs
Buyer Specialist, REALTOR®
A little about me
Tammy Suggs is a true North Carolina girl, born and raised on the east coast of North Carolina. As a devoted wife and mother, she understands the importance of making a house "your home". She is an Accredited Buyer's Representative (ABR®) and known for her natural high-energy personality. When she's not working hard, she enjoys family time with her husband and son, laughter with good friends, Taekwondo, Zumba®, working out, and "wogging". She has built a successful business through delivering excellent customer care and service. She loves meeting new friends and has a passion for helping others. Attention to client detail is HER SPECIALTY. She truly believes that her success is directly linked to the satisfaction of her clients.

Her experience building relationships with clients has been very rewarding for her. She's honored to know that her friends and family have such confidence and belief in her. She is honest, fair, and at all times…real. She is honored and blessed to be in a field where she can do what she loves daily – make new friends and help current ones. A home is a big decision, and she is grateful to be a part of that journey with her clients.
Wilmington is such a beautiful place to call home with the beauty of the ocean, abundant medical facilities, entertainment, and the University of North Carolina at Wilmington. So whether buying or selling your home, have confidence in knowing that she will make your real estate interests and goals her top priority.
Our clients are awesome
and here is what they are saying
"Tammy Suggs worked tirelessly to make sure we saw every property for us to make the best choice. She was with us every step of the way and was our voice and advocate on many occasions with our builder to make sure we were treated fairly and got everything we were promised. She is more than a realtor, she is a new friend. Oh, and she knows where you can get a great Bloody Mary while you wait for the wheels of progress to happen."
"Our realtor Tammy was fantastic! She was able to find our perfect home under dire circumstances with the low inventory available. Closing was a breeze!"
Kyle Hutson
Wilmington, NC
"Tammy Suggs is the loveliest, sweetest person in the whole Earth. She's prompt to respond and really cares about her clients. She has helped me and my extended family purchase 3 homes in the Wilmington Area. I'm so grateful for her friendship and all her help."
Alex DaSilva
Wilmington, NC
"Sarah Mininni recommends The Cameron Team - Wilmington NC Real Estate: "Gosh. Where do I even begin? I reached out to them from some site I don't even know (Zillow, Realtor…etc.)- about a home that was fifteen dreams ago 😂. After realizing that wasn't what we wanted, Melanie and Tammy both came to our house, sat with me and discussed options. They were just absolutely amazing. I had a newly 1 year old at the time and they were so sweet and patient with me. After that meeting all of us kind of felt defeated because we just weren't sure what to do with us owning and looking with the market. They left and within twenty minutes they had found us a home in our dream neighborhood DIRECTLY across the street from our family. It was a new build so we didn't have to worry about contingent offers or anything. The stars aligned and prayers were answered. They just made it happen. Throughout the building process there was problem after problem- I would text Tammy and within minutes she had me grounded and calm. I will recommend this team forever and will never choose anyone else. Just kind, Jesus loving, classy women and I'm so thankful to know them and to have trusted them. They are gold!!!""
Sarah Mininni
Rocky Point, NC
"Tammy Suggs is one of the most caring professionals I have ever met! During a very tough buying season, she helped my family purchase our dream home in south eastern North Carolina. Not only did she find us the perfect house at the right price, but since we could not get there to see it in person, she did a walk through by Facetime and also hired our inspection, survey and so much more for us. The service is pure gold at Coldwell Banker!"
Annette Hines
Southport, NC
"The Cameron Team is just outstanding! I recently moved back to NC after over two decades away and bought a home. The Cameron Team were my first choice to call due to having had such a wonderful experience selling my mother's home with them in the past. Tammy Suggs helped me negotiate well in a challenging market. Her charm, resourcefulness, professionalism and most of all her well-organized efficiency made this home buying experience incredibly stress free and even fun for me! I have a great respect for the Cameron Team and their dedication to truly serving their clients. Thank you Melanie, Tammy and team for helping me find my home "at home" again in NC. ;)"
Karen Rochelle
Wilmington, NC
"We had the pleasure to work with Melanie and Tammy from the Cameron Team during our recent sale and purchase of our homes. These ladies are the best! They are knowledgeable and look out for their clients. You are in great hands with Melanie and Tammy! Thank you ladies!"
Kerrigan McAlarney
Wilmington, NC
"Tammy Suggs was DYNAMITE! Highly recommend."
Elyse Watkins
Wilmington, NC
"Tammy is an amazing realtor! Her knowledge of the Wilmington NC market is phenomenal. This is my second purchase with her and she delivered again. If you are looking to purchase a home in Wilmington, NC Tammy is the one to call."
Dawn Walker
Wilmington, NC
"My family and I loved working with Tammy! She was awesome to work with. Her professionalism and service is unmatched. She came highly recommended, and my personal experience is that every word of the recommendation that I received was well deserved. We met her on a business level and walked away from this experience with a new friend. She was responsive throughout our entire new construction process. She was there for us from initial contract, to design selections, to pre-closing walkthrough, to closing and even beyond. She was there to help us with all of the things that we didn't think of. We are so thrilled that we had her on our side. There is no one in the business any better at looking out for their clients and assisting with a home purchase. Tammy's work ethic is impeccable, she will do everything in her power to make sure that her clients have the best experience possible and that everything goes smoothly for them. If you are in need of a buyers agent. Tammy Suggs and the Cameron Team are your team! You will not be disappointed!!!"
Jonathan Saunders
Hampstead, NC