When you're preparing to list your home for sale, "Spring Cleaning" takes on a whole new meaning. We know how nerve-racking it can be to get your home looking its best. So, we've compiled some of our favorite cleaning resources, as well as a checklist of most overlooked places that we've seen while showing homes.
Most Overlooked Places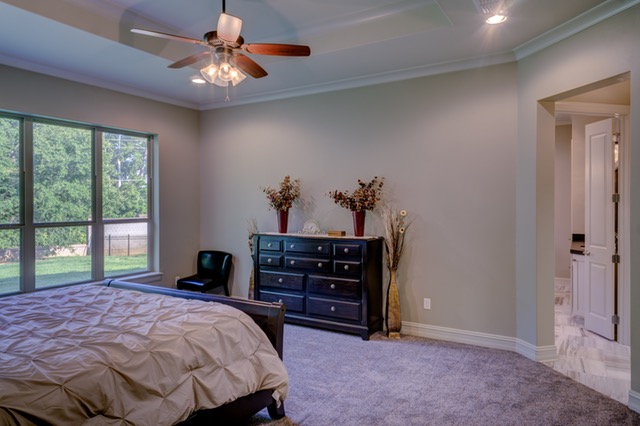 A good rule of thumb when cleaning your soon-to-be-listed home is to step out of your shoes and view it with unfiltered eyes. This can be hard when you've lived in your home for so long. It may be a good idea to physically step out of your front door and re-enter with the mind frame that you're seeing your home for the first time. You may even want to ask a good friend to tour your home like a buyer and give you feedback (just don't get angry if it isn't so great).
As you tour, ask yourself, what would you be looking at if you were buying? What would you test for functionality? Is there an area that you have grown blind to (messy kitty litter box, cluttered laundry room, dusty ceiling fans, etc.)? Try to be very honest with yourself.
On the exterior, the color of your siding can be pretty obvious. Dirty window panes, scuffed doors, and grungy trim too. What's often overlooked are the areas that are either mostly out of view or up high. Eaves and gutters are two examples. If you're standing at the right angle, you can see old spider webs, leaves, and gunk. These may not be obvious, but when you're a buyer, it's something you notice and can give the impression that the home hasn't been maintained very well. Another example are light fixtures, especially security lights on the back of the home. You don't really notice them until they're on, but once they're cleaned, can make your home look nice.
On the interior, dirty floors, dusty shelving, scuffed molding, and scummy showers are easily targeted when cleaning. However, it's the less obvious dirt that will leave buyers with a bad feeling. When buyers enter your home, they'll be looking at everything from the finish of the ceiling to the storage space in the closets. That means you should be more aware of what's in between and out of sight, like in between the bathroom door and the frame where extra dust collects due to the higher amount of moisture in the room, or in window frames where bugs like to go and die. If you have cathedral or vaulted ceilings, definitely look up. It may be easier for you to ignore those cobwebs up there due to the height, but it's probably much more worthwhile to find someone with a long vacuum extension to remove them.
Sometimes, it isn't the home's features that leave a bad feeling, but the owner's belongings. For example, shower liners. They change color over time and can really look grungy. If you can't get them sparkling clean, replace them prior to listing. Potted plants can also be a culprit. All those leaves love to attract cobwebs and loose hair. Make sure you clean them or they could make your home look neglected.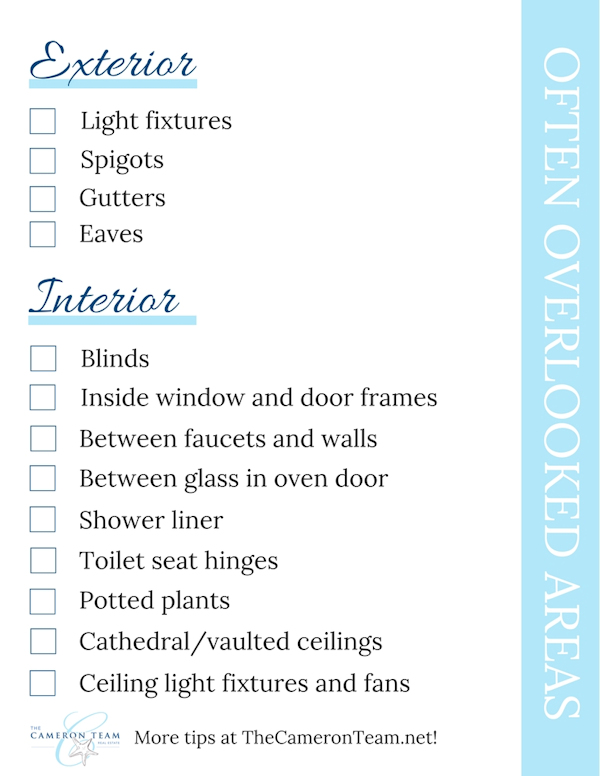 We've created a checklist of the most overlooked areas in the home when it comes to cleaning. You can download the PDF here.
Know of another overlooked area? Leave it in the comments!
Best Cleaning Resources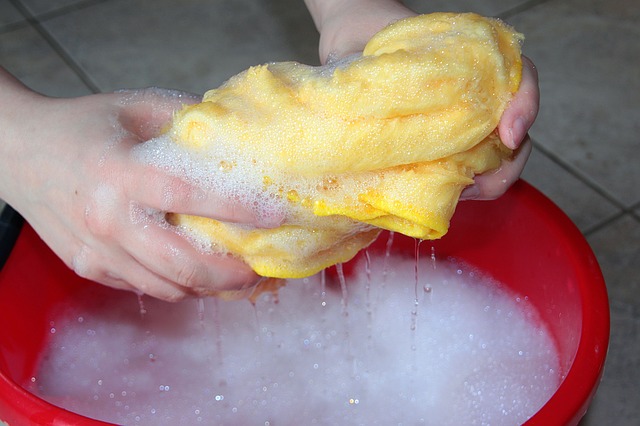 There are so many cleaning resources out there. Just search "cleaning" on Pinterest (Wowzers!). Here are some of our favorites, organized by subject, for you to browse:
1. Cleaners
Store-bought cleaners are often filled with harsh chemicals. That's why we like to go natural and simple when possible. Clean Mama is a cleaning and organizing site that has been around for a long time (since 2009). It has evolved into an extensive resource for anyone looking to simplify their home routine, including a whole section of their website devoted to DIY homemade cleaners. Also, make sure you check out the post about creating a cleaning caddy. A caddy can make it easier to stay on top of cleaning between home showings.
2. Step-by-Step Challenges
Keeping a home can be overwhelming, so we love it when someone breaks it down into manageable steps. Organize My House has done a great job doing that, especially with their challenges. They have a 30 Day Clutter Blitz to help simplify your life and home. They also have an email service you can sign up for that will send you daily tasks so you can tackle things a little bit at a time.
3. Cleaning Hacks
Buzzfeed has collected 31 hacks for tackling hard to clean places around the home, from your oven door to your stained porcelain sink. Good Housekeeping also has a gallery of 50 cleaning tips, like toothpaste gets marker stains out of wood and the trick to clearing a slow drain is baking soda and vinegar. Of course, you can always go straight to the experts – Merry Maids has a blog filled with tips, like how to clean hard-to-reach places and remove hard water spots.
4. Organizing
If you're cleaning, chances are you want to do some organizing to stay on top of the mess. Many of the sites we've already listed have sections on organizing, but we have one more you should check out. Organizing Made Fun has been providing tips since 2010, and they've organized their tips by room. So, if you're looking for some inspiration for a particular problem spot, this is the site to start.
If you're a glutton for cleaning tips (like we are!), follow our cleaning board on Pinterest! Have a favorite go-to site for cleaning? Share it in the comments!
Conclusion
These resources will help get you on track for making your home visually presentable. If you want to delve deeper into preparing your home, we have a report called 44 Moneymaking Tips for Preparing Your Home for Sale. This doesn't just focus on cleaning, but creating a home that buyers can imagine themselves in while getting you the most money possible for your home.
If you have a Wilmington area home that you're considering selling, we also offer a complimentary home staging consultation with a professional home stager. Just give us a call or send us a message through our contact page. We're happy to go over our marketing plan and all the good stuff that will get your home sold.
Related Posts
[the_grid name="Home Seller Tips"]