Being self-employed can be a very rewarding experience. You carry a lot of responsibility for your own success and that of your business, but when you receive your paycheck, there's no question that you earned every penny.  With close to 42 million people in America (about 33 % of workers) being self-employed, it's easy to say there are many successful self-employed people out there. However, when it comes time to apply for a mortgage, self-employed buyers face different requirements than those with a W2. If you're thinking about buying a home in the near future, it's important that you understand these requirements and prepare for what lenders will need to see from you.
Financial Requirements
As many self-employed people know, getting your business off the ground can be difficult. Living paycheck to paycheck is a common reality. So, it's not a surprise that the main concern of lenders assessing the finances of a self-employed buyer is a consistent income. They'll want to see 2 years of financial records that show you have a steady or increasing income that puts you below a 43% debt-to-income ratio (the total of your monthly debt payments divided by your monthly income).
Lenders will also take into consideration the viability of your business and if it will continue to provide the income needed to pay the required mortgage payment. Therefore, the lender will likely ask for a profit and loss statement. The Balance Small Business has an article explaining how to create a profit and loss statement. You can also download a free template from Quickbooks. If you have accounting software or online apps like Zoho Books, Freshbooks, Quickbooks, etc. there's often an option to automatically generate a profit and loss report (a good reason to invest in one of these programs).
How to Prepare
While planning your purchase, there are a few things you can do to make the mortgage process easier:
Clearly separate business income and expenses from personal finances. You should already have a separate business banking account. If not, you should consider getting one and paying yourself a salary via a personal checking account. When you have a very small business, it's easy to mix business and personal finances, but you want to clearly support your case – that you can afford a new home – when it's time to meet with the lender.
Keep good records. The programs mentioned above are probably the best way to do this. There's a bit of a learning curve, but I guarantee you'll be happy you have it once you start pulling all your financial documents together. You don't want the added stress of going back through 2 years of paperwork to find information to present to the lender.
Work on your credit score. Yes, lenders will be giving added attention to your business, but your credit history will still be a huge factor in qualifying for a mortgage. So, continue to build your credit, make your payments on time, and avoid making any big purchases right before you start shopping for a home. I always recommend Credit Karma for monitoring your credit scores. They alert you of changes, including data breaches that may affect the accuracy of your report.
Reconsider your tax write-offs. It's important to understand that lenders will look at your income after expenses, so if you write off any of your income as a business expense, that will lower the amount of income you can claim. The lower your income, the higher your debt-to-income ratio and the less house you'll be able to afford. So, while writing off expenses may benefit you during the current tax season, it may make sense to claim less and show more income if your finances are not where they need to be. Of course, always discuss such choices with your accountant.
Required Documents
The required documents and information for applying for a mortgage vary depending on how your business is structured, but may include:
Business license
2 Years of tax returns – Business/Personal
Bank statements – Business/Personal
Statements for additional income (Social Security, alimony, etc.)
Misconceptions
Self-Employed Borrowers Must Give a Larger Down Payment
People who are self-employed are not required to put a larger down payment on a home than other buyers. Does putting down more help improve your odds of being approved? Yes, but it does for any buyer. Providing a larger down payment shows you're willing to put more skin in the game.
Self-Employed Borrowers Must Have a Co-Signer
A self-employed buyer can qualify for a mortgage solely on their income alone. However, if the lender can't approve the loan based on their income, the potential buyer could reapply with a co-signer. Depending on the co-signer's finances, they may then be approved.
Self-Employed Borrowers Must Report All Income
If you're only part-time self-employed (earning some extra money here and there), you don't need to report your income. In some cases, it may help to improve your debt-to-income ratio, but that's completely your choice. The same also goes for if you're purchasing the home with someone on a W2. If you can qualify solely on their income, you don't need to report yours on the mortgage application.
Self-Employed Borrowers Get Higher Interest Rates on Their Loans
It doesn't matter if a borrower is self-employed or on a W2, they get the same interest rate based on the property's location, down payment, loan amount, loan type, loan interest rate type, and borrower's credit history, as well as the secondary mortgage market and the health of the economy. It's really an intricate web of factors, but self-employed vs. W2 is not one of them.
Conclusion
As always, we are not financial experts. We are real estate experts. Refer to your financial advisor for the best approach for handling you business and personal finances. A lender will give you the best insight into the requirements for applying for a mortgage as a self-employed individual. All information provided here is from experience. We leave the finances to the experts and are happy to refer you to a reputable local lender who can guide you on the best steps for your personal needs. Just give us a call at (910) 202-2546.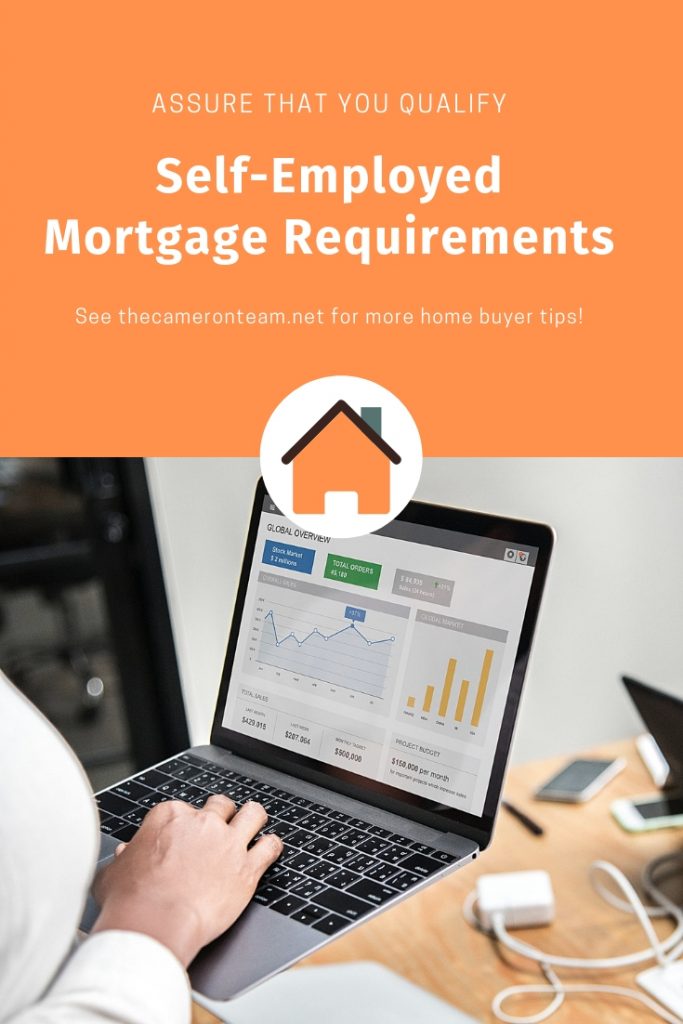 [the_grid name="Home Buyer Tips"]