Now that the traditional school year has started, our minds are filled with all things fall-ish and because we're spending a lot more time at home, it's hard not to think of all the decorating we can do for the coming season. The front porch is always the perfect place to start. It gets the most attention from passersby and usually provides a nice multilevel backdrop. If you're looking for ideas – whether it's your first time decorating or your tenth time refreshing your pieces – scroll down and appreciate all of the color choices fall provides.
Traditional Fall Colors
What is more iconic for fall than a white farmhouse porch bursting with pumpkins and chrysanthemums? Check out this gorgeous front porch from the Liz Marie Blog. If you visit her website, you can read where she explains all the thinking behind her design. You can also check out pictures from The White Cottage Farm and see some great tips, like How to Clean Antiques.
Sarah Vickers at Classy Girls Wear Pearls clearly shops the pumpkin patch like I do, because her front porch has every type of pumpkin imaginable. Many homeowners focus all their porch decorating where people passing by can see it (railings, front steps, around door, etc.), but Sarah's front porch is clearly designed for the family to sit down and enjoy – including the adorable pup, who likes to lie on the large swing. Visit her blog to see even more ideas for enjoying the fall season.
Traditional with a Touch of Blue
People who live at the beach do things a little differently in the fall. Coral and white starfish, blue and red crabs, gray oysters, long brown grasses, and orange seashells. They all make great accent pieces for traditional fall décor. Suzy at Worthing Court shares one example of how this is done. She even adds in some blue pumpkins, a teal nautical ball float, and teal ceramics to incorporate the colors of the ocean. Visit her blog to see the whole porch.
Black, White, and Gold
You don't need a large porch to have a showstopper. You just need some unique touches and consistency. This small front porch from Susan at Kindred Vintage features a cozy chair, classic pumpkins, and chrysanthemums. Scattered throughout are unique festival print pumpkins that include black, white, red, and gold. They add a touch of whimsy and easily convert to Halloween decor. Visit the blog to see where she came up with her design ideas.
Yellow and Green
If you love a sunny fall day, you'll appreciate this porch from Beth at Home Stories A to Z. Back in 2016, she chose to decorate with yellows and greens. Her porch features white pumpkins, yellow and green gourds, light-brown straw bales and corn stalks, and yellow chrysanthemums. A green plaid blanket cozied up her white rocking chairs and a wood slice door sign reflected the season of gratitude. It oddly complimented her Wythe Blue front door. She has since updated her porch. You can see it and other fall decorating tips on her website.
White and Green
Fall decorations are traditionally filled with oranges, yellows, reds, and browns – just like the changing foliage – but that doesn't always pair well with house exteriors and it doesn't exactly have a crisp, clean feeling to it that some people love. An alternative fall color palette is white and green. Instead of the changing trees, this palette reflects evergreens and the white "ghost" or "Cinderella" pumpkins. There are also some pretty white chrysanthemums that blend well. For inspiration, take a look at this porch from Becky at Cella Jane.
Purple and Pink (yes, pink!)
Of course, there's always room for those of you who want to completely buck the trend and go with pink. Hey, we all have our favorite colors, right? You can incorporate this bright color by choosing the right shade and complimentary hues. What works good this time of year is pink and purple. You want to choose a color combination that feels antique (think crushed velvet and the Victorian era). Amy at Crazy Chic Design does this really well with her pink, black, and white porch. Of course, this is more of a Halloween porch than a straight up fall porch, but you can easily eliminate the Halloween decorations and just decorate with the pink and purple chrysanthemums and pink, silver, and white pumpkins. Consider adding a black lantern or a white chair with a cozy light-gray blanket to make it feel more like fall.
If you're looking for more inspiration for a fall pink porch, visit Kelly at Lily Pad Cottage. She also shares an appreciation for the color variety that chrysanthemums provide. Her front porch incorporates more greens and blues, and has a combination of light-purple, rouge, and magenta flowers.
Do you have a fall front porch that you're really proud of? Share it in the comments! And visit our Fall/Autumn Pinterest board for more decorating tips.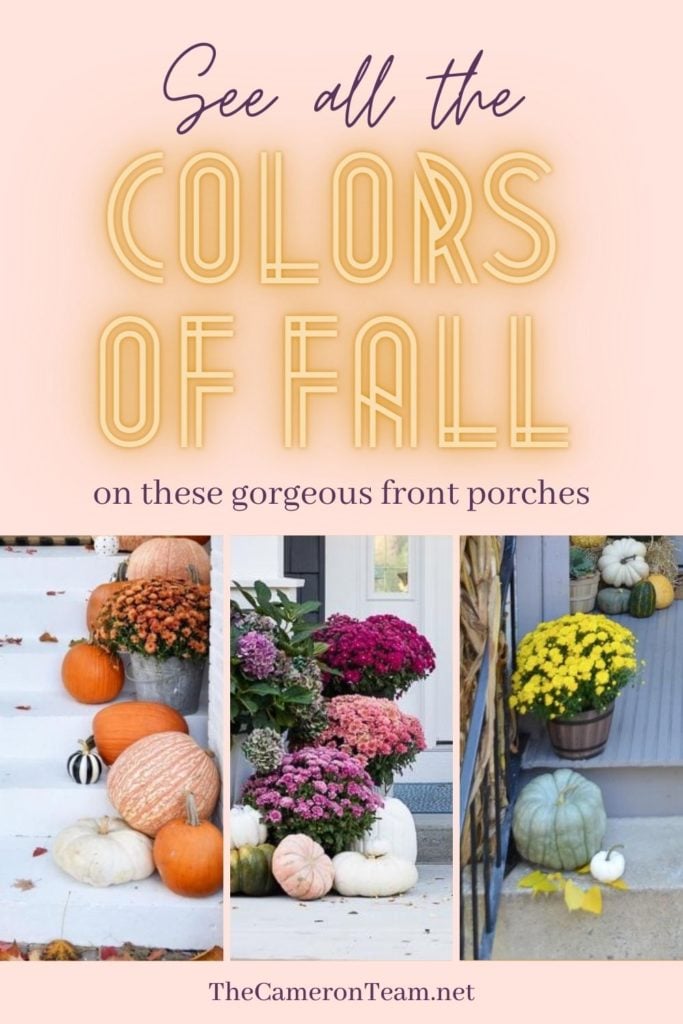 [the_grid name="Homeowner Tips"]