We understand that natural disasters leave those affected with feelings of uncertainty, emotional and financial stress, and recent Hurricane Florence is no exception. However, there are federal, state, and local resources available to alleviate the pressure as you work to recover. Some of these resources are specific to survivors of Hurricane Florence but have umbrella agencies and programs that may also be helpful in other instances.
This is intended to be a starting point for recovery and is by no means an all-inclusive list of resources for individuals and businesses. We encourage you to research thoroughly each option available to you beyond what we have provided. This is the only way to ensure that you have a complete understanding of each and can obtain the most benefits from any programs for which you may be eligible. Note that in some cases, important deadlines must be met to qualify.
We hope that you find some comfort knowing that you do not need to carry the burden of recovery alone.  If you are experiencing emotional distress related to natural or human-caused disasters, there is crisis support and counseling available at the Disaster Distress Helpline as well as local public and private healthcare organizations. Farmers can also contact Farm Aid Crisis Support.
FEDERAL AID: For Individuals
Federal Emergency Management Agency (FEMA)
FEMA is an agency of the United States Department of Homeland Security with the mission of "helping people before, during, and after disasters." Visit FEMA's Disaster Declarations page to see a current list of counties in which residents may be eligible to apply for assistance after the President of the United States makes a major disaster declaration for your state, and your specific county is named for Individual Assistance. The type of help offered may differ depending on the disaster, but can include funds for temporary housing, making home repairs, or replacing personal property. It is only available for a primary residence, not vacation homes. Money offered by FEMA is tax-free and must be used as stated in an award letter. It will not duplicate assistance provided by your insurance company but may give you assistance for items not covered. Note that you may receive a Small Business Administration (SBA) referral when you apply with FEMA. Homeowners and renters can apply for low-interest home repair loans from the SBA. For more information, see the paragraph below entitled, "U.S. Small Business Administration (SBA)" under the heading, "FEDERAL AID FOR INDIVIDUALS, BUSINESSES AND FARMERS".
Checklist of Information Needed to Apply and Obtain a FEMA Number:
Social security number for you, another adult member or minor child in your household who must also be a U.S. citizen, non-citizen national, or qualified alien
List of the type of insurance you currently have, such as homeowners, mobile home, flood, and/or automobile
Brief description of the damage and loss caused by the specified disaster
Total annual household income before taxes at the time of the disaster
Your contact address and phone number, as well as that of the affected property
Optional: Your direct deposit information so funds can be directly deposited into your account, if approved.
For more information: Visit FEMA or www.DisasterAssistance.gov, or call (7 AM – 10 PM, Sunday – Saturday) 1-800-621-FEMA (3362) or 1-800-462-7585 (TTY).
Department of Unemployment Assistance (DUA)
File an application for DUA benefits by October 17, 2018, if you can't live in your home or go to work because your office is closed or flooded. The federally-funded DUA program provides unemployment benefits to individuals who are unemployed as a direct result of a presidentially-declared major disaster. The state has declared that residents in Onslow, New Hanover, Brunswick and Pender counties are approved for DUA. For an updated list of counties that have been approved, please visit the News and Highlights section at www.des.nc.gov.
You will first need to file for regular unemployment insurance with your local Division of Employment Security (DES). If you are determined ineligible for regular unemployment insurance, or have exhausted your regular unemployment insurance benefits, you can then file a DUA claim. To receive DUA benefits, all required documentation must be submitted within 21 days from the day the DUA application is filed. DUA is available beginning September 9, 2018, and may last for up to 26 weeks, as long as the claimant's unemployment continues to be as a result of Hurricane Florence. To apply, you will need your Social Security number, and copies of most recent federal income tax forms or check stubs, or documentation to support you were working or self-employed when the disaster occurred.
Note that DES will be upgrading the unemployment insurance benefits computer system on Monday, September 24. All claims functions, including claims applications and weekly certifications will be unavailable from 5 p.m. on September 24 until Friday, September 28, at 8 a.m. To receive benefit payments during the week of September 28 you must submit your weekly certifications by the 5 p.m. deadline on Monday September 24.
For more information or to apply: Visit des.nc.gov or call DES at 1-866-795-8877 from 8AM to 5PM. If you have questions, you may email DES at [email protected].
Disaster Supplemental Nutrition Assistance Program (D-SNAP)
D-SNAP gives short-term food assistance benefits to households with food loss or damage caused by a natural disaster. Even if you do not usually qualify for SNAP benefits, you may qualify for D-SNAP if you experienced a disaster-related incident. To get emergency SNAP benefits, go to your local Department of Social Services (DSS) office. You will fill out the food stamps application and meet with a caseworker. Following are addresses to offices in areas affected by Hurricane Florence:
Wilmington – 1650 Greenfield Street, Wilmington 28401
Brunswick County – 60 Government Center Dr. NE, Bolivia 28422
Pender County – 810 S Walker Street, Burgaw, NC 28425
Onslow County – 612 College Street, Jacksonville, NC 28541
For more information: Visit the D-SNAP website.
Federal Housing Administration (FHA) 203(h) Loan
If your home is in a presidentially-declared disaster area and it has been destroyed or severely damaged to the point that reconstruction or replacement is necessary, you are eligible to apply for mortgage insurance under the FHA Section 203(h) program. Per the Housing and Urban Development (HUD) website, this loan program allows the "FHA to insure mortgages made by qualified lenders to victims of a major disaster who have lost their homes and are in the process of rebuilding or buying another home". HUD sets the limit on the amount of the FHA mortgage loan that can be obtained. Click here to see the current FHA mortgage limit. Click here for a searchable listing of nationwide approved FHA lenders. Note that a borrower's application for mortgage insurance must be submitted to the lender within one year of the President's declaration of the disaster.
For more information: Visit the HUD Mortgage Insurance for Disaster Victims Section 203(h) website. Homeowners are encouraged to also contact a HUD-approved housing counseling agency, for assistance with disaster related issues or call toll-free at: (800) 569-4287.
FEDERAL AID: For Businesses and Farmers
Small Business Administration (SBA) and Farm Service Agency (FSA)
Businesses and farms that have suffered economic injury or damage to business property are not eligible for Individual Assistance grants from FEMA. However, they can obtain low-interest loans from the SBA and the FSA to repair or replace damaged property not covered by insurance, and to provide working capital. See the SBA paragraph below for more information.
For more information: Visit What to Do If Your Business of Farm Was Damaged, U.S. Department of Agriculture's Extension Service, and USDA Disaster Resource Center.
FEDERAL AID: For Individuals, Businesses, and Farmers
Small Business Administration (SBA)
SBA provides business counseling, and low-interest disaster loans to homeowners, renters, businesses of all sizes, and private non-profit organizations. These loans can be used to repair or replace real estate, personal property, machinery and equipment, and inventory and business assets that were damaged or destroyed in a declared disaster. Per the SBA website, "homeowners may borrow up to $200,000 for disaster related home repairs. Homeowners and renters may borrow up to $40,000 to replace disaster-damaged personal property including vehicles. The SBA may not duplicate benefits from your insurance or FEMA."
For more information: Visit the SBA Disaster Assistance web page. Click here to find SBA disaster loans and business counseling for people and businesses affected by Hurricane Florence. This site includes a list of disaster recovery centers, and NC and SC counties eligible for SBA disaster loans and Economic Injury Loans. Applicants are encouraged to apply online for a disaster loan and may result in a more rapid response. You also have the option of submitting a paper application by mail. For either application, you must submit the completed loan application and a signed and dated IRS Form 4506-T giving permission for the IRS to provide SBA your tax return information. If you do not have access to a computer or smartphone, or need assistance to apply in person, you can visit a disaster recovery center. You may also call 1‐800‐659‐2955.
Internal Revenue Service (IRS)
Tax relief from the IRS is available for certain individual taxpayers who reside or have a business in specific counties that were affected by Hurricane Florence. As of a press release dated September 15, 2018, those counties include Beaufort, Bladen, Brunswick, Carteret, Columbus, Craven, Cumberland, Duplin, Harnett, Lenoir, Jones, New Hanover, Onslow, Pamlico, Pender, Robeson, Sampson, and Wayne. This tax relief is in the form of IRS-extended deadlines that apply to filing returns, paying taxes, and performing certain other time-sensitive acts. The extension applies to deadlines – either an original or extended due date – that occurred on or after Sept. 7, 2018 and before Jan. 31, 2019. The IRS website also states that, "personal casualty losses attributable to certain 2018 federally declared disasters, including Hurricane Florence, may be claimed as a qualified disaster loss."
For more information: Visit the IRS web page, "Help for Victims of Hurricane Florence".
STATE AID
Legal Aid of North Carolina
The organization offers free legal services to low-income North Carolinians in civil cases involving basic human needs like safety, shelter, income and more. Examples of legal issues for which they help are emergency food stamps, disaster unemployment insurance, or housing issues such as assistance with FEMA appeals, among others. Survivors of Hurricane Florence who have disaster-related legal questions or concerns may call 1-833-242-3549, the NC Disaster Legal Services (DLS) assistance hotline activated by the North Carolina Bar Association. Callers should identify that they are seeking hurricane related legal assistance, ask for DLS and identify the county in which they are located. Survivors who qualify for assistance will be matched with North Carolina lawyers who have volunteered to provide free legal help.
For more information: Visit http://www.legalaidnc.org, or call 1-866-219-5262 to speak with someone confidentially. For information specific to Hurricane Florence, click here or call 1-833-242-3549.
ReBUILD NC
If you need help repairing your home from damage caused by a hurricane, the state of North Carolina may be able to assist you by providing a housing recovery grant. Note that you may need to meet certain income requirements for eligibility.
To apply for assistance, go to www.rebuild.nc.gov/apply. You will be required to provide the following:
A photo ID and proof of citizenship or legal residency (U.S. passport or green card)
Proof that you lived in the damaged home (like a utility bill from the same month the storm hit)
Copies of tax returns or pay stubs for all the adults who live in the home
Copies of any payments from insurance companies or other government agencies for damage to the home
For more information: Visit rebuild.nc.gov or call. For additional information specific to Hurricane Florence or Hurricane Matthew, click here.
OTHER
Insurance Claims, Bill Payments, and Scams
Property Insurance Claim
If you assess that the damage to your property, home, or vehicle may be higher than your insurance deductible, then it is wise to contact your insurance agent(s) or company(ies) as soon as possible to file a claim. Keep in mind that if your agent is local, they may be personally affected by the event. Therefore, they may not be able to respond as quickly as a more centralized office. Document any damage as well as repairs that you make with photographs, videos, and written notes. Do the same for any debris, if it is dangerous to keep on hand before an insurance adjuster is able to evaluate your property. Keep any receipts including those for temporary housing (motels, hotels, etc.), gas, transportation, and home improvement items purchased to minimize property damage or aid in recovery.
If you have flood insurance and homeowner's insurance, file a claim with both. Flood insurance may cover damage to your property caused by flooding. Meanwhile, homeowner's insurance may provide coverage for wind damage as well as support for "loss of use" if your home is inhabitable.
NC Contact: In addition to your insurance company, the NC Department of Insurance will also assist with processing claims. It plans to create consumer/victim assistance centers and insurance camps in public locations which will be listed at www.ncdoi.com. For additional information specific to claims related to Hurricane Florence visit, www.NCHurriClaims.com, or call 855-408-1212.
Bill Payments
Bill collectors such as mortgage, utility, cell phone and credit card companies may offer some leniency with payments to people in an affected area. Request temporary changes to auto-payments and/or negotiate new payment arrangements by calling or emailing them. There is no guarantee that every company will do so, but many will work with customers to accommodate their situations.
Be Aware of Scams
As always, be very aware of individuals and companies who may try to take advantage of those in a vulnerable position. Those affected by a natural disaster are unfortunately not exempt. Ask for proof of identity from anyone who claims to be a repair person or solicits business from you. Ensure that any contractor you employ is licensed and provides proof of insurance. Whenever possible, get more than one quote for work to ensure that you are not a victim of price gouging. Obtain estimates in writing with detailed timelines, and costs for materials and labor.
To report a scam, file a complaint or obtain consumer information, contact:
NC: North Carolina Department of Justice, https://www.ncdoj.gov/Consumer.aspx; 1-877-5-NO-SCAM (1-877-566-7226) or (919) 716-6000.
SC: Visit South Carolina Department of Consumer Affairs (SCDCA) at www.consumer.sc.gov or call 1- 800-922-1594.
For more information: You may also review the SCDCA's Beware of Disaster Scams document and Beware of Scams in the Wake of Hurricane Florence press release as well as the IRS Warns of Scams Related to Natural Disasters press release.
CHARITABLE ORGANIZATIONS
American Red Cross
Per the organization's website, "the American Red Cross prevents and alleviates human suffering in the face of emergencies by mobilizing the power of volunteers and the generosity of donors." More than 1,500 Red Cross disaster workers have been deployed in the Cape Fear Region to assist with Hurricane Florence relief efforts. For long-term assistance, you may access a library of guides to help you start the process of recovering your family's physical, emotional and financial well-being as a result of a disaster or emergency.
For more information: Visit https://www.redcross.org or call 1-800-RED-CROSS (1-800-733-2767). Click here to find a contact for your local Red Cross chapter. If you live in an area affected by Hurricane Florence call 910-762-2683 to request assistance.
Habitat for Humanity
Habitat for Humanity is a nonprofit organization that helps families build and improve places to call home. It has also been helping communities in the United States and around the world recover from disasters for more than 20 years. In these situations, Habitat's role is primarily in the long-term recovery of disaster-stricken communities, following the immediate response.
If you need furniture, appliances, home accessories, or building materials during recovery or any other time, local Habitat for Humanity organizations also operate Habitat ReStores. These are independently owned home improvement stores and donation centers that sell these types of new and gently used items and more to the public at a fraction of the retail price. Proceeds are also used to help build strength, stability, self-reliance and shelter in local communities and around the world.
For more information: Visit https://www.habitat.org or call 1-800-HABITAT (1-800-422-4828). Click here to find a Habitat or ReStore location near you.
Salvation Army
The Salvation Army is a global organization which serves 130 countries with the mission "to meet human need without discrimination". A national network of disaster staff and volunteers have been activated since Monday, September 10, to mobilize for storm preparation and response to Hurricane Florence. Trained emergency disaster personnel are prepared to provide food, hydration, and emotional and spiritual support to survivors and first responders.
For more information: Visit www.SalvationArmyUSA.org, or call 1-800-SAL-ARMY (1-800-725-2769). If you live in an area affected by Hurricane Florence call 910-762-2070 to request assistance.
Samaritan's Purse
Samaritan's Purse mobilizes staff and equipment and enlists thousands of volunteers to provide emergency aid to victims of tornadoes, hurricanes, wildfires, floods, and other natural disasters in the United States. Oftentimes, they also stay behind after their initial response to rebuild or restore houses for families in need. In response to Hurricane Florence, hundreds of volunteers have been dispatched to three relief bases in Eastern North Carolina including New Bern, Jacksonville, and Wilmington.
For more information: Visit https://www.samaritanspurse.org or call (828) 262-1980.
Wilmington Area Rebuilding Ministry, Inc. (WARM)
WARM is local to Brunswick, New Hanover, and Pender Counties in North Carolina. It is not an emergency relief agency but does provide long-term rebuilding assistance. It organizes volunteers and raises funds to complete safety-related, urgent home repairs and accessibility upgrades for low-income homeowners in these counties. To be considered for assistance, it is essential that you fully complete an application and submit copies of required proof of ownership and proof of income.
For more information: Visit https://www.warmnc.org/ or call 910-399-7563.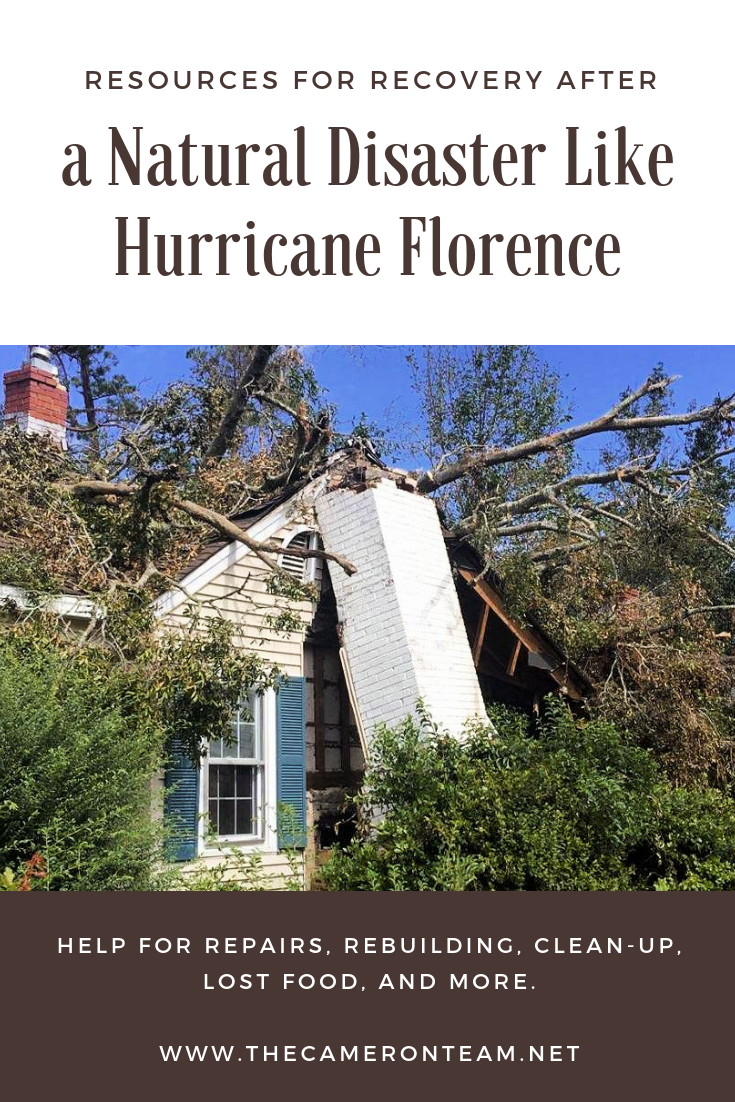 [the_grid name="Homeowner Tips"]