From the tools we use to manage paperwork to the way we market listings online, technology has become an important part of selling a home. You can't be a Realtor nowadays without having some sort of tech savviness. While technology makes our lives easier in many ways, it can also be cumbersome. One example is the standardization for online listing information.
Our multiple listing service is the hub for information on homes listed by Realtors. It's where real estate agents go to find important information and documents for active and pending properties, as well as past sales. It also provides a feed that brokerages use to send listing information to third-party websites, including the giants (Trulia, Zillow, Realtor.com, etc.) and listing tools (virtual tours, text for info, etc.).
When the information is fed (syndicated), the third-party websites match it up to the fields they display, but not every website is built the same. So, not all information can be matched and that's when key features get left-out. A few of these websites provide Realtors with the option to edit their listings, but even then, the Realtor may not get edit access for all of the information. They may only be given a checklist of options to choose from. In the website company's defense, they do this to make sure the information they display remains accurate to what the brokerage, who they have a contract with, is sending them. It's just not a foolproof system. If every Realtor association in every region used the exact same MLS software, this wouldn't be an issue.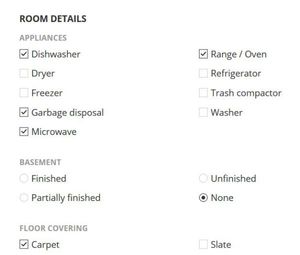 As an example of the limitations we face, we occasionally run into an issue where a room that is traditionally called one thing can't be called that in the MLS or on one of the third-party websites. For example, a Keeping Room is traditionally a room located beside a kitchen. It's a sitting room for keeping the cook company and was originally the room in Colonial homes where a family would gather to keep warm on extremely cold nights. "Keeping Room" is not an option on Zillow, so we go with the more modern term "Family Room", which is an option.
Another limitation we face is character counts. To make sure a listing's description is able to be displayed on multiple websites, we are limited to how many characters (letters, spaces, and punctuation) that we can include. When a house has a lot of great features, this can be incredibly frustrating. The description has the most flexibility of all the fields in the MLS, but requires a lot of thought. When considering which words to include, we have to consider the SEO side of marketing and try to predict the features that a buyer will be "googling" for, but we also want to point out other amenities that may not be as keyword-friendly. Sometimes we get a really great description together and then have to edit it, because the website has scanned it and determined that a word is not in compliance with Equal Housing Opportunity Laws. It's probably more complicated than you would think to come up with a truly effective description.

One more issue we run into is a delay in updated information. Third party websites and tools don't always import or receive the feed right away. They have so many feeds that if they were to constantly accept information, there's a good chance their servers would crash. Tools we've used in the past have only imported once or twice a day, and they don't tell you exactly when that will happen. So, price changes and feature updates can take 24-48 hours to show up on a third-party website depending on their schedule and when the changes are made.
In the early 2000's, we could have gotten away without having our listings all over the web, but that's not the case today. 90% of home buyers conduct their home searches online and third-party websites are usually where they start out, because they rank the highest in search engines. That's why it's so important that we do our best to include important information in the description, edit third-party sites when possible, and get creative when need be. However, it's also the reason why Realtors remain an important part of the home selling process. They fill in the blanks that these websites can't cover and need to have an understanding of the limitations faced with online marketing.
If you have any questions about selling your Wilmington area home, give us a call or send us a message through our Contact page.