You can learn a lot about a decade by analyzing the homes produced during that time. House sizes, room types, and floor plans all give clues to the expectations and overall economics of the people who lived then. I bring this up, because today I heard the term "McMansion" for the first time. It refers to the large and potentially over-embellished homes built during the housing boom, mainly after the year 2000. These homes have also been called starter castles and trophy homes, but I thought "McMansion" was exceptionally witty.  It made me consider the way homes have changed over the past few decades.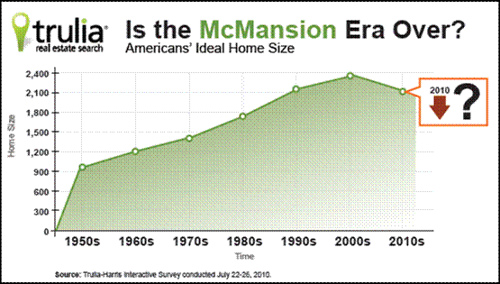 After World War I, the bungalow became a popular home design, because it's layout and design was similar to an apartment. Developers thought it would easily transition a growing population into home buying. Thus, in 1950, the average home size was 1,000 square feet. As it became more common for women to leave home to work, families were able to afford larger homes. In the 1970s, the average home size grew to 1,500 square feet and the growth didn't stop there. Home sizes held a steady incline into the early 2000s where the average home size topped out at 2,300 square feet. When the Great Recession hit, buyers became more modest and started avoiding excess space. In the past 6 years, the average size of homes has fallen 300 square feet.
Lot sizes have also shrunk, but their downsizing began during the boom. High land prices, infill demand, and pressure to create lower-cost homes have all been contributors. Mirroring this trend, home owners are showing a decreased desire to maintain large yards. There has been an increase in land improvement, including low maintenance landscaping, irrigation systems, and gray water recycling.
In addition to the change in home size, popular rooms have also changed. Just as modern architects did away with parlors and mud rooms, floor plans are reflecting a changing focus in the way we live. A growing number of buyers are preferring open and flexible floor plans. As our lives focus more on technology – computers, televisions, gaming systems, etc. – the less important formal rooms like the dining room have become. Living rooms are now media rooms and extra bedrooms are home offices. Similarly, there is a growing trend in "outdoor living spaces" or sunrooms, screened porches, and patios. This is quite a change from the 1940s-1950s bungalow!
So, where are we going from here? The American Institute of Architects reported in its annual Home Design Trends Survey that the decrease in home sizes has bottomed out and the U.S. continues to have the largest average home size, despite the down economy. We can only speculate if buyers will continue to downsize or if they'll continue the McMansion home trend.